It doesn't happen often, but when it does, it's vital. With win lights not coming as expected, Team Kalitta conducted an in-season, three-team test at Indianapolis Raceway Park in preparation for this week's return to Route 66 Raceway. The NHRA Camping World Drag Racing season resumes May 19-21, 2023 at the Gerber Collision & Glass Route 66 NHRA Nationals at Route 66 Raceway in Joliet, Ill. NHRA is competing at Route 66 Raceway for the first time since 2019.
The first few races of the 2023 season were interesting to say the least. After significant off-season investment in all three Kalitta entries, the teams enjoyed successful pre-season test sessions and a powerful start to the season, but then, things leveled off or backed up. The goal now is simple – return to the level of excellence with which the team started the season.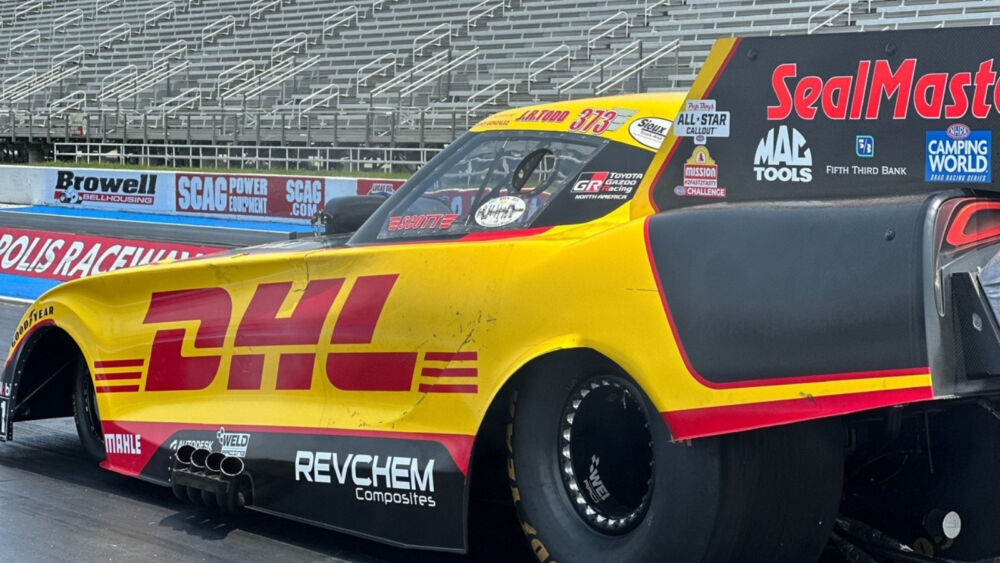 "We expect our teams to perform at a high level; we've had some great moments this season, but we lost our way. We are pulling together as a team to get back to how we started the season," Team Kalitta general manager Chad Head said. "If a team has a bad race, we stay after the event to figure out what's wrong through testing, but when all three teams aren't living up to expectations, we owe it to our corporate partners and ourselves to do everything we can to get our teams where they need to be. We invest too much and work too hard not to get the performance our partners expect and we demand. Except for the big test before Indy, I don't think we've done a three-team, in-season test since I've been here, but at this point, it was the right play."

The test was originally scheduled for Tuesday, May 16 but postponed a day due to weather. Each team made five testing runs on Wednesday with most planned as early shut-offs or partial runs to test competitive setups. Making full runs was largely not necessary.
"The test went very well," Head said. "We learned some things, made some changes and then learned a lot from the changes. We planned for most of our runs to be early shut offs, and it worked well. Doug made a full run at 3.72 (seconds), and Shawn and J.R. made some really good planned shut-off runs. The combined 15 runs showed us what we needed to know. Now we're energized, looking forward to racing in Chicago this weekend and hoping to win the race."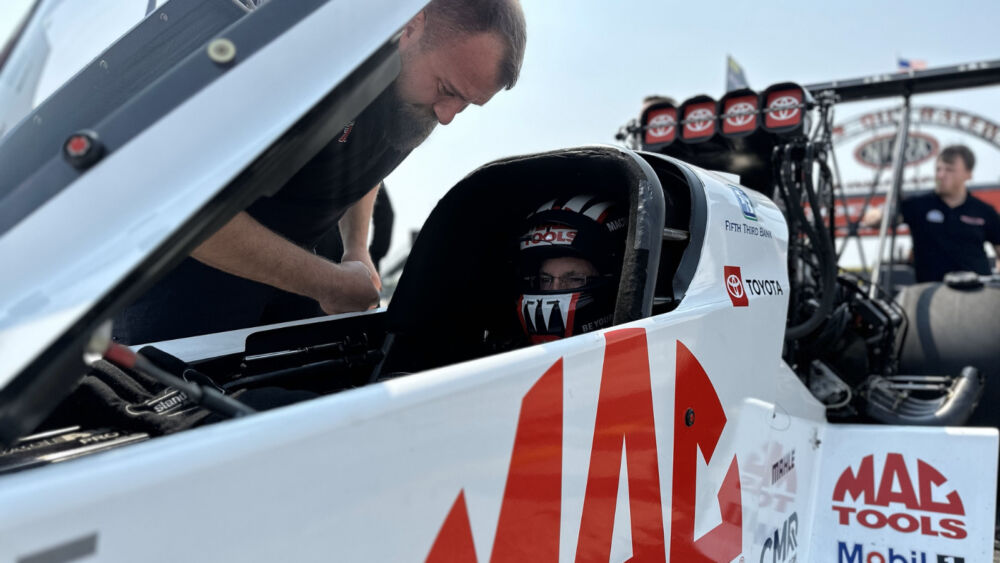 Langdon scored a runner-up finish in Phoenix and a semifinal berth in Las Vegas in the Autodesk dragster, but middle-of-the-pack qualifying at each race made eliminations challenging. In three of Langdon's five round losses, the team made an excellent run but simply lost a great drag race.

Kalitta and his Mac Tools team started the season in excellent form qualifying third and reaching the semifinals in Gainesville before qualifying No. 1 and winning the inaugural Mission Foods #2Fast2Tasty NHRA Challenge in Phoenix. After quarterfinal loss in Phoenix, the team recorded three-straight first-round losses and is mired in 10thplace.

The season was off to a strong start for J.R. Todd and the DHL Toyota Funny Car team, but all of that changed at the NHRA Winternationals in Pomona, Calif. After qualifying fifth and having deployed his parachutes, a racing incident, for which Todd was not at fault, destroyed the new car the team debuted at the start of the season. The team went to a backup car but suffered an engine explosion during eliminations and was defeated in the first round.
After an unscheduled return to the team shop in Michigan, the DHL team was able to rebound and get to the next race in Las Vegas with its primary car repaired but did not qualify for the event. Although the car showed flashes of brilliance at the last race in Charlotte, after another first-round loss, Todd is currently 11thin points.

"We've seen examples of each team's potential throughout this early part of the season," Head added. "With Doug's No. 1 qualifier and special event win in Phoenix, J.R. reaching the final round in Gainesville and Shawn nearly winning Phoenix, we know each car is capable of winning. We just need to find consistency so we're competitive every time we make a run. Competitive consistency and win lights will get us back where we need to be."