Doug Kalitta raced to his second consecutive Top Fuel victory of the season Sunday at the Summit Racing Equipment NHRA Southern Nationals at Atlanta Dragway.
Matt Hagan (Funny Car), Jason Line (Pro Stock) and Eddie Krawiec (Pro Stock Motorcycle) were also victorious at the seventh event of 24 on the 2016 NHRA Mello Yello Drag Racing Series schedule.
Kalitta powered his Mac Tools dragster to a 3.801-second pass at 323.19 mph to defeat Kalitta Motorsports teammate J.R. Todd's 3.780 at 320.66 in his SealMaster dragster on a holeshot in the final round. Kalitta tallied his 40th career victory and third at Atlanta Dragway. The margin of victory between Kalitta and Todd was .0000, making it the closest Top Fuel race in NHRA history. It was the first time since 2006 that two Kalitta Motorsports Top Fuel cars decided a final. Kalitta sprinted past Terry Haddock, eight-time world champ Tony Schumacher and reigning world champ Antron Brown in the earlier rounds.
"I really didn't think I had won," said Kalitta, the Top Fuel points leader. "The last couple of rounds I didn't see the win light on the wall. J.R. went blowing by me at the end there and I got around the corner and I was very relieved, to say the least. Jim (Oberhofer, crew chief) and my Mac Tools guys have been busting their butts all day long and we were hungry to do well in front of the sellout crowd here in Atlanta."
J.R. Todd beat Kyle Wurtzel, two-time 2016 winner Brittany Force and 2013 Top Fuel world champ Shawn Langdon before racing Kalitta in the final. Todd is fifth in the Top Fuel points standings.
Brown, who won in Las Vegas, is second in points in his Matco Tools Dragster. He is followed by Force and her Monster Energy dragster in third and Steve Torrence in fourth.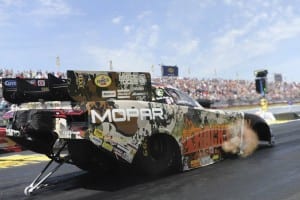 In Funny Car, Hagan sprinted to his first victory of 2016 with a 3.965 at 314.90 in his Mopar Express Lane/Rocky Boots Dodge Charger R/T, beating Don Schumacher Racing teammate Jack Beckman in the final. Hagan ended a 19-race winless streak and notched his 19th career victory. Hagan outlasted Chad Head, reigning world champ Del Worsham and points leader Courtney Force in the earlier rounds to win his first NHRA Southern Nationals title.
"We've been trying to dig our way out of a hole we dug for ourselves in the beginning of the season with a new chassis and some new parts and different things like that," said Hagan, who currently sits ninth in the points standings. "We went back to what we know and pulled our old car back out. We won a championship with it. We all knew it was just a matter of time before we figured it out. We're really happy to get that monkey off our back."
Beckman, the No. 1 qualifier, made his first final round appearance of 2016 at Atlanta. He raced past Jim Campbell and Don Schumacher Racing teammates Ron Capps and Tommy Johnson Jr. in the earlier rounds. Beckman moved to second in the points standings.
Tim Wilkerson, who entered Atlanta tied with Force for first in the Funny Car points standings, is now third, while Capps is fourth and Robert Hight is fifth.
In Pro Stock, Jason Line drove his Summit Racing Equipment Chevy Camaro to a 6.611 at 209.75 in the final round to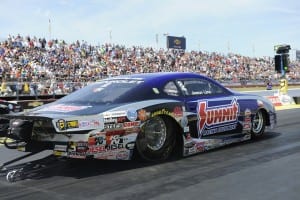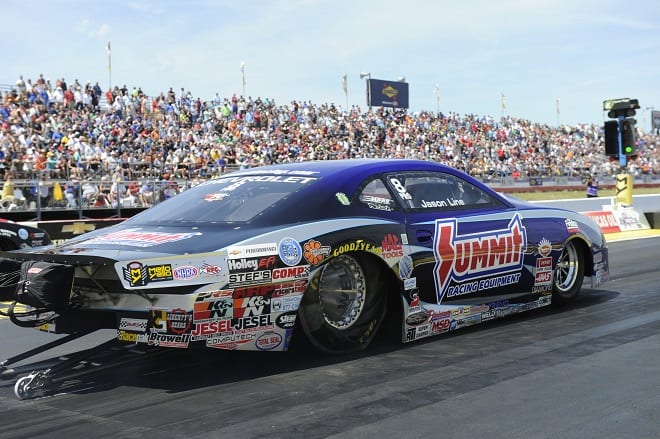 better teammate Greg Anderson on a holeshot. This is Line's fourth victory of 2016 and 41st in his career. Line has advanced to the final round in all seven races this season. This is Line's second consecutive win at this event and third overall. The victory extends his series points lead. As the No. 2 qualifier, Line beat John Gaydosh Jr., five-time world champ Jeg Coughlin and Allen Johnson in the earlier rounds.
"We kind of whined and complained about the rules change, but I never would've thought that this would be the result of that," said Line, who has only lost to Anderson this year. "It's a great day anytime you can win in front of your sponsor. This is a very tricky racetrack. I haven't been on an Atlanta track like this ever. We struggled hard with it, but again, I'm a little bit in awe that I've been able to race in all the final rounds this year."
Anderson raced past V. Gaines in the first round, then had a second round bye before beating Kenny Delco in the third round to meet Line in the final. Anderson is second in the points standings.
Bo Butner, teammate to Anderson and Line, is third in the points standings and is followed by Drew Skillman in fourth and Chris McGaha in fifth.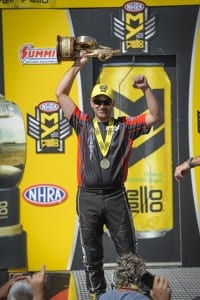 Krawiec rode his Screamin' Eagle Vance & Hines Harley-Davidson to a 6.824 at 196.66 to outlast Jerry Savoie's 6.851 at 195.79 on his White Alligator Racing Suzuki in the Pro Stock Motorcycle final. This is Krawiec's second victory of 2016, 33rd of his career and fourth at Atlanta Dragway. He has raced in all three Pro Stock Motorcycle event finals this season and has control of the Pro Stock Motorcycle points lead. Krawiec raced to his first career victory at the NHRA Southern Nationals in 2009.
"Atlanta has treated me well," said Krawiec, a three-time world champ. "I got my first win here and it's one of those things where if you just feel comfortable and you're in a groove, you'll have confidence. For me, I think all of that has fallen into place. The track was a little tricky for us but we were able to figure out our chassis set up and as we made more laps throughout the weekend it got better and better. It was definitely a good, exciting, fun weekend for me."
Savoie, a Louisiana alligator farmer, beat Michael Phillips, Scotty Pollacheck and No. 1 qualifier Angelle Sampey in the earlier rounds. Savoie is fourth in the Pro Stock Motorcycle points standings.
Krawiec's teammate and reigning world champ Andrew Hines is second in points and Hector Arana is third.
The NHRA Mello Yello Drag Racing Series continues in Topeka, Kan., May 20-22, with the NHRA Kansas Nationals at Heartland Park Topeka.