Doug Kalitta raced to his third consecutive Top Fuel victory of the season Sunday and had to navigate Heartland Park Topeka's dragstrip in an ill-handling racecar to turn on the win light in the final round at the NHRA Kansas Nationals.
Matt Hagan (Funny Car) and Jason Line (Pro Stock) joined Kalitta in the winner's circle at the NHRA Mello Yello Drag Racing Series event.
Kalitta's Mac Tools dragster lost traction at the hit of the throttle and got sideways two times as he worked the steering wheel to cross the finish line in front of fellow finalist and rival Antron Brown.
"It's one of those deals you take what you can get as quick as you can do it," said Kalitta, who extended his series points lead to 95 over second-place Brown with the victory. "I don't think my car ever hooked up. It was exciting. These wins don't come easy that's for sure. I am just real happy to do it here at Topeka."
It was Kalitta's second win at Topeka and 41st victory of his career. Kalitta finished with a performance of 5.452 seconds at 238.85 mph, while Brown's Matco Tools dragster also lost traction and posted a 5.687 at 298.60.
Kalitta said he's had a few of those kinds of races in his career, which drivers refer to as "pedalfests," and as a former USAC sprint car champion, he's always up for the challenge.
"It's a seat of your pants kind of deal and you try to stay off the centerline and not hit the wall," Kalitta said. "I think I had it more sideways than I've ever had a Top Fuel car before. It finally straightened out and we were fortunate to get the win."
Kalitta defeated Rob Passey, Clay Millican and Steve Torrence in earlier rounds to advance to the final. It was the ninth Top Fuel victory for the Kalitta Motorsports team at Topeka, including six for the late Scott Kalitta and one for Hillary Will. It is the first time in his career that Kalitta has earned three consecutive victories.
"I am definitely pretty proud of my guys and the opportunity I have got here with Connie (Kalitta, team owner)," Kalitta said. "We've got momentum. Just keep doing what we're doing and hope it lasts as long as it can go. This is a really good car, and a really good team."
Hagan's Mopar Express Lane/Rocky Boots Dodge Charger also lost traction early in the Funny Car final round, but he managed to get on and off the throttle just enough to finish in front of Jack Beckman in a rematch of the Atlanta final last weekend.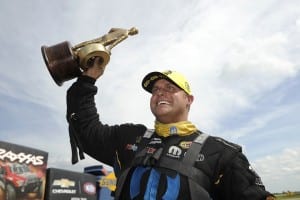 Hagan stopped the clocks in 5.724 at 179.04, while Beckman's Infinite Hero Foundation Dodge Charger also smoked the tires on the run and trailed with a 6.560 at 146.75. It was Hagan's second consecutive victory of the season, 20th career win and his first ever at Topeka.
"It was wild," Hagan said of the final round. "It's important to put everything in perspective. We set world records for E.T and speed and then to come back out here to win this race is a tribute to my guys and their hard work. My butt was puckered pretty good on that last run."
Hagan swerved very close to the center line two times during the final, and although it was only a little more than five seconds, the run must've seemed like an eternity in the car that on Friday covered the same distance in a national record time of 3.862 seconds.
"It was one of those deals where it was 'oh no, oh no, oh no.' I don't know how many times I hit the fuel pedal but it was a lot," Hagan said. "Sometimes you're just thinking 'don't blow up'. To see the win lights come on all day, I'm just tickled about the job (crew chief) Dickie Venables and all our Mopar/Rocky guys are doing."
Hagan beat Brian Stewart, Robert Hight and Courtney Force en route to the final round, his first-ever at Heartland Park. He used a consistently quick car that posted low 3.9-second runs to win those rounds. In the final, he had to employ a different strategy.
"When you have a fast racecar like we did it's hard to pull it back when the sun comes out like it did," Hagan said. "We had been laying down some numbers all day and I didn't expect to have to pedal the racecar like I had to."
He said to earn a victory the way he and his Don Schumacher Racing team did this weekend is a great motivator for his entire Dickie Venables-led crew as the season nears closer to the NHRA Mello Yello Countdown to the Championship playoffs. Hagan moved from ninth to fourth in the standings with the win. Courtney Force maintained the series lead in her Traxxas Chevy Camaro.
"The race wins are your common goal with 10 guys around you," Hagan said. "The race wins will turn into championships if you win enough of them and that's what's really important for us. Back-to-back wins, I've only done it one other time, so that's pretty special in itself. It just shows how good you're doing, how well everyone is working together. We have to carry this momentum into these next races."
In Pro Stock, Line captured his fifth win of the season in his eighth consecutive final round appearance, outrunning teammate Greg Anderson in the final round. Line finished in 6.664 at 207.85 in his Summit Racing Equipment Chevy Camaro, while Anderson's Summit Racing Camaro trailed with a 6.687 at 207.02. It was Line's first Topeka victory and the 42nd win of his career.
"It was the perfect weekend," said Line, who outran Mark Hogan, defending world champ Erica Enders and Shane Gray
to advance to the final from the No. 1 qualifying spot. "It was an exciting weekend for me and we didn't mess it up. It's a big deal to me. It's nice to win at someplace you've never done well. I really can't stop smiling right now. There were times I had good cars here but didn't drive well. This weekend everything came together."
The NHRA Mello Yello Drag Racing Series continues June 3-5 with the NHRA New England Nationals at New England Dragway in Epping, N.H.