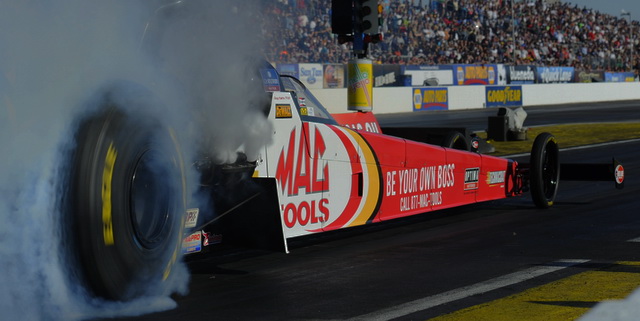 Doug Kalitta (above) raced to the No. 1 qualifying position in Top Fuel Saturday at the NHRA Arizona Nationals at Firebird International Raceway.
Johnny Gray (Funny Car) and Mike Edwards (Pro Stock) also will lead their categories into Sunday's 11 a.m. eliminations at the NHRA Mello Yello Drag Racing Series event near Phoenix.
Kalitta powered his Mac Tools dragster to a track record performance of 3.733 seconds at 329.02 mph to take his 32nd No. 1 of his career and second at this event. He will face Spencer Massey in the opening round of eliminations as he tries to give team owner and drag racing legend Connie Kalitta a victory on his 75th birthday.
"It would be awesome to win tomorrow," Kalitta said. "He's 75 and doing great. He's been here for so many years and just loves it out here. It would be awesome to see if we could pull it off."
Kalitta has had success on Sunday at this event in the past as he has one win in three final rounds here. Although he has 32 career victories, he is looking to end a winless drought that dates back to July 2010.
"I'm not going to try and pay any attention to anything except my lane and that light," Kalitta said. "There's a bunch of good running cars out here. All the rounds are tough, and anybody who makes the top 16 can win."
Defending Top Fuel event winner and 2012 champion Antron Brown qualified second in his Matco Tools dragster and will open eliminations against Amalie Oil dragster driver Terry McMillen, while U.S. Army dragster driver Tony Schumacher will try to add to his three career victories at this event when he faces rookie driver Sidnei Frigo in the first round.
In Funny Car, Gray earned his fourth No. 1 of his career and second in a row at this event, as no one improved on his Friday run of 4.034 at 313.80 in his Pitch Energy Dodge Charger.
"We wanted to run both [of today's qualifying runs] real good," said Gray, who will race defending event winner Robert Hight in the first round. "We made just a spectacular run this morning [4.04]. It was 'stupid fast' for the session. But we had some things go wrong with the car on the second run, and the track got better than the car. But you learn something every time you go to the starting line, and we feel really, really confident going into tomorrow. Who knows? Maybe I can get this win off of my 'bucket list'."
Matt Hagan qualified second in his Mopar/Rocky Boots Dodge Charger and will race Plueger Racing Chevy driver Phil Burkart in the opening round while No. 3 qualifier Courtney Force, who won the season-opener in Pomona, Calif. last weekend and is the current category points leader in her Traxxas Ford Mustang, will face Todd Lesenko in his Canadian Tribute/Worsham Racing Dodge Charger.
In Pro Stock, Edwards claimed his second consecutive No. 1 qualifying position of the season and 43rd of his career with his Friday track record performance of 6.498 seconds at 213.13 mph in his Interstate Batteries/I Am Second Chevy Camaro. He will face Steve Kent in the opening round of eliminations.
"We tried some different things today, like a different engine, to see if we could improve," said Edwards of his fifth consecutive No. 1 at this event and sixth overall. "We'll put it all back to the way we had it yesterday [Friday] and we should be able to run like we did earlier. The conditions were a little bit different today. The track got a little bit hotter. But I still feel like we could have run pretty close to yesterday's times if we had the same set-up. We always run good here. I never know exactly why."
V. Gaines will start second in his Kendall Oil Dodge Avenger and face Lucas Oil Ford Mustang driver Larry Morgan, while defending event winner Jason Line qualified third in his Summit Racing Chevy Camaro and will race Deric Kramer in the opening round.
(Photos courtesy NHRA/National Dragster; Click to enlarge)
CHANDLER, Ariz. — Sunday's first-round eliminations pairings for the 29th annual NHRA Arizona Nationals at Firebird International Raceway, the second of 24 events in the NHRA Mello Yello Drag Racing Series.  Pairings based on results in qualifying, which ended Saturday. DNQs listed below pairings.
Top Fuel
1. Doug Kalitta, 3.733 seconds, 329.02 mph  vs. 16. Spencer Massey, 3.874, 292.84; 2. Antron Brown, 3.765, 318.77  vs. 15. Terry McMillen, 3.872, 320.51; 3. Tony Schumacher, 3.768, 325.37  vs. 14. Sidnei Frigo, 3.866, 316.60; 4. David Grubnic, 3.783, 321.27  vs. 13. Brittany Force, 3.831, 321.81; 5. Clay Millican, 3.810, 323.66  vs. 12. Morgan Lucas, 3.820, 319.22; 6. Khalid alBalooshi, 3.811, 315.86  vs. 11. Bob Vandergriff, 3.818, 321.88; 7. Leah Pruett, 3.812, 312.64  vs. 10. Shawn Langdon, 3.815, 319.90; 8. Brandon Bernstein, 3.813, 305.22 vs. 9. Larry Dixon, 3.814, 320.74. Did Not Qualify: 17. Steve Torrence, 3.883, 308.00; 18. Mike Strasburg, 3.984, 300.46.
Funny Car
1. Johnny Gray, Dodge Charger, 4.034, 314.46  vs. 16. Robert Hight, Ford Mustang, 4.321, 271.79; 2. Matt Hagan, Charger, 4.062, 311.20  vs. 15. Phil Burkart, Chevy Impala, 4.295, 282.95; 3. Courtney Force, Mustang, 4.064, 315.71  vs. 14. Todd Lesenko, Charger, 4.245, 300.80; 4. Cruz Pedregon, Toyota Camry, 4.067, 308.00  vs. 13. Jeff Arend, Charger, 4.173, 302.48; 5. Ron Capps, Charger, 4.081, 308.35  vs. 12. Tony Pedregon, Camry, 4.169, 268.65; 6. John Force, Mustang, 4.100, 312.64  vs. 11. Alexis DeJoria, Camry, 4.157, 303.09; 7. Bob Tasca III, Mustang, 4.100, 307.37  vs. 10. Jack Beckman, Charger, 4.139, 288.27; 8. Tim Wilkerson, Mustang, 4.110, 305.01  vs. 9. Del Worsham, Camry, 4.126, 303.30. Did Not Qualify: 17. Terry Haddock, 4.584, 232.63; 18. Jeff Diehl, 4.917, 163.55.
Pro Stock
1. Mike Edwards, Chevy Camaro, 6.498, 213.13  vs. 16. Steve Kent, Pontiac GXP, 6.638, 210.21; 2. V. Gaines, Dodge Avenger, 6.529, 212.63  vs. 15. Larry Morgan, Ford Mustang, 6.633, 210.50; 3. Jason Line, Camaro, 6.535, 213.03  vs. 14. Deric Kramer, Avenger, 6.624, 209.43; 4. Greg Anderson, Camaro, 6.536, 212.56  vs. 13. Matt Hartford, Avenger, 6.614, 211.73; 5. Allen Johnson, Avenger, 6.542, 212.03  vs. 12. Chris McGaha, Avenger, 6.582, 210.90; 6. Jeg Coughlin, Avenger, 6.544, 211.36  vs. 11. Rodger Brogdon, Camaro, 6.578, 210.70; 7. Erica Enders-Stevens, Chevy Cobalt, 6.555, 211.93  vs. 10. Shane Gray, Camaro, 6.568, 210.57; 8. Vincent Nobile, Avenger, 6.555, 211.13  vs. 9. Greg Stanfield, Camaro, 6.561, 210.73. Did Not Qualify: 17. Kurt Johnson, 6.650, 210.24; 18. Warren Johnson, 6.666, 209.07; 19. Mark Wolfe, 6.694, 206.80.