In a tip of the cap to team owner Connie Kalitta and his cargo airline, Kalitta Air, Shawn Langdon will fly the Kalitta Air Bounty Hunter livery starting with this week's race in New Hampshire. The NHRA Camping World Drag Racing Series season resumes June 2-4, 2023 with the NHRA New England Nationals in Epping, N.H.

The Team Kalitta owner is a legend – not just in NHRA Drag Racing but in all of Motorsports. He is one of the most successful professional drag racers and crew chiefs in NHRA's Top Fuel class – ever. Driving a Top Fuel dragster adorned with "The Bounty Hunter" livery, Kalitta was a threat to win every time he eased up to the starting line. Kalitta is a four-time NHRA champion and owns three additional championships from other sanctioning bodies. He was inducted into the Motorsports Hall of Fame in 1992 and won NHRA's first Lifetime Achievement award in in 2016.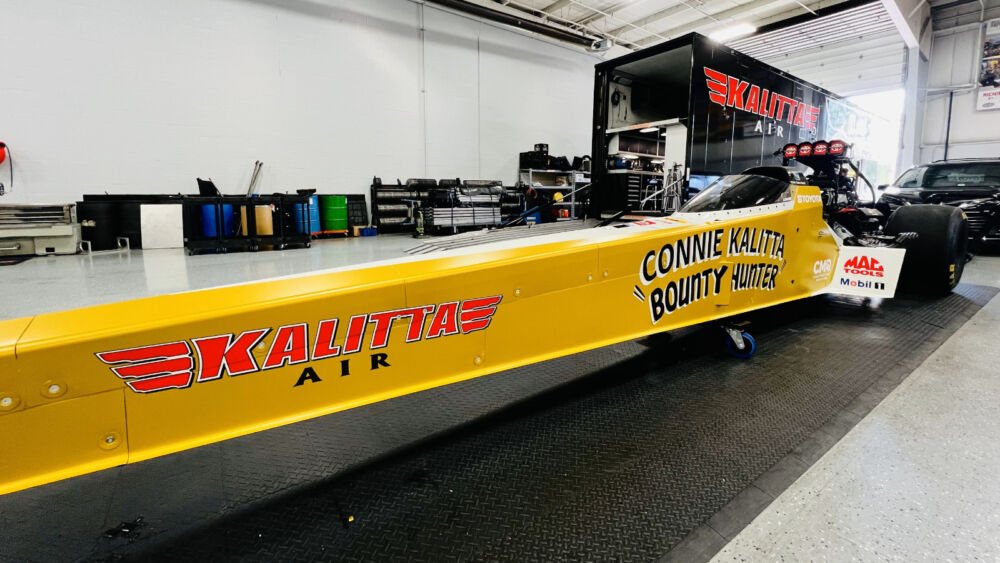 During his driving career, he was said to have kept a "most wanted" list of drivers he intended to beat, and when he did, he crossed their names off his list. At that time, Kalitta's nickname became the "Bounty Hunter." Langdon will sport Kalitta Air and Bounty Hunter colors starting this weekend, but for Langdon, perhaps the most wanted item on his list will be round wins.
After a strong start to the season that included a runner-up and a semifinal showing, Langdon has two consecutive first-round losses. A full team test session prior to Chicago helped, and he equaled his best qualifying effort of the season in the windy city. That was progress, but the team must continue to build on what it accomplished two weeks ago.

"We definitely made progress with the test session and our qualifying effort in Chicago," Langdon said. "It's always nice to work hard and see some results, but for our Kalitta Air "Bounty Hunter" Toyota team, what we need most is consistency and round wins. Our guys are working as hard as they can to get our team where it needs to be – we know we can do it. We have what we need to perform, we just have to put it all together and keep it there.

"The races in Epping are epic because those New England fans love NHRA Drag Racing," Langdon added. "We're all in this sport because it's what we love. Crew guys, drivers, crew chiefs – we love what we do, but when we go somewhere and the fans love what we do almost as much as we do, it makes us really want to put on a great show for them."