In the fiercely competitive world of drag racing, the racetrack is not just a battleground for speed and performance, but a place where bonds are forged and enduring camaraderie is nurtured. One shining example of this sentiment recently played out on the Facebook page of popular drag racer, Justin Swanstrom, a veteran of doorslammer drag racing, who has been turning heads from the grudge racing scene to the Street Outlaws: No Prep Kings series.
Swanstrom, who boasts over 150,000 followers on Facebook alone, unveiled a new vinyl wrap on his Lexus-bodied doorslammer. But this was no ordinary wrap job. The vinyl wrap, utilizing a glow in the dark material, features bright pink highlights and the unmistakable pink ribbon symbolizing breast cancer awareness. The gesture is a poignant show of solidarity for fellow racer and No Prep Kings star, Lizzy Musi, who recently went public with her breast cancer diagnosis.
In a heartfelt post, Swanstrom wrote, "Shout out to everyone that made this happen. Lizzy [Musi] hasn't seen this. Lizzy and Kye [Kelley, husband] are good friends of mine, and Lizzy is a warrior. Kye called me and really told me what happened after coming back from Australia and there was nothing I could do to help. So, I completely switched up designs and wanted to do something for her and everyone else out there with a family member or someone that is close by that has been diagnosed with breast cancer. Keep fighting, Lizzy. We got a lot more racing to do."
Adding a touch of symbolism to the glow-in-the-dark design, Swanstrom added, "As you can see it will light up and glow in the dark at night just like Lizzy and all these beautiful women glow up in our hearts."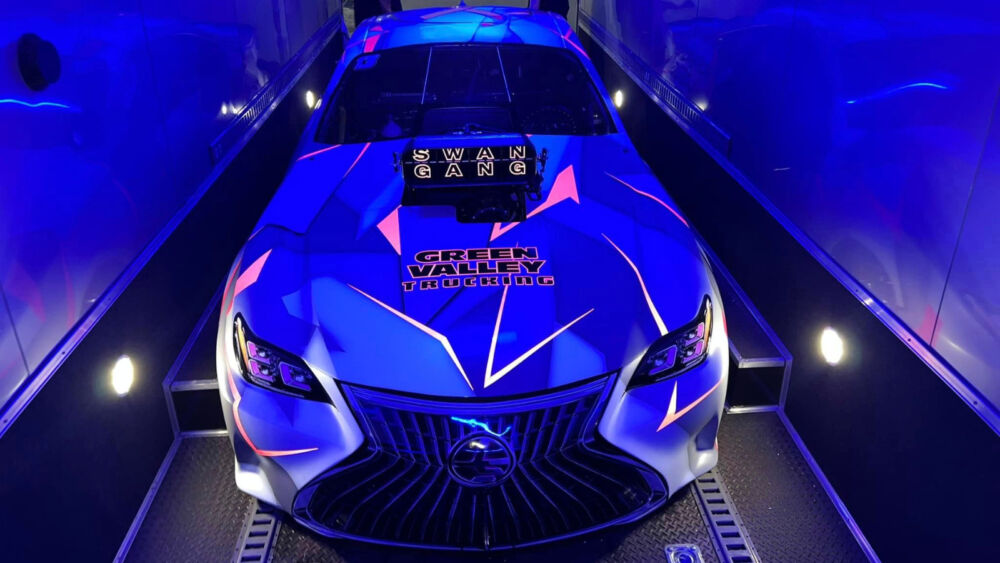 Swanstrom's vibrant Lexus will undoubtedly turn heads on and off the track, but more importantly, it's a shining beacon of the resilience and unity that defines the drag racing community. As he gears up for his third full-time season on the No Prep Kings series and fresh off an Australian tour, Swanstrom's racing ambitions are abundantly apparent.
As we look forward to a competitive 2023 season, one thing is certain: Justin Swanstrom's tribute to Lizzy Musi and all those affected by breast cancer will leave a lasting impression on the drag racing community, reminding us all that no matter the competition, we're all in this race together.