For the third time this season, Justin Ashley and the Maynard Ashley Racing Phillips Connect Toyota Top Fuel dragster defeated a gauntlet of tough NHRA Top Fuel competitors and world champions en-route to victory. The second-generation driver moved into the NHRA Top Fuel points lead with his win at the postponed and relocated NHRA New England Nationals, outrunning Dan Mercier, two-time world champion Brittany Force, four-time world champion Steve Torrence and finally, in an all-JCM Racing final, eight-time world champion Tony Schumacher.

"Everybody out here is tough," said Ashley, who was competing in his 14th career Top Fuel final round. "I don't think about it during the race, but after, I think it is important to reflect and appreciate when you go up against some of the best in the world. Each one of these drivers is fantastic. Each one of these teams is great. It's an honor just to line up next to them, so to turn on a win light with (crew chiefs) Mike Green, Tommy DeLago, and the guys is truly special."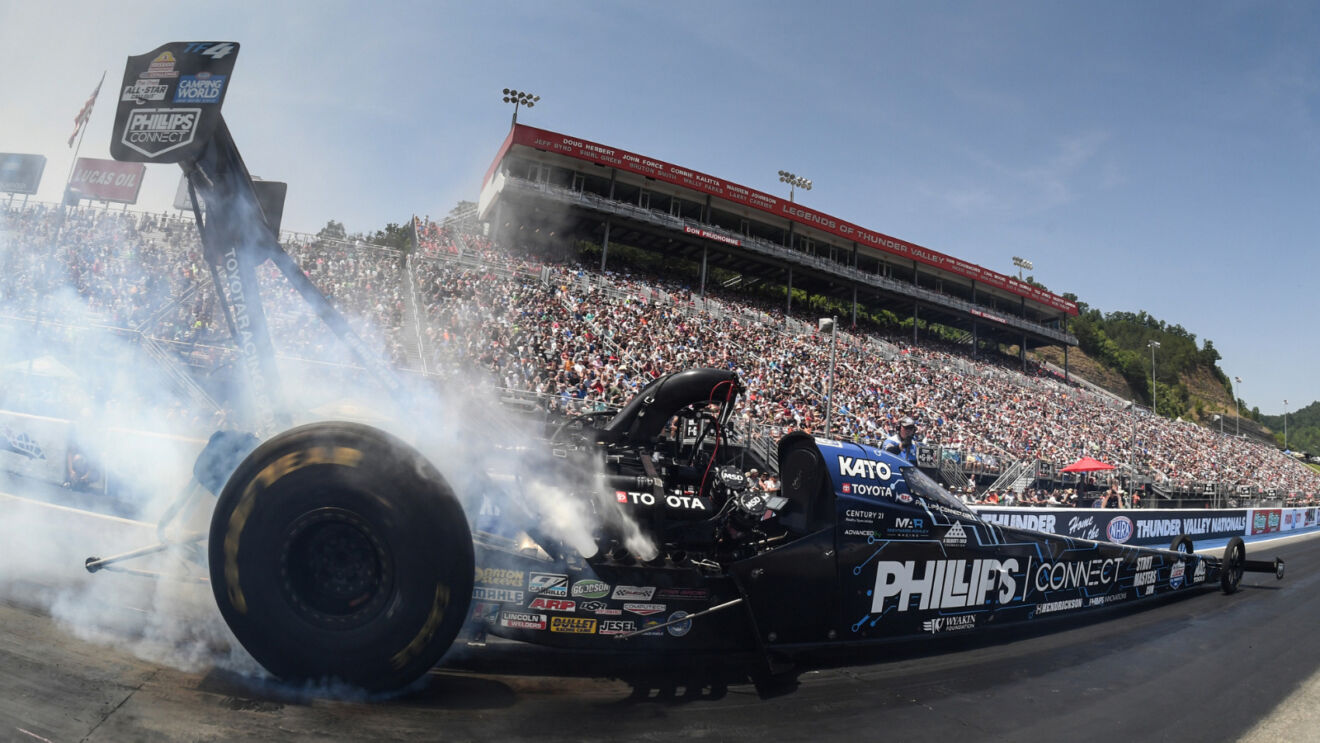 During two days of qualifying last week, Ashley was able to get his Phillips Connect Toyota dragster qualified in the No. 10 spot and into a first round race with Dan Mercier. During the second round of qualifying at the Thunder Valley Nationals on Friday night, Ashley began his pursuit of three wins in one weekend. The 2020 NHRA Rookie of the Year was first off of the line with a strong .038 reaction time and never trailed in the race. It was Ashley's second consecutive win over Mercier and set up and tough match-up with Force.

In the second round today, Ashley was once again first off of the line but his Phillips Connect Toyota dragster ran into problems, wounding itself as it powered down the track. Force lost traction but pedaled her race car as she tried to chase down Ashley. He was able to keep momentum and get to the finish line stripe first for a win that came at a cost.

Moving into the semifinals facing Torrence for the second time this season, Ashley was looking for another win light. The last time these two drivers faced off was the semifinals of the Arizona Nationals which Ashley won. He was able to repeat history getting his third win light of the day and moving into the New England Nationals final round and the Mission #2Fast2Tasty Challenge final round.

"It has been a long week to get to this race," said Ashley. "I feel so grateful. When you come to a race – anytime there is an opportunity to win it is special – but when you have the opportunity to win three races in one weekend, especially at a historic facility like Bristol, it just makes it that much more special. The semifinal against Steve was a big round win because it turned into two final rounds."

In the final round of the day, Ashley was first off of the line again and used that advantage to squeeze out a small hole shot win over Schumacher with his 3.846 second run getting to the finish line first in front of Schumacher's quicker 3.835 second pass. Ashley's reaction time was .041 to Schumacher's .061. The win was the first for Ashley since announcing the formation of Maynard Ashley Racing last month, and victory No. 3 for the JCM Racing organization.

"The key word for today's success is team," said Ashley. "You are only as good as the people you surround yourself with. I feel more than confident in saying I have the best group of people behind me. I am just grateful for everybody on this Maynard Ashley Racing, Phillips Connect, Toyota team. Even going into the third round, it was a little wacky. It was a quick turnaround, and we did some damage, which we never normally do, but thankfully we got the win. I just have to credit the guys for putting everything together in time. The job that they always do is phenomenal, but especially this weekend working in the heat and getting it done on a Saturday, really is just amazing.

"Our plan and our objective coming in was to win everything, like it is every race, but it is so, so difficult out here. Now our focus is just on the here and now, in the present, enjoying this win because they are so hard to come by, but come tomorrow, it's in the past. We can only enjoy this for a short period of time, but yeah, I think we have a great opportunity to win tomorrow, but there are 15 other cars that feel the same way. I know we are going to put on a really good show for the fans."

Ashley will start race day from fourth and will line up opposite No. 13 qualifier Doug Foley in the opening round of eliminations on Sunday.