Championship contender Justin Ashley bounced back from a disappointing start to the 2023 NHRA season at the historic Gatornationals by winning the final Top Fuel title at the fabled NHRA Arizona Nationals today. Ashley drove the Phillips Connect Toyota Top Fuel dragster powered by National Debt Relief to victory over Tony Schumacher, Mike Salinas, Steve Torrence and in an epic final round Shawn Langdon to take home his sixth career Top Fuel victory. Racing from the No. 7 qualified spot Ashley raced the gauntlet of an eight-time world champion, the 2023 Gatornationals winner, a four-time Top Fuel champion and the 2013 Top Fuel champion in Toyota teammate Langdon.
"It was an incredible race day," said Ashley. "To be honest with you it really was an incredible weekend. We knew coming into the weekend that we're going to have to go through a gauntlet of opponents just if we wanted to give ourselves a chance to win on Sunday. My crew chiefs Mike Green and Tommy DeLago learned a lot. They really approach this the right way. We made a lot of changes in the off-season and they took Friday and Saturday to make quality laps down the racetrack and learn. We were in a good position to go rounds on Sunday. I think that proved to be the case. You have to have four perfect rounds of racing to just give yourself a chance to win and there are a lot of really great races out there. I am just proud of my team and grateful that we collected this win.
The final round against Langdon pitted Ashley, the No. 7 qualifier, against the No. 8 qualifier and two of the best leavers in the sport. Ashley was protecting a six-race win streak that included last year's Thunder Valley Nationals final round. The competition between each of these drivers was fierce on the track. Langdon's Toyota powered Top Fuel dragster was also one of the quickest race cars on the property on race day.
"I knew before that round that they were going to try and step it up because Shawn had been running so well," said Ashley who posted his quickest run of the weekend in his final run. "I knew that they were going to try and take it from that 3.74 range to the 3.70 or 3.71 range. I couldn't have been happier when I looked at the time slip. Just a total team effort and they've been tweaking things. They've been working on things and we're able to have four rounds today and collect the win but maybe even more importantly long run we've got four more runs to collect data. So proud of our Phillips Connect Toyota team powered by National Debt Relief."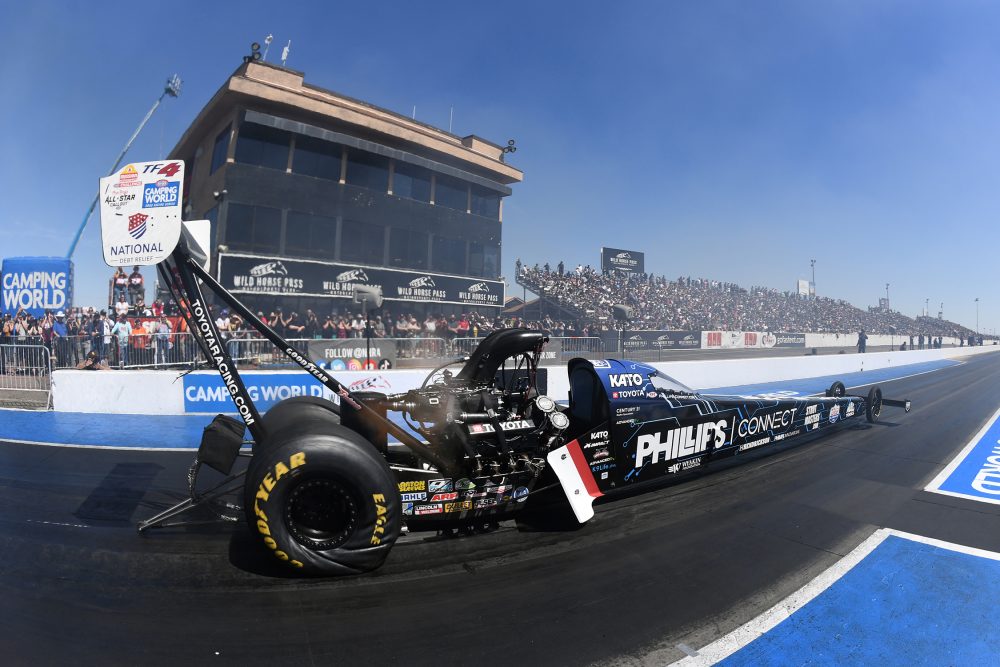 Throughout the day Ashley was on point with his driving leaving first in every round of eliminations. Versus Salinas and Torrence Ashley recorded reaction times of .039 and .035 which were by far the quickest times off the starting line.
Last year Ashley started the season with a season opening win at the NHRA Winternationals but slumped the following race in Arizona. This season with high hopes the team lost in the first round at the Gatornationals but returned to championship form today. The importance of a fast start was not lost on the championship contending team.
"It's ironic because last year we won the first race (Winternationals) and then lost in the first round at the Arizona Nationals," said Ashley. "This time was the opposite. We lost in the first round of the first race (Gatornationals) and came back and won the Arizona Nationals. It sets the tone for the year. You know you got to start strong, but you also got to finish strong especially with the Countdown format. We learned last year that it may be more important to be able to finish strong but just learning, just growing and winning definitely helps us to collect some momentum. Every point matters, whether it's early in the year or late in the year so we're able to collect those points early on I think is really significant."
Ashley and the Phillips Connect Toyota Top Fuel dragster moved up to the No. 4 spot in the points and locked themselves into the 2Fast2Tasty specialty race sponsored by Mission Tortilla Chips. The specialty race will pit the four Arizona Nationals Top Fuel semifinalist against each other during qualifying at next week's NHRA Winternationals for $10,000 and additional Countdown points.