There was a lot on the line heading into the Thunder Valley Nationals and championship contender Justin Ashley and his Phillips Connect Toyota Top Fuel team had a lofty list of goals for Bristol Dragway. Competing in the rescheduled New England Nationals, the Mission #2Fast2Tasty Challenge and the 22nd NHRA Thunder Valley Nationals all in one weekend, the three-time 2023 winner was hoping to grab three more event wins and accelerate his championship hopes. The 2020 NHRA Rookie of the Year checked all the boxes at the conclusion of race day winning his second consecutive Thunder Valley Nationals in an epic all Toyota final round against Antron Brown less than 24-hours after winning the New England Nationals and his third Mission #2Fast2Tasty Challenge title of the season.
"I'm on cloud nine. It is just an amazing feeling. It's so hard to win a race," said Ashley, who has collected $30,000 and nine championship points for his Mission Challenge victories alone. "It is so difficult, so to be able to come into one weekend, in three days, and win two events and one Mission Foods Challenge, is really something special. It's hard to turn on win lights in this sport, so I just have so much gratitude for my entire team and the work they did to turn this car around round after round, and make sure it went down the racetrack. We had a lot of friends and family here – this is not too far from when the Maynards are, so they had a lot of their friends out as well. It's a big win for the entire team."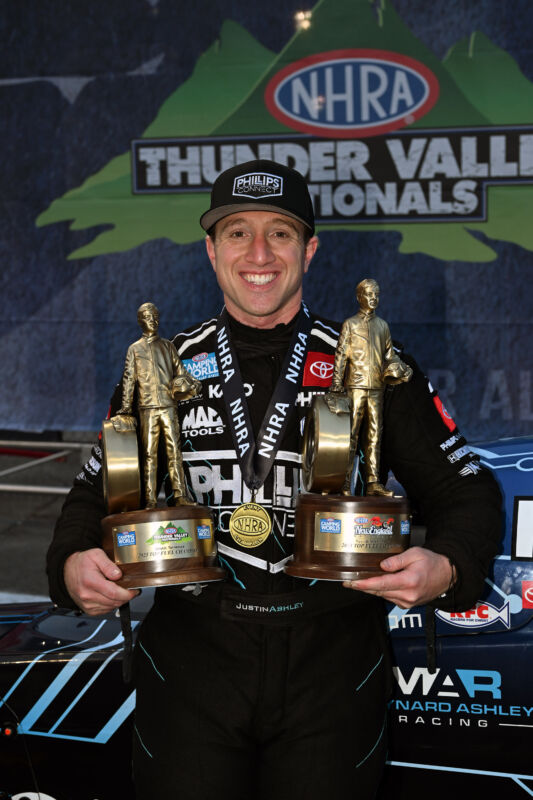 On race day today at Bristol Dragway Ashley as the No. 4 qualifier outran veteran Doug Foley in the first round. He took a starting line advantage and never trailed in the drag race. His winning time of 3.763 seconds gave him lane choice over Josh Hart in the second round. In a tremendous side-by-side race Ashley was again first off the line and took his sixth consecutive winlight of the weekend over Hart. His 3.756-second pass at 329.83 mph got to the finish line just in front of Hart's 3.780-second, 328.86 mph pass. He gave up lane choice for the first time against his semifinal opponent. Throughout the day Ashley faced one tough competitor after another but there was no round that stood out due to the heightened level of competition.

"It was every round today," said Ashley. "I think at this point you always need to dig deep, especially with the way the competition is. Anytime we go up against Antron (Brown) is usually a fantastic race, and it is a small margin of victory. I don't really believe in the approach of getting up for anyone, but you have to be extremely focused because he is not going to let you get away with anything. Antron is a fantastic driver, and more importantly, he's a fantastic person, so I think racing a guy like Antron brings out the best in myself and my team."

It was another wire-to-wire win for Ashley over Austin Prock in a battle of two rising stars in NHRA. The win moved Ashley into his fourth final round of the season. It would set up a final round against his technology alliance and Toyota teammate Antron Brown as they each pursued Toyota's 199th NHRA victory.

It was an epic final round as both drivers left the starting line together and Ashley was able to hold off a charging Brown for his fourth victory of the season and ninth Top Fuel title of his career. Ashley became the second NHRA driver to win two national events in one weekend joining 8-time Top Fuel champion Tony Schumacher, who he defeated in the New England Nationals final yesterday. His crew chief and Schumacher's crew chief at the time was world champion Mike Green.

"Mike (Green), Tommy (DeLago) and Dustin (Davis) are just fantastic," said Ashley, about his Top Fuel crew chief leadership team. "They are excellent at what they do both on and off the racetrack. You are only as good as the team that you have. They have done a great job themselves, but they have also assembled an amazing team that surrounds the race car. Honestly, it is fascinating to be able to watch them round after round maintain that consistency. Nothing stops this team. We can lose in the first round, we could win the race, we could fall short somewhere in between, but the mentality is the same. We always expect to win, and the reason for that is because it starts on top. It starts with guys like Dustin, Mike and Tommy."

After the most successful three days in Ashley's still young career the team owner and driver was worn out but elated by his team's success. He knew that there was still a lot of season left in front of the Phillips Connect Toyota Top Fuel team but with the support of his marketing partners like Mac Tools, Strutmasters, KATO Fastening Systems, Lucas Oil and more the future looks very bright for the team. The accomplishment hadn't sunk in as Ashley headed to his second winner's circle of the weekend.

"After the fact, I certainly think about it," said Ashley. "During the race, that doesn't cross my mind and if it does, I do everything I can to get rid of that thought, because it is just a matter of focusing on that moment and taking it one round at a time, because it is not easy to win. I think that approach gives us as a team the opportunity to win."

Ashley will leave with the Top Fuel points lead which he took over yesterday after his New England Nationals win and extended today. He will return to the track in two weeks at the Norwalk Nationals at Summit Motorsports Park.