Two weeks ago Justin Ashley turned on every win light available to the third-year pro, winning the rescheduled NHRA New England Nationals, the Mission #2Fast2Tasty Challenge and the NHRA Thunder Valley Nationals over a three-day stretch at Bristol Dragway. For the second time this season, Ashley defended his 2022 victory at a national event going back-to-back in Bristol just like he did earlier this season at the historic NHRA Winternationals. This weekend at the NHRA Summit Racing Equipment Nationals, June 23-25, Ashley and his Maynard Ashley Racing Phillips Connect Toyota Top Fuel dragster powered by Okuma will be looking to make it three national event wins in a row.
"We approach each race with a renewed mindset," said Justin Ashley, who will also be competing in his fourth Mission #2Fast2Tasty Challenge. "Our Phillips Connect Toyota Racing team accomplished something very special in Bristol. It was important for us to reflect, appreciate and value those victories. But our focus and attention has now shifted to Norwalk. The competition is going to be tough and many teams are hitting their stride. We're excited for the challenge."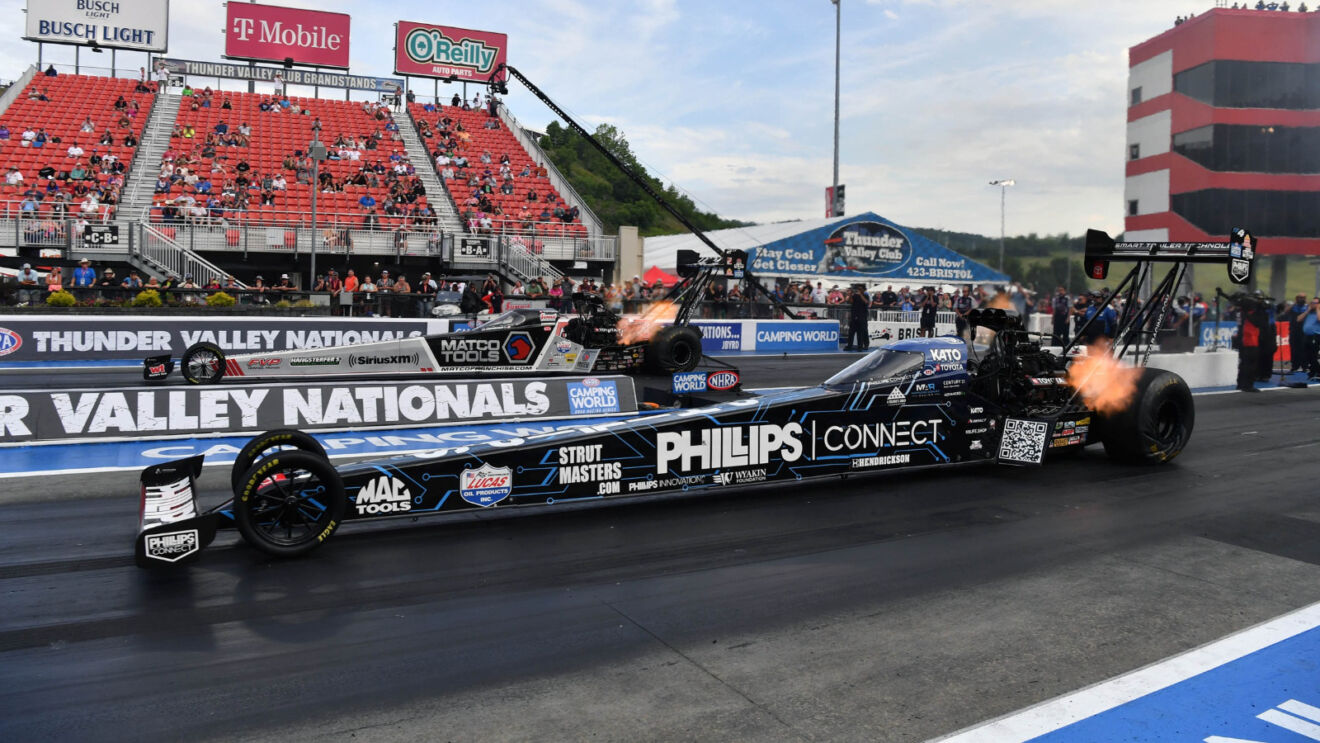 Summit Motorsports Park, recognized as "America's Racetrack," is a fan-friendly facility that Ashley would like to build a winning legacy. The past two seasons, he has qualified well, starting in the top half twice, but his race days have not been extended efforts.
"Norwalk is an amazing facility and the Bader family does a tremendous job promoting NHRA and their national event," said Ashley, the 2020 NHRA Rookie of the Year. "The stands are always packed with fans eager to watch racing. The full fields will make for an excellent show and varying conditions could create unpredictability. Our Phillips Connect team will be ready."
This season Ashley has won more races already than any previous campaign for the second-generation driver. His four wins have come in his four final-round appearances. It has been feast or famine for Ashley since he also has three first-round losses and a quarterfinal finish over eight races. The up-and-down nature of the sport has not phased Ashley, who keeps an even keel when he reflects on his season's progress.
"You look at the competition we are facing every weekend and there are no easy rounds," said Ashley, who leads the category in reaction time average. "In Bristol, there were multi-time Top Fuel champions going into race day deep in the bottom half of the field. That could just as easily be our team any weekend because the margins of success versus failure are so thin out here. Qualifying positions and races are being set by one or two-hundredths of a second or even a few thousandths of a second. Every round is a battle."
Ashley and his newly formed team Maynard Ashley Racing are building a program that will keep the nine-time Top Fuel winner at the top of the category. This weekend Ashley will be recognizing Okuma on his 12,000-horsepower Top Fuel dragster along with long-time sponsors KATO Fastening Systems, Strutmasters.com, Lucas Oil, Mac Tools and Toyota. The list of supporters that keep Ashley powering towards win lights continues to grow, and the goal of Maynard Ashley Racing is to make sure all the marketing partners get maximum return on and off the track.
"Maynard Ashley Racing is focused on growth, stability, and bringing world-class results to our marketing partners both on and off the racetrack," said Ashley. "You will start seeing more business-to-business elements coming together as the season progresses, and Okuma is a great example of that. I am grateful for the opportunity to represent Okuma, and I can't say how excited I am to be working with Joe, Cathi, Joe C. Maynard, and Eric Lehman."
This weekend Ashley and the Phillips Connect Toyota Top Fuel dragster powered by Okuma will get four qualifying passes leading up to eliminations on Sunday. In addition to two runs on Friday and Saturday, Ashley will be racing for his fourth Mission #2Fast2Tasty Challenge title, which would put another $10,000 and three championships in his pocket. The addition of this specialty program has Ashley and his team thrilled to head into the countdown.
"I love the Mission #2Fast2Tasty Challenge," said Ashley. "Of course, winning additional prize money is great, but collecting championship points is critical. These points could prove to be the difference in seeding once the countdown begins. We want to keep stacking up round wins and championship points."
Qualifying will begin on Friday, June 23, at 5:30 p.m. ET with final eliminations on Sunday beginning at 11 a.m. ET. The race will be broadcast nationally on Sunday, June 25, from 4:00 p.m. – 7:00 p.m. ET on FOX.