The 2018 PDRA season is now halfway over and points battles are starting to shape up with clear leaders. Three races remain for teams to make their push for a PDRA Championship. In CoolShirt Pro Junior Dragster Makala Stevens and Anthony Suppers are tied for first with 1058 points each. Most of the field remains close behind, and it's still feasible for any of the top 10 Pro Junior drivers to make a run at the 2018 Championship. What's even more impressive for these young drivers is that it's both Makala's and Anthony's first year following the PDRA tour.
"This is my first time doing PDRA, so this is crazy for me," told Makala, who one day hopes to drive a Top Fuel Dragster. "We go to every PDRA, no matter how far it is, me and my dad. It's a great bonding experience for us.
"We have a few friends that do it and they told us it's very fun, and we would love doing it. We wanted to try it before but we never really had the chance. This was our year to travel and try new things. It's paid off."
Makala is a first-generation driver. After attending the Four Wide event at zMAX, Makala began asking her parents for a Junior. Her dad later followed suit, racing a truck in No Box.
"We've had some trouble with the car, so for me to be sitting number one is quite crazy," Makala continued. "It's an amazing feeling. We just have to keep working hard at every single race. We can't slack off any. We learn new stuff every day with it. I just hope to be the best that I can. I'd like to thank Zach and Johnny Pennington. They help me out a lot. And just the Good Lord above, as well as everybody that supports me."
Her points leader counterpart, Anthony, has been equally amazed at the success he's found in just his first year with the PDRA. He won the event at his first-ever appearance with the PDRA.
"It's gone really good, so far," Anthony said, summarizing his season. "The first race I went to in GALOT I won, which put me in first. After that it's been on and off, but overall good."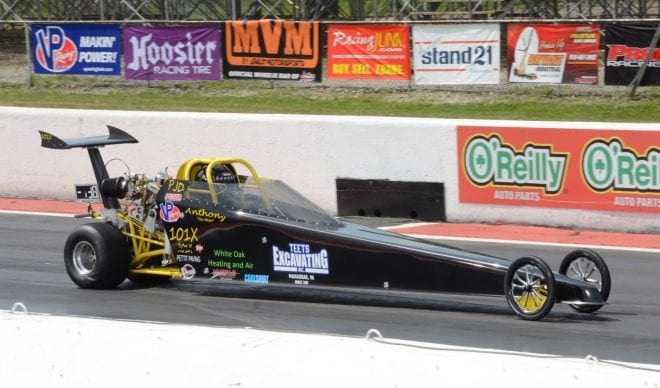 Anthony had wins at local tracks and, thanks to sponsor Teets Excavating, was able to turn an unfortunate incident into an opportunity. After his engine blew on the first pass at a local event, Teets Excavating purchased a bigger motor for the team, allowing Anthony to move from the 8.90 class to the 7.90 class.
"I gotta give a shout out to my dad," continued 14-year-old Anthony. "He's the person who's helped me most in getting this far, along with my mom and my whole family. Another one is my biggest sponsor, Mr. Glenn and Ms. Valerie from Teets Excavating. They've helped us out so much. He's been with me since the first year I started racing.
"It's been a really great year. I thank everybody that's helped me get through it. I want to thank everybody at the PDRA. It's been fun hanging out with a bunch of friends and getting to know a lot more people and travel a lot more than we usually do."
Regardless of who walks away as the 2018 Pro Junior Dragster World Champion, both Makala and Anthony have much to be proud of. Their success as first-year PDRA racers is quite impressive.
In Gilbert Motorsports Top Junior Dragster, Brooke Miller leads with 958 points. Nipping at her heels is Brayden Davis with 952 points. Kayden Groves and Arellyn Garner-Jones follow close behind, making less than a round of competition difference between the top four in points. Brooke and Brayden are both relying on their consistency to keep them at the top of the pack, neither having won an event, but racking up rounds (and points) nonetheless.
Brooke has raced with the PDRA for four years, with runner up finishes and number one qualifiers to her credit. This is her flex season where her age allows her to run both Top and Pro Junior Dragster. Although she's running both classes, her focus on her first year running Pro Junior Dragster has paid the biggest dividends. The points leaders says she "mostly just goes out there to have fun," and uses consistency and focus to keep going rounds.
"Right before we stage, dad always tells me 'deep breath' and then we go in shallow," she explained. "I try to tune everything out and just focus.
"Mostly I'm trying to work on interviews. That's the hardest part," she laughed.
Brooke comes from a racing family who's made a hefty mark on the sport and the 13 year old certainly wants to add to the family tradition with a championship. She thanks partners Pee Dee Fleet, NGK Spark Plugs, Darlington Dragway, Carolina No Time, No Limit Productions, Huddleston Performance, VP Racing fuels and Royal Purple.
Sitting number two behind Brooke is Brayden Davis, who also happens to be the reigning Top Junior Dragster World Champion. The 12 year old speaks with a confidence well beyond his years.
"Earlier in the season I struggled a little bit with having the light on people, but then not driving the stripe right," he explained in an indicative Georgia drawl. "As the season went on, I got better, making rounds to the finals. It's going to be really close this year."
He said that consistency is what won him the championship last year and it's certainly going to play a role in the 2018 points battle as well. His approach while in the driver's seat is always the same and well balanced between serious focus and enjoying the moment. "Right before I go make a round I always listen to PJ North's 'Glory'. Right before my dad cranks me up, my mom and dad and me say a prayer and then we'll say 'shake and bake.'
"I want to thank my mom and my dad, my pops, TJ's Transport, Timblin Chassis, McKinney Motorsports, everybody that helps me."
Three races remain on the PDRA 2018 Tour, including the highly anticipated PDRA Drag Wars at GALOT Motorsports Park, September 6-8. Follow PDRA social media for results or tune in to the live stream at www.speedvideo.com to watch the points battles unfold.