John Lassiter has won in many vehicles and formats at "The Doorslammer Capital of the World", historic Piedmont Dragway. From big-money bracket races to the old Renegade series, the always-smiling Lassiter has used his employer's power plants exclusively. His employer, Brett Nesbitt, seems to still be getting a handle on his beautiful new RJ Race Cars-built '69 Camaro, but at least has a powerplant in the winners' circle.
Qualifying at the June Big Dog Shootout, though, gave us a different snapshot, with Bubba Turner being low qualifier for a brief moment at 4.049. May race winner Tim Lawrence spoiled the party with a 4.039 in his '13 RJ Camaro. Third was Cam Clark at 4.049. Fourth was Brian Schrader at 4.077. Finally, at fifth, was Lassiter with a 4.080 qualifying shot. Sixth was Ronnie Gardner, winner of the season opener, with Jason Harris in seventh and Brett Nesbitt eighth. Non-qualifiers were Shannon Wilson and Scott Lang.
Eliminations began with Lassiter, Clark, Turner and Nesbitt all advancing. John and Brett ran almost identical times with a 4.082 and 4.083, respectively. In the semis, Clark got a single and Lassiter put his boss on the trailer when the Nesbitt Camaro slowed to a 7.21. In the finals, clearly the best race of the evening, Lassiter and partner Jeff Miller dialed up a 4.082 with a .025 light to defeat Cam Clark, who ran a 4.088 with a .033 light. Clarks' former Travis Harvey Camaro is becoming more consistent with each passing event. Not to be outdone, Jeff Miller and John Lassiter seem to have all the gremlins out of the RJ GTO.
The new rules package for the Big Dog cars was designed to create equal competition for all platforms and power plant combinations. Parity has been the result as we approach the middle of the second season. A usual field has become 12 cars or so, with that first 3-second run right around the corner. Should be a fun rest of the season.
Also on hand at the June Big Dog Shootout were the usual 6.0, 7.49, and Outlaw Door Slammers. These drivers split because of time constraints, as did the Classic Gear Jammers, who provided competition from a strong 24-car field.
COMING IN JULY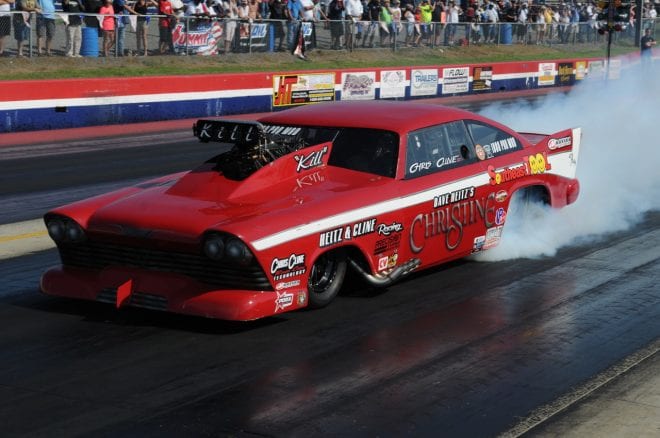 Piedmont Dragway owner Ron Senecal and Extreme Outlaw Pro Mod Association executive director Rick Moore just made a huge announcement regarding the upcoming 60th annual Power Jam Race and Reunion. The winner will receive $6,000 and runner-up will get $2,500. Semifinalists will be awarded $1,500 and first-round losers get $1,000. If a 16-car field is present, first round losers will receive $500.
Story and photos by Greg Burrow