The R+L Carriers Top Fuel team will be rolling into Summit Equipment Motorsports Park looking to grab one more win light this year. Team owner and driver Josh Hart raced through three rounds at America's Racetrack, and then his momentum was sidelined by a rainstorm before the final. Hart missed picking up his third career Top Fuel win, and the young driver used that experience as a motivator moving forward in his career. This weekend at the Summit Racing Equipment Nationals, June 23-25, Hart will bring his 12,0000-horsepower R+L Carriers land rocket to the track with his focus on picking up his first win of the season.
"We have been making steady progress all season with a new racecar, and we have made major strides in the past two races," said Hart, who has five career final round appearances in Top Fuel. "Getting to the final round in Chicago was big, and we lost a close race to my friend Clay Millican. We ran two races in one weekend in Bristol, and our R+L Carriers Top Fuel dragster made some strong passes. We just need to string four good qualifying runs together and then four good runs on Sunday."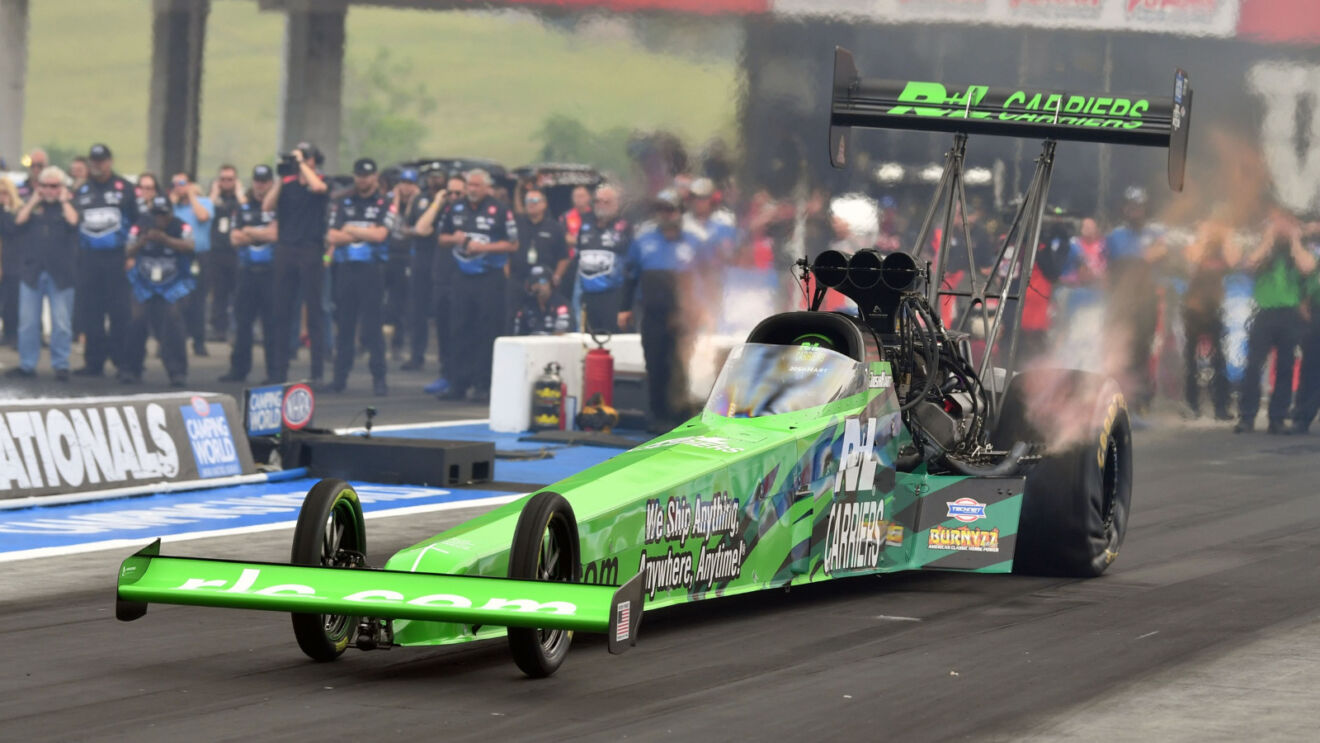 Hart has kept a laser focus on the development of his team since he burst onto the scene during the 2021 NHRA season. Last year was his first full year on tour, and this season the young driver who is establishing himself as a leader in the category is finding his way on and off the track.
"A lot of people don't know how much time it takes to run a race team and race competitively," said Hart, who also owns Burnyzz Speed Shop in Ocala, Florida. "I manage two teams all the time with the assistance of some great teammates. I have my Burnyzz team in Ocala, Florida, and then this R+L Carriers Top Fuel team based out of Brownsburg, Indiana. There are a lot of similarities between the two, but there is really no crossover. I think it makes me a better driver when I focus on the task at hand, and I am seeing positive results."
Hart's racing operation is a collaborative effort with veteran crew chief Ron Douglas. The Douglas and Hart combination have built a program that continues to improve race-to-race. The two soft-spoken racing professionals understand the season is a marathon not a sprint.
"Working with Ron Douglas has been a blessing," said Hart. "He is a tremendous crew chief but more than that he really does a great job running the motorsports operation out of Brownsburg. I knew when I gave him an ownership stake in the team, we were going to be together for a long time. I want to win a lot of races with him, and he is putting me in a great position to be successful."
This season Hart got off to a slower than expected start, but the team did not panic, and over the past five races there has only been one first round exit combined with three final round appearances, including both four-wide national events when Hart and the R+L Carriers Top Fuel team were competing in the final quad. The race in Chicago was a breakthrough, and quick runs in Bristol also have the team eager to get to Norwalk, where the track will be quick, and conditions should be perfect for great times and speeds.
"Norwalk is one of those places you want to put on a good show," said Hart. "The Bader family pours their hearts into the race, and as a competitor, you want to give them everything you have because you know how hard they are working. They will have a great crowd, and there is an R+L Carriers facility right across the street, so we are looking to represent R+L Carriers with a strong performance.
The Top Fuel teams will get on the track on Friday for two qualifying runs at 5:30 p.m. and 8:30 p.m. ET and they will be back on Saturday at 2:00 p.m. and 5:00 p.m. to wrap up qualifying. The quickest 16 Top Fuel dragsters will hit the track in head-to-head action on Sunday, June 25, at 11:00 a.m. ET with the race being broadcast nationally on FOX from 4:00-7:00 p.m. ET.