For over a decade Huntington, Indiana native son Josh Hart has been showing the National Hot Rod Association (NHRA) that "Anything is Possible" as he has pursued his dream of competing at the highest level of professional drag racing. Now the multiple time national event winner and driver of the R+L Carriers Top Fuel dragster is turning his attention to supporting his hometown and especially young athletes through a multi-year sponsorship with the Huntington Police Athletic League. Hart through his Josh Hart Racing team has agreed to sponsor both football and baseball fields beginning with the 2023 Fall League season and he made a sizable donation to provide up to 85 helmets for the football program. The helmet donation insured that the Huntington Police Athletic League would be able to have a season in 2023.
"I love Huntington and my family has been living in Ocala, Florida, for many years, but this community has never been far from my heart," said Hart, who owns Burnyzz Speed Shop as well as number of other successful businesses in Florida. "For the past three years I have been racing the R+L Carriers and TechNet Top Fuel dragster which was always a dream of mine. We have won some big races and I realized I wanted to start giving back to my hometown. As a dad of two great, and soon to be very active kids, I thought the best way was through the Huntington Police Athletic League. I am going to continue to look for other ways to encourage kids and adults to chase their dreams."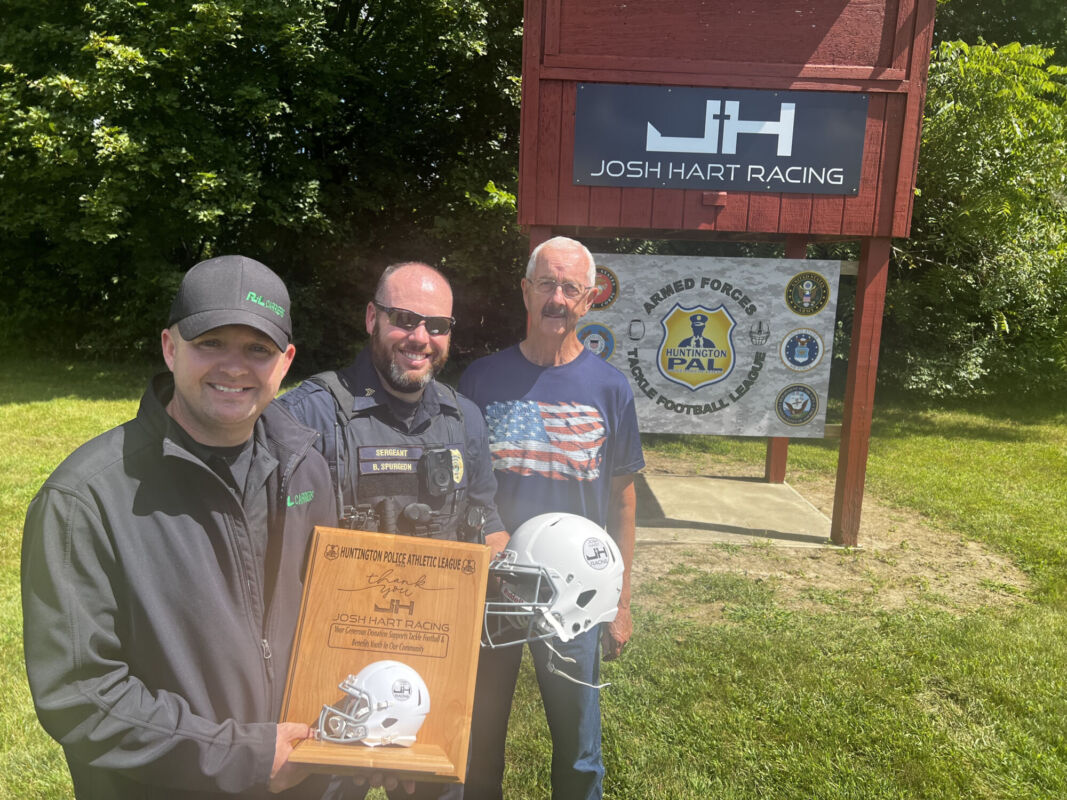 The Josh Hart Racing fields are part of the larger Huntington Police Athletic League complex. With over 80 acres of property, located at 2099 Riverside Drive, the Huntington Police Athletic League has five baseball fields, one full size high school football field and four flag football fields, which also serve as soccer fields in the spring. Throughout the year they provide athletic fields for over 1,200 children participating in their programs.

"We are continually updating our property to provide the best experience for everyone involved and the donation for the helmets saved our season," said Sergeant Ben Spurgeon with the Police Athletic League. "Support from Josh Hart Racing makes a huge difference in maintaining the fields and providing a great opportunity for the youth of Huntington. We are going to start signing kids up for fall league soon and they will be having a great time on the Josh Hart Racing fields this year."

Hart, along with his wife Brittanie, who is also from Huntington, have two children daughter Helen Londyn and son Banks, plan supporting additional Huntington charity and community events. Josh Hart Racing is wrapping up the 2023 NHRA Camping World Drag Racing Series regular season this weekend at the Dodge Power Brokers U.S. Nationals and currently is in tenth place in the Top Fuel standings.