"I guess I'm just hard-headed," Jonnie Lindberg says as he tries to explain how he's managed to take the NHRA Top Alcohol Funny Car class by storm since arriving on the scene in 2014. In just three seasons, the 27-year-old Swedish driver has shattered the elapsed time world record, won six national events and two regional races, and claimed the two most recent national championships. As if that wasn't enough, he's also mixed in a few Pro Mod tuning gigs on both continents.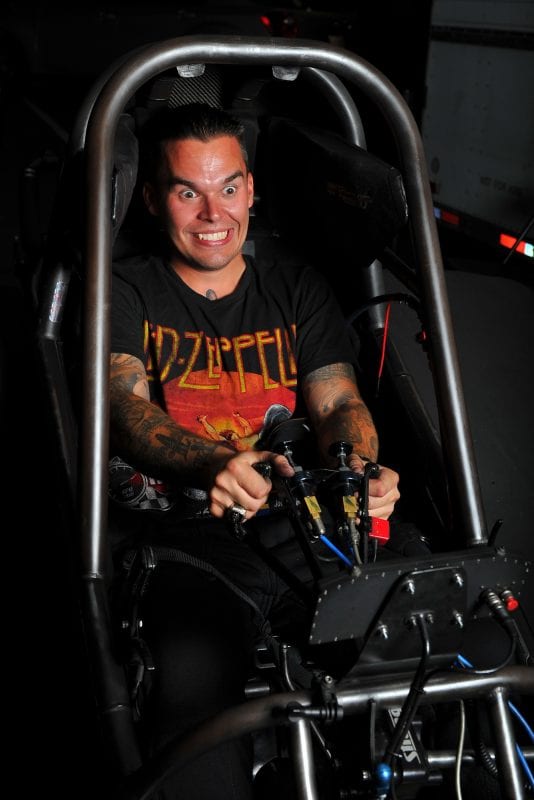 Lindberg came to the United States as the 2013 FIA Top Methanol Funny Car champion, dead-set on proving himself in fierce NHRA competition after recording some near-world record performances in Europe. He was only getting warmed up when he went to nine races and one final round in 2014, then began his championship chase in 2015 after winning the season-opening Winternationals and Four-Wide Nationals, where he also became the first driver in class history to dip into the 5.3-second zone at over 270 mph. Running in conditions eerily similar to the weather and track surfaces he was accustomed to in Europe, Lindberg drove his former Frank Manzo Monte Carlo to a 5.47 at 270.10 mph, then rotated the earth with a mind-numbing 5.361 at 272.01 mph.
"I did so good back home in Europe – went 5.42 at 268 mph – so that was one of the reasons to come over here. I wanted to prove that I was that good. Last year we learned a lot. We struggled with the track conditions and started learning a lot. I did my homework during the winter and it seems to pay off," Lindberg posited at the time of the record performances. The speed record has since been reset as the Top Alcohol Funny Car speed numbers have been improving with their nitro counterparts, but the elapsed time mark has yet to be touched by another NHRA-legal alcohol flopper.
With the world records and a pair of Wallys in hand, Lindberg made a serious run at the 2015 NHRA Lucas Oil Series national championship, flying back and forth from Sweden to do battle with class frontrunners like John Lombardo Jr., Annie Whiteley, and Doug Gordon. "At one point I think I did five weekends in a row across both continents; did a race here, flew to Finland, came back here, flew back to Sweden, then back here. The traveling part is tough, but my crew flies in from Sweden for the weekend too. I'm more impressed of them. They have their regular jobs and they fly in on Thursday and fly back to Sweden on Monday," Lindberg added proudly.
The 2015 national championship was decided in Lindberg's favor by just two points on the final raceday Sunday of the season. Still, the soft-spoken driver and tuner of the Landmeco Camaro was just getting warmed up.
"I knew a lot of cars would probably step up, and they did," Lindberg revealed of his line of thinking after winning his first NHRA championship. "The competition becomes tougher and tougher, so we need to be tougher as well."
Lindberg went to work over the winter and reminded the world why he was the defending national champion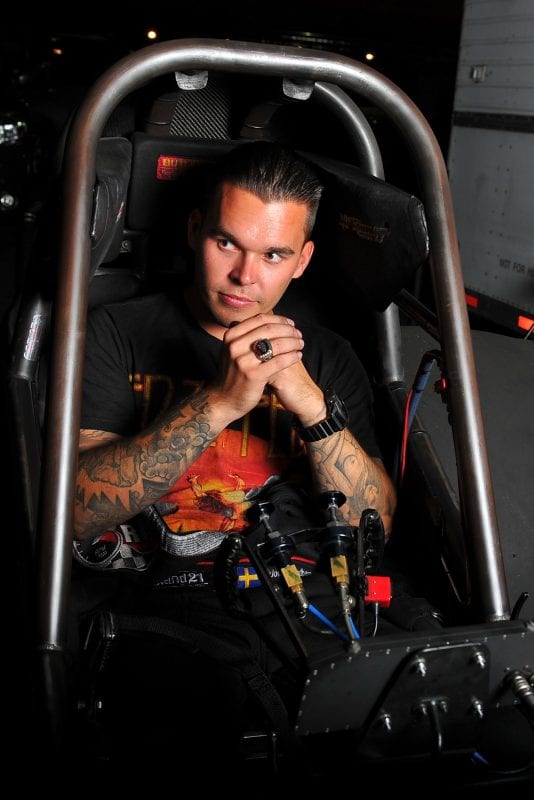 when he kicked off the 2016 season with another win at the NHRA Winternationals in Pomona. He was introduced to the ice cream-based winner's circle celebrations at Summit Motorosports Park when he swept the Norwalk regional race and national event later in the summer portion of the season. Another raucous celebration followed when he won the Brainerd race an ocean away from his older brother, Johan, who was celebrating his Pro Mod win at the NitrOlympX in Hockenheim, Germany.
"I raced Brainerd and he raced in Germany, and we won on the same day just a couple hours apart. That was really cool. I had the most pressure on me because he won first," the younger Lindberg laughed. "Then I was like, Now I really need to go win it, and we did. That was cool. That's unique. I don't think anyone has ever done that before."
Lindberg kept the party rolling in September as he celebrated his 27th birthday with a large, eclectic gathering of drivers and crew members at his Brownsburg, Indiana race shop on the Thursday of the Chevrolet Performance U.S. Nationals. Later that weekend, he claimed possibly the biggest win of his American career, hoisting the Wally that so many drivers have considered as prestigious and meaningful as a world championship title.
"Winning Indy is pretty spectacular. It's the biggest race in the world. That was a cool feeling. My family came over from Sweden, all of my friends were there, and it was my birthday weekend. It was really cool that we managed to win that race."
The week after winning Indy, Lindberg hopped in his rig and headed south to GALOT Motorsports Park for PDRA Dragstock XIII. He was originally scheduled to make the trip to tune the Pro Extreme 1963 Corvette of fellow Swedes Mikael and Magnus Lindahl, but a grudge race callout by Pro Extreme star Frankie "the Madman" Taylor gave Lindberg a reason to bring his McKinney-built flip-top Camaro along with him.
"It was fun to go to PDRA and be part of a whole different scene," claimed Lindberg, who posted a strong run in testing, but shook alongside Taylor in a 3.71-to-3.77 race in front of the PDRA's largest crowd. "It was good that Frankie had problems, too, because I was trying to run a 3.58 or 3.59. I had friends in the grandstands, and they said we both pulled wheelstands and pedaled at the same time. It was a close race. We just got a little overexcited I guess."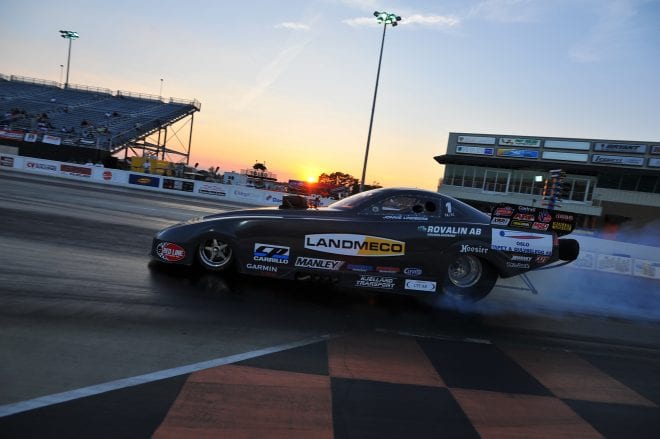 Unfazed, Lindberg moved on to the final few races of the year, charging to the semifinals at the Charlotte and Dallas races as he worked to defend his championship from west coast hitters Doug Gordon and John Lombardo Jr. Lindberg entered the Toyota Nationals in Las Vegas knowing that he had a good chance of locking up his second national championship. By the time qualifying was complete and the eliminations ladder was set, the scenario was nearly perfect. Gordon needed to lose first round, and the championship would belong to Lindberg. Who was Gordon slated to race against first round? None other than Johan, 33, who had flown in with his own car to drive for 2014 national champion Steve Harker.
"We started laughing when we first saw the qualifying sheet," Jonnie joked. "We thought everybody would think that we planned it that way. Steve and I sat down and tried to get the car down the track. I know the car, and he knows his motor combination, so we just put a pretty good tune-up in it."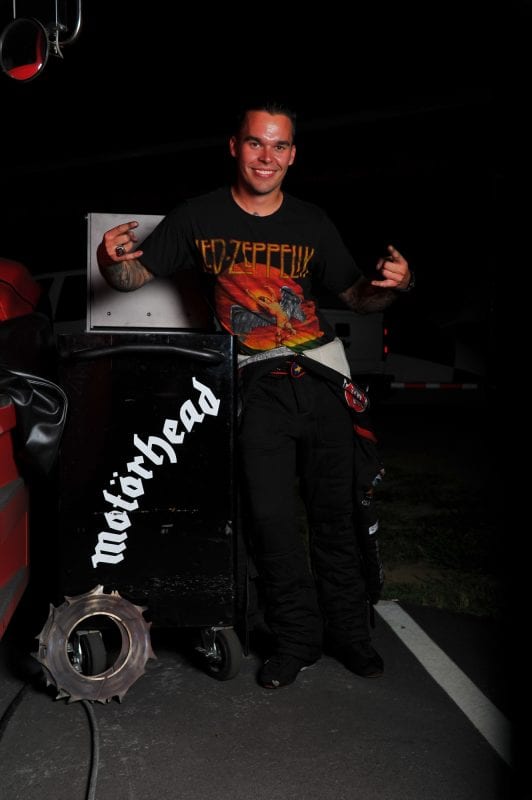 Even though Gordon and Johan were exactly one tenth away from each other in qualifying, Lindberg left first and improved to a 5.59, while Gordon's car nosed over just before crossing the 330-foot beam. The starting line in Lindberg's lane erupted. Jonnie was already strapped in to his car and had to celebrate through radio communication. Two pairs of cars later, Jonnie scored a 5.48 victory over Greg Hunter, but that was just a "victory lap" of sorts. The pressure was off. The number one would remain on the side of his car for another year. Jonnie Lindberg was the NHRA Top Alcohol Funny Car champion yet again.
"It's always good to have your family with you when it happens, especially when your big brother comes to take care of business when little brother gets in trouble," Lindberg said. "It was a funny coincidence that he qualified where he did and beat Gordon first round. It worked out like a Hollywood movie."
It's now the second Monday after the NHRA World Finals at Pomona. Lindberg is a full week removed from giving his second championship speech at the NHRA Lucas Oil Series awards banquet. He stayed in California for a few days to serve in the wedding party of friend and Top Fuel driver Richie Crampton. As he drives his aging red International toter through the desert, Lindberg has had time to reflect on his accomplishments. It's not easy to coax the quiet Swede into boasting about his titles, but he lets slip a few statements of certainty.
"I would say the first [championship] was harder. I learned so much more since then. I'm a better driver. I'm a better tuner. It's a more consistent car. Last year was tough. We won three races and we only won the championship by two points. This year we had five wins. We're better as a team.
"At the same time, the competition has been harder. It's not easy. I don't want to sound cocky and make it sound like this championship was easy. This season just felt better. We had more experience and I'm used to the tracks. Last year was our first time at a lot of the tracks. This year we went to Norwalk and Brainerd for the first time, and we won both, so we learn the tracks pretty quick."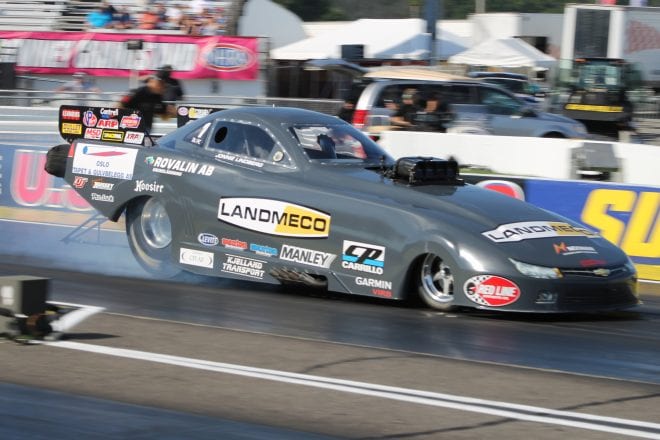 If Lindberg needed a mere three years to learn enough to win two consecutive championships, it's hard to fathom what the bright young talent can accomplish in 2017 and beyond. With some of the biggest items – event wins at some of the most prestigious races, a world record, and two championships – already checked off his Top Alcohol Funny Car bucket list, Lindberg will look to the next level to achieve his latest goals.
"I want to drive a nitro Funny Car," claimed Lindberg, who earned his crossover license in Tim Wilkerson's LRS Mustang on the Monday after the Toyota Nationals. "That's going to be hard to do with my own pocket. We'll see what happens. Hopefully I can run a race or two in a nitro car during the season. I've been talking to some people and hopefully I can work something out so I can be behind the wheel in a nitro car."
Lindberg's venture into the exponentially more expensive world of nitro racing might seem like a last-minute, do-it-while-you-can opportunity, but really it's been on his mind all along.
"I can be honest and say nitro is my goal. That's been on my bucket list since I was a little kid. Nitro Funny Car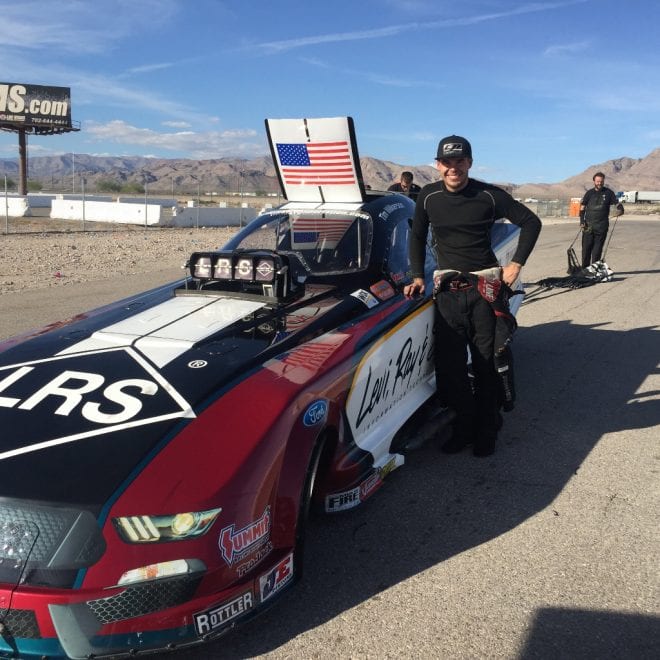 is the coolest car you can drive, in my opinion. Now that I've tried it, I love it. Now I just need to work hard and go after it. I'm pretty hard-headed, so I think we should manage to figure something out. We'll see what happens. Now I have my license. You never know; maybe [the big teams] will call me when they need a sub-in driver," added Lindberg, who was reportedly on the short list of fill-in drivers for Alexis DeJoria when she missed the World Finals to recover from a concussion.
Lindberg won't just jump at any chance to race a fuel car next year, though. Being a field-filler or an also-ran doesn't appeal to the competitive Swede, who's actually won four consecutive world championships when his 2013 FIA title and brother Johan's 2014 FIA championship are taken into consideration. If he's going to make the ultimate step up to the high profile, multi-million-dollar nitro ranks, Lindberg wants to do it the right way. He wants to win.
"Of course I want to race nitro, but I'm not going to jump in a car that just qualifies and doesn't win a round. If I drive a nitro car, I want to be in a good car so I can be a top contender. I don't just want to do it to drive one. I'd rather drive my alcohol car and win. I love to drive my alcohol car, so if I don't get a nitro ride I'll just continue doing what I love here. Next year I plan on doing the same thing we did this year; try to go three in a row," Lindberg confided.
Along with the temptation of going quicker and faster in a car that makes around 7,000 horsepower more than his current ride of choice comes the curiosity of how to make said car go so quick and fast. Lindberg already knows how to make a screw-blown, methanol-burning Funny Car go fast. There's no question about that. But does he know how to make a nitromethane-chugging fuel Funny Car get down the track? Maybe not yet, but Lindberg's history with steep learning curves suggests that it won't be long before he picks up the intricacies of applying an insane amount of power in less than four seconds at well over 300 mph.
"I understand the basics of a nitro car. If I were to drive a nitro car I would probably want to be involved in the tuning. Maybe if I don't drive I would love to tune one too. I would love to drive and tune, just like Tim Wilkerson basically. He does really good. It works for me now to drive and tune my alcohol car, so why wouldn't it work in a nitro car?"
With a track record like his, who could argue with reasoning like that?
This story originally appeared in Drag Illustrated Issue No. 115, the 30 Under 30 Issue, in November of 2016.