The Professional Drag Racers Association (PDRA) crowned a pair of first-time winners Saturday night at the PDRA North-South Shootout. Pro Extreme driver Wesley B. Jones (pictured above, far lane) and Andy McCoy Race Cars Pro Boost competitor Tylor Miller claimed their first PDRA wins at Maryland International Raceway. Also scoring wins in the pro classes were Jay Cox in Switzer Dynamics Pro Nitrous presented by MoTeC, Cary Goforth in Extreme Pro Stock and Travis Davis in Drag 965 Pro Extreme Motorcycle.
In the PDRA's sportsman classes, Randy Perkinson won Magnafuel Top Sportsman and Jerry Langley won Lucas Oil Top Dragster. Campers Inn RV Pro Junior Dragster was won by No. 14 qualifier Bailie Zepp, who ran 7.925 on a 7.90 dial-in to defeat AJ Jenkins. MegaCorp Top Junior Dragster No. 2 qualifier Josh Pribble Jr. ran 8.017 on a 7.99 dial-in to win over Gayge Farrell. The Edelbrock Bracket Bash win went to Rising Sun, Maryland's Tim Heaps.
PRO EXTREME
Supercharged Pro Mod racing veteran Wesley B. Jones had to face off against some of the most formidable competitors in Pro Extreme to earn his first PDRA event victory. First, Jones drove his Batman-themed '41 Willys to a 3.609-second pass at 213 mph to defeat teammate and past world champion Jason Scruggs. He improved to a 3.598 at 214.66 in the semifinals over José Gonzales. He used a holeshot advantage and 3.601 at 212.46 to overcome the 3.551 at 217.25 laid down by No. 1 qualfiier Terry Leggett and his Leggett Logging & Trucking '71 Mustang.
"This feels pretty darn good," Jones admitted. "I've been racing Pro Extreme for three or four years and Pro Mod racing for at least 15 years. I've won some other races, but to win one of these PDRA races is pretty impressive. It still hasn't sunk in that I've won yet. I'm used to coming to the winner's circle with Jason (Scruggs), and now it's the other way around.
"To beat Terry on a holeshot means a lot to me as a driver. I knew he ran a .55 and his car was just bad to the bone all day. I've struggled to get my car going down the racetrack and running good since I wrecked it last April. Today, it was just stuck on that .59-60 number. We tried to make it go faster in the final; I don't know why it didn't. But we got the win and that's what matters."
PRO NITROUS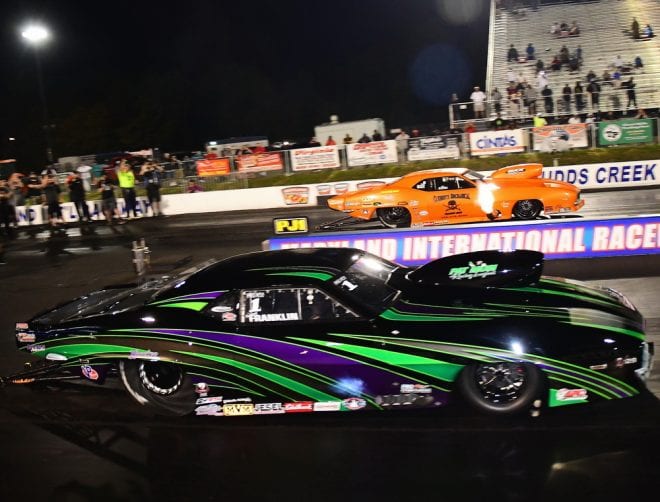 No. 1 qualifier Jay Cox (far lane) came to Maryland to prove a point, and his barrage of 3.6-second passes from qualifying through eliminations certainly made a statement. While it wasn't his quickest pass of the evening, Cox's 3.681 at 200.86 was enough to defeat defending Pro Nitrous world champion Tommy Franklin's 3.691 at 202.42 in the final round.
"Tommy is a good racer and I figured he'd run a .67 or .68, so I wanted to match him and let the race go to whoever had the better light," Cox said. "We made a change to make it go straight and we actually backed it down. I wanted the (et) record for (engine builder) Charlie Buck, but we did what we had to do to win and get the points."
Cox started eliminations with a 3.698 at 200.17 on a bye run. His 3.677 at 201.55 over Jim Laurita in the second round was one-thousandth of a second off the Pro Nitrous et record. Cox slowed to a 3.716 at 180.48 on another bye run in the semifinals before ramping up his RJ Race Cars-built Clements Mechanical '69 Camaro for the final round against the Pat Musi-powered "Jungle Rat" '69 Camaro of Franklin.
"I haven't always done so well at this track, so I wanted to come out here and dominate. We've been low of every single round except the semifinals, but I went 3.71 lifting at 330-feet. I went out there on E3 and that thing was on a .66 run, it just went left. I couldn't get it to go straight and I didn't want to give it away. That means a lot to me to go low. Pat and Lizzy (Musi) and Tommy (Franklin) by far have some strong cars, and for us to be able to go out there and outrun them speaks volumes. I talk a lot of junk, but I have a lot of respect for those guys. It's going to be a dogfight until the end of the year," Cox said.
PRO BOOST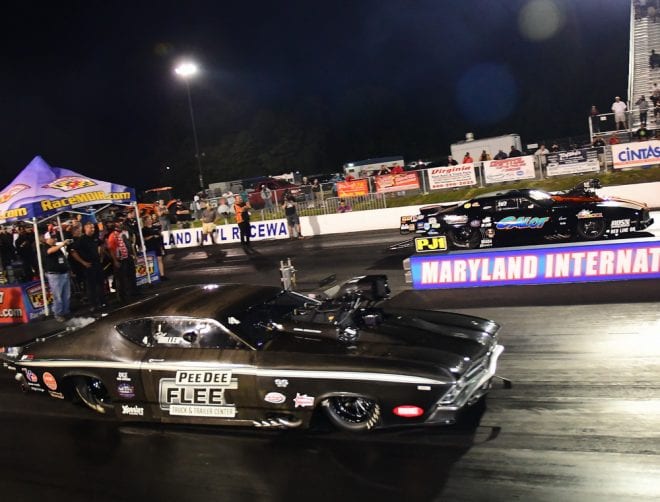 When it came to Pro Boost competition, it wasn't possible to find two cars paired closer in performance than No. 1 qualifier Tylor Miller (near lane) and No. 2 qualifier Ty Tutterow. The two young Pro Boost stars met up in the final round for what was sure to be an epic battle. The win went to Miller at the starting line, though, as Tutterow left just a tick too soon. Miller recorded a career-best 3.70 at 197.91, while Tutterow's 3.702 at 200.41 was negated by the red light.
"It was definitely a wild night for us," Miller said. "This was the result of a lot of long nights working until 3 a.m., maintenancing everything so it was perfect for the race. My first light today was terrible. I just kept going shallow because I went red at Darlington and didn't want to do that again. I just kept nailing the tree harder and harder, chewing it down 10 numbers at a time. I assumed Ty would be on top of it, so I wanted to cut at least a .020 light and that's what I did."
Miller, 27, and Tutterow, 22, were nearly even through eliminations. When Miller ran 3.775 on a first-round bye run, Tutterow ran 3.779 over Jeremy Ray. Miller's Pee Dee Fleet '69 Chevelle posted a 3.726 over Ric Fleck second round; Tutterow's GALOT Motorsports '69 Camaro went 3.724 over Casey Stemper. The pressure-packed final round was set up when Tutterow improved to a 3.717 over José Gonzales and Miller ran 3.72 over Brandon Snider in the semifinals.
"I work really well under pressure," Miller said. "It seems like the more pressure you put on me, the better I do. Pressure doesn't bother me. My biggest technique is to not think about the car next to me. I try to block out the other side of the track, focus on my lights, wait for the tree to drop and do my thing without worrying about what the other car is doing."
EXTREME PRO STOCK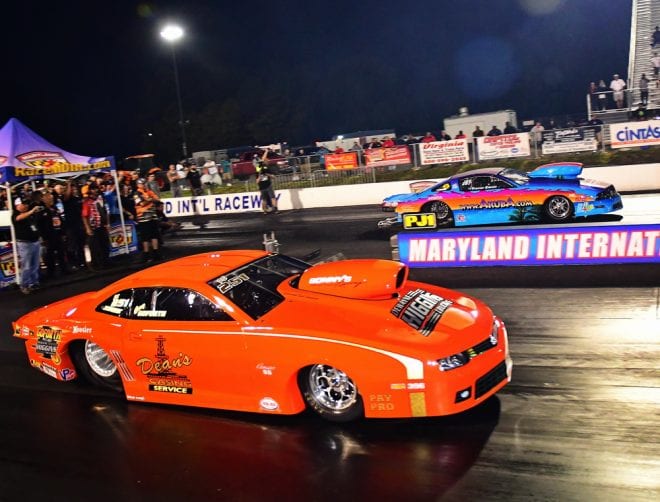 Past PDRA Extreme Pro Stock champion Cary Goforth (near lane) earned his first event win of the season when he defeated No. 1 qualifier Trevor Eman in a remarkably close final round. Eman in his Aruba.com '11 Mustang left the starting line first, but Goforth's Dean's Casing Service/Dewayne Higgins Trucking '15 Camaro charged ahead to win by just five inches, 4.053 at 177.95 to Eman's 4.06 at 177.84.
"We had a lot of fast racers here this weekend," Goforth said. "Especially in the semifinals, you got down to probably the four quickest cars here based on qualifying. I knew when we went into the finals to run Trevor that we had our work cut out for us. I knew we had to be good on all stages. We probably weren't as good as we should've been. I pulled a couple gears early and that cost us a little bit. That's just being a greedy racer. We're happy with the win, don't get me wrong; we just could've been better."
Goforth qualified in the two spot and ran 4.287 to beat John DeFlorian first round, then improved to a 4.033 on a bye run and a 4.028 over John Montecalvo in the semifinals. The Holdenville, Okla.-based driver leaves Maryland with the Extreme Pro Stock points lead.
"I think we found our bug we've been chasing. Hopefully we can carry on this momentum through the rest of the year. We still have a lot of tough guys behind us, so we just can't let up," Goforth added.
PRO EXTREME MOTORCYCLE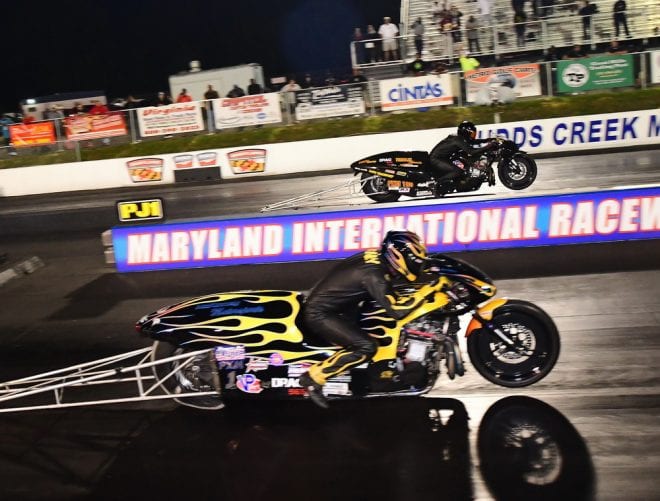 Pro Extreme Motorcycle finalists Travis Davis (far lane) and Eric McKinney made PDRA history when they recorded the first side-by-side 3-second pass in the two-wheel category. Davis was ahead from start to finish in the 3.987-to-3.995 final round, both at 176 mph.
"McKinney and I are real good friends," said Davis, who won his third consecutive race. "We've been talking about how nice it would be to run 3s side-by-side. It's hard enough to run that number, but getting two bikes to do it side-by-side is something else. Luckily I was on the winning end of it this time."
Davis slowed from his third-place qualifying effort in his 4.143 first-round win over Rob Garcia, then improved to a 4.046 to defeat Burke Forster. The Douglas, GA-resident dipped into the 3-second range with a 3.994 over No. 2 qualifier Chris Garner-Jones in the semifinals. Davis' 3.987 at 176.26 in the final round was just one-thousandth of a second away from the official et record.
"When it was hot today we struggled some, but the numbers came back when the cool Maryland air set in," Davis said. "We just have to find a good tune-up for the hot weather now. I'm just glad to get the win. Thanks to my wife Brandy and my son Brayden, Walt Timblin, and Perry's Performance."
TOP SPORTSMAN/TOP DRAGSTER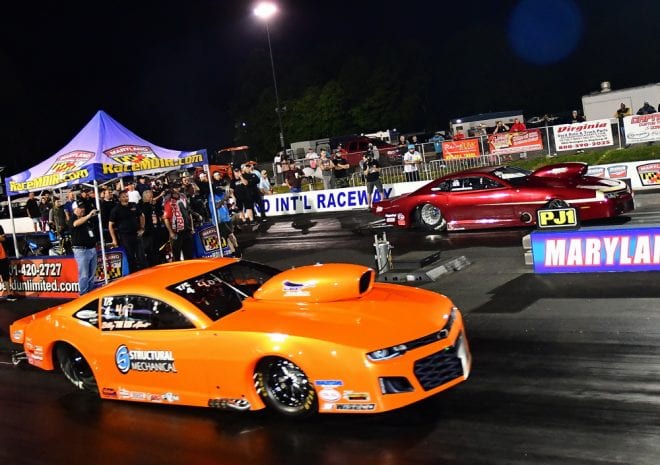 The Top Sportsman Elite 16 final round came down to two of the quickest cars on the property. Virginians Randy Perkinson (far lane) and Billy Albert squared off, with Perkinson leaving the starting line first and posting a 3.924 on a 3.92 dial-in in his Buck-powered '16 Camaro. Albert, who built the motor in his Stan Nance-owned '17 Camaro, ran a 4.099 on a 4.09 dial-in for the runner-up finish. Before reaching the final round, Perkinson defeated Tim Lawrence, Tim Molnar and Bruce Thrift.
With a massive field of Top Sportsman entries, a Quick 32 field was added to accommodate the additional cars. The Quick 32 win went to Mike Koontz, who drove his '00 Chevy S10 pickup to a 4.728 on a 4.73 dial-in over Ronnie Proctor's breakout 4.355 on a 4.36 dial-in.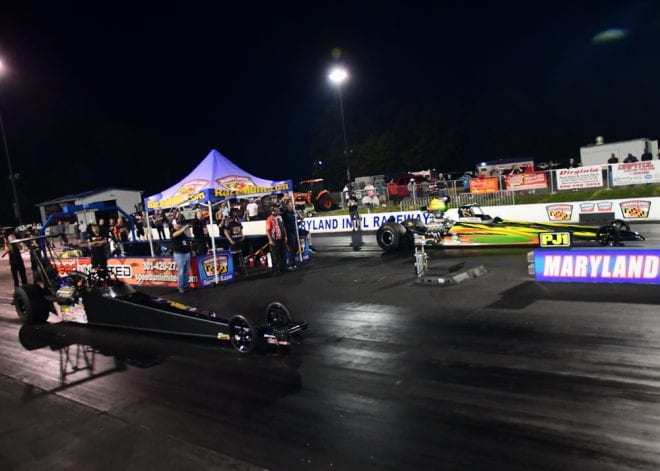 Mechanicsville's own Jerry Langley (far lane) drove his Race Tech-built dragster to the Top Dragster final-round win over touring regular Matt Cooke. Using a narrow holeshot advantage, Langley ran a 4.628 on his 4.62 dial-in to defeat Cooke's 4.104 on a 4.01 dial-in. Cooke was chasing his second consecutive win on the PDRA tour. Langley defeated Camrie Caruso, Travis Laster and Jason Kirby before facing Cooke.
The 2017 PDRA Tour resumes next month at the inaugural PDRA Mid-America Indy Showdown, July 13-15, at Lucas Oil Raceway at Indianapolis in Brownsburg, Ind.