Precision Turbo and Engine has announced that Jonathan Gray will take the wheel of the PTE flagship 2014 Pro Mod Chevrolet Camaro for the 2016 NHRA race season.
The Camaro was previously driven by Don Walsh, Jr. At the 2014 Chevrolet Performance U.S. Nationals in Indianapolis, IN, Walsh was the number one qualifier in NHRA Pro Mod and the PTE Camaro earned the honor of being named "Best Engineered Car". Walsh earned more top qualifier honors that year, and took home a runner-up finish at the NHRA Pro Mod season finale race in Las Vegas, Nevada. In 2015, Walsh was the leader in qualifying several more times, the Pro Mod winner in Houston, TX, and the runner-up in Englishtown, NJ. He finished out the 2015 season fifth overall in NHRA Pro Mod championship points.
"I've decided to step away from NHRA Pro Mod and focus more on my family and my businesses, Walsh Motorsports and D&D Performance," said Walsh. "I want to thank Harry Hruska and my entire crew, (Justin Haddon, Chris Church, and Mike Begley) for the opportunity to pilot this record-setting Pro Mod." Harry Hruska, car owner and president of Precision Turbo & Engine, added that "Don has graciously offered, and will still be, a big part of our season start up helping the Precision team with the transition."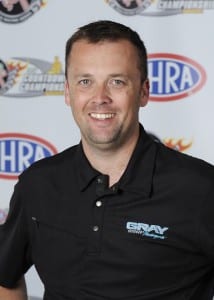 For the upcoming 2016 NHRA Pro Mod season, veteran NHRA Pro Stock racer Jonathan Gray will take over driving duties of the PTE Camaro. "I'm really excited to be a part of the team and to drive a Pro Mod," stated Gray, who resides in New Mexico and has had a long, successful career prior to teaming up with Hruska. "I've got a tremendous amount of faith in this program, and in Harry, and I think there's a lot of untapped potential in this car that we can do big things with."
Built by Larry Jeffers Race Cars and prepared by Walsh Motorsports in Wixom, MI, Precision's Pro Mod Camaro serves as the flagship PTE development car. Powered by a 521 ci Hemi, the car is boosted by twin Precision Turbo & Engine NHRA-legal and SFI-approved GEN2 Pro Mod 88 CEA® turbochargers.
The Precision Turbo & Engine team, along with Gray, will be working hard in 2016 in hopes of pursuing – and securing – their first NHRA Pro Mod championship.