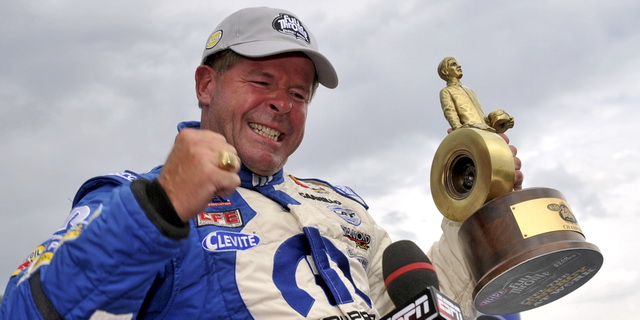 Pro Stock racer Allen Johnson (above) continued his mastery of Bandimere Speedway Sunday as he raced to his fourth Mopar Mile-High NHRA Nationals win at the scenic track nestled in the Rocky Montains near Denver. Antron Brown (Top Fuel), Jack Beckman (Funny Car) and Eddie Krawiec (Pro Stock Motorcycle) also scored wins in their respective categories at the 13th of 23 NHRA Full Throttle Drag Racing Series events this year.
Driving his Team Mopar Dodge Avenger, Johnson defeated V. Gaines in the final round with a winning run of 6.951 seconds at 197.31 mph. Local favorite Gaines trailed with a performance of 7.144 at 160.35 in his Kendall Oil Avenger. Johnson was the No. 1 qualifier, set a new track record for elapsed time and was able to set the overall top speed and elapsed time during the event.  It was his sixth consecutive career final-round appearance at the track.
"My quote is going to be that 'practice makes perfect' as we came up here and tested and developed a combination that's just bad to the bone," Johnson said. "We want to do well in front of our Mopar contingent, my bosses, and the people that sign those checks at the end of the year. This year was extra special because it was the 75th anniversary for Mopar. We really, really wanted to win this race so that we could hand them the Wally (trophy)."
With the win Johnson takes over the category points lead from Greg Anderson, who had held the lead since the first race of the season.
"There have been a lot of firsts for us this year," Johnson said. "It's the first time I've won three races in a year in 17 years. You know, this is a tough, danged sport. I don't care what anybody says. I don't care how good your car is running. It's tough to win. You've got people like those Summit cars just coming after you with daggers. I love to beat those Summit cars, and I beat two of them today and took the points lead from both of them, so they're going to be teed off, big time.
"For the rest of the Western Swing we've got the car, and if I can do my job we can bring out that broom at the end."
In Top Fuel, Brown defeated Brandon Bernstein who continues his winless drought. Brown had a winning pass of 3.957 seconds at 308.21 in his Matco Tools dragster to edge Bernstein's MAV TV dragster, which trailed at the finish line with a 3.959 at 307.58. With the victory, Brown moves into second in the points standings, 11 behind teammate Spencer Massey.
Brown is the most recent driver to sweep the Western Swing, in 2009, and hopes this is the first step in repeating that feat.
"When you come out here on 'The Mountain,' you have to tune it up on the racetrack and keep it living," Brown said. "We lived all four rounds today, and that's a good start for the Western Swing. You come out here with a win, and it sets the pace and gives our boys some motivation for when we go out there in Sonoma. We go up there and dig deep because of the competition in this class.
"We really want to go into the Countdown in the top three, but would love to get that number one spot and get the extra 20 points. We just want to keep on rolling and rolling."
It was Brown's second win at Denver in three finals here. He was happy to hold off his good buddy Bernstein in the final.
"Brandon has been searching for his first win with a new team, and that car is back," Brown said. "They struggled for a few races before, but he ran a .95 in the final. He was on his game and threw a great Tree. We just had a great, old drag race and won by one-hundredth. That's pretty strong."
Massey who was defeated by Bernstein in the semi-finals became the first Top Fuel driver to earn a position in the Countdown to the Championship.
In Funny Car, Beckman powered his Valvoline NextGen Dodge Charger to his second win of the year when he defeated rookie driver Courtney Force with a run of 4.277 seconds at 293.79 seconds to the losing run of 4.289 at 283.49 in Force's Traxxas Ford Mustang. This is also his second win at Bandimere Speedway in three final round appearances.
"At the end of the day, we took the race car that qualified No. 1 and got it down the race track on every single pass," Beckman said. "We weren't perfect today — we dropped a hole on our semifinal run and had two people red-light against us — but I like to think that we forced some of the other cars to try to beat us, and that's why we got the win lights.
"To win in nitro Funny Car in any one season is hard to do. To already have two at just past the midpoint of the season, I think we put a stamp on it that says this team is going to contend for the rest of the year."
The path to his 14th career Funny Car victory wasn't without stress or obstacles, but Beckman and his crew were able to focus on the task at hand.
"The script usually reads that the number one qualifier makes it to the final round, but there were a few chapters in-between that you might not know about," Beckman said. "Trying to make it up there for the semifinals, we thought there was a chance that we might not make the call. We had to put a new throttle cable on the car, and then we had a computer wire go bad on us on the warmup."
Krawiec rode his Screamin' Eagle Vance & Hines Harley-Davidson to the win over his teammate Andrew Hines in the final when Hines fouled out, handing the win to Krawiec. This was the fourth win in four final round appearances for Krawiec. It also marked the seventh time a Harley-Davidson was featured in the final round and the team's seventh consecutive win this season.
"Talk about a dream season; we never expected it to go like this," Krawiec said. "You know, to be 100-percent honest with you, this race shouldn't have been ours this weekend. Not that you should always count yourself out, but we were a little down on ourselves as a team, we were struggling on Friday and Saturday. It really sucks when you're that far behind. For us, we just dug hard and went after it."
By reaching the second round of eliminations Hines joined Krawiec as Countdown to the Championship qualifiers.
The NHRA Full Throttle Drag Racing Series returns to action on July 27-29 for the NHRA Sonoma Nationals in Sonoma, Calif.
(Photos courtesy NHRA/National Dragster; Click to enlarge)
MORRISON, Colo. — Final round-by-round results from the 33rd annual Mopar Mile-High NHRA Nationals at Bandimere Speedway, the 13th of 23 events in the NHRA Full Throttle Drag Racing Series:
TOP FUEL
ROUND ONE — Bob Vandergriff, 3.990, 304.94 def. Morgan Lucas, 4.072, 296.50; Brandon Bernstein, 3.975, 300.06 def. David Grubnic, 4.004, 302.82; Scott Palmer, 4.513, 198.15 def. Terry McMillen, 4.683, 188.60; Doug Kalitta, 4.161, 283.91 def. Clay Millican, 4.622, 188.44; Antron Brown, 3.995, 303.23 def. Rob Passey, 4.682, 235.93; Spencer Massey, 3.992, 308.92 def. Steven Chrisman, 4.127, 285.89; Steve Torrence, 4.006, 300.53 def. Shawn Langdon, 4.213, 256.21; Khalid alBalooshi, 4.014, 301.81 def. Tony Schumacher, 4.020, 304.19; QUARTERFINALS — Torrence, 4.016, 292.52 def. Kalitta, 4.055, 289.26; Bernstein, 4.654, 171.49 def. Palmer, broke; Brown, 4.070, 295.01 def. Vandergriff, 4.089, 273.66; Massey, 4.058, 296.18 def. alBalooshi, 4.115, 250.23; SEMIFINALS — Bernstein, 4.015, 300.00 def. Massey, 4.059, 296.11; Brown, 3.991, 306.33 def. Torrence, 4.303, 250.78; FINAL — Brown, 3.957, 308.21 def. Bernstein, 3.959, 307.58.
FUNNY CAR
ROUND ONE — Robert Hight, Ford Mustang, 4.251, 288.39 def. Jeff Diehl, Chevy Monte Carlo, 5.142, 162.70; Ron Capps, Dodge Charger, 4.235, 295.98 def. Alexis DeJoria, Toyota Camry, 4.914, 169.19; Jack Beckman, Charger, 4.270, 293.41 def. Todd Simpson, Chevy Camaro, foul; Cruz Pedregon, Camry, 4.261, 290.26 def. Bob Tasca III, Mustang, 4.258, 293.98; Mike Neff, Mustang, 4.275, 299.00 def. Johnny Gray, Charger, 4.366, 282.95; John Force, Mustang, 4.357, 290.07 def. Tony Pedregon, Camry, 4.468, 228.81; Courtney Force, Mustang, 4.390, 284.21 def. Tim Wilkerson, Mustang, 5.453, 136.12; Jeff Arend, Camry, 4.320, 291.89 def. Matt Hagan, Charger, 4.327, 286.38; QUARTERFINALS — Capps, 4.333, 289.82 def. Neff, 4.308, 292.20; C. Force, 4.496, 274.00 def. Hight, 4.498, 244.96; J. Force, 4.412, 281.83 def. C. Pedregon, 5.591, 141.31; Beckman, 4.358, 286.80 def. Arend, 4.474, 250.09; SEMIFINALS — Beckman, 4.384, 280.25 def. J. Force, foul; C. Force, 4.259, 295.79 def. Capps, 4.367, 286.32; FINAL — Beckman, 4.277, 293.79 def. C. Force, 4.289, 283.49.
PRO STOCK
ROUND ONE — Greg Anderson, Chevy Camaro, 6.978, 197.28 def. Jeg Coughlin, Dodge Avenger, 6.983, 196.99; Vincent Nobile, Avenger, 6.987, 197.45 def. Warren Johnson, Pontiac GXP, 7.041, 195.59; Larry Morgan, Ford Mustang, 7.005, 196.39 def. Erica Enders, Chevy Cobalt, 6.975, 196.10; Jason Line, Camaro, 6.948, 197.10 def. Deric Kramer, Avenger, 7.073, 194.63; V. Gaines, Avenger, 6.949, 198.12 def. Kurt Johnson, GXP, 7.076, 194.69; Allen Johnson, Avenger, 6.916, 198.70 def. Paul Pittman, Cobalt, 7.525, 155.17; Mike Edwards, GXP, 6.969, 197.16 def. Steve Kalkowski, Pontiac GTO, DQ-Centerline; Ron Krisher, GXP, 6.973, 197.74 def. Shane Gray, Camaro, 7.022, 196.42; QUARTERFINALS — Nobile, 6.988, 197.36 def. Edwards, 6.999, 197.68; Gaines, 6.965, 197.54 def. Morgan, 7.018, 196.13; Line, 7.011, 196.24 def. Krisher, 6.996, 196.19; A. Johnson, 6.945, 198.15 def. Anderson, 6.988, 197.13; SEMIFINALS — Gaines, 6.972, 197.62 def. Nobile, 7.112, 192.69; A. Johnson, 6.936, 198.17 def. Line, 6.971, 196.64; FINAL — A. Johnson, 6.951, 197.31 def. Gaines, 7.144, 160.35.
PRO STOCK MOTORCYCLE
ROUND ONE — Michael Ray, Buell, 7.419, 176.01 def. Mike Berry, Buell, 7.322, 181.47; Karen Stoffer, Suzuki, 7.263, 181.59 def. Matt Smith, Buell, foul; Eddie Krawiec, Harley-Davidson, 7.246, 185.13 def. Shawn Gann, Buell, 7.330, 182.01; Scotty Pollacheck, Buell, 7.304, 181.79 def. Steve Johnson, Suzuki, 7.359, 181.20; Andrew Hines, Harley-Davidson, 7.246, 184.55 def. Michael Phillips, Suzuki, 7.418, 180.62; Hector Arana Jr, Buell, 7.237, 184.90 def. Angie Smith, Buell, foul; Matt Guidera, Buell, 7.434, 179.56 def. Hector Arana, Buell, 7.495, 183.27; LE Tonglet, Suzuki, 7.801, 133.62 def. Jerry Savoie, Buell, foul; QUARTERFINALS — Stoffer, 7.370, 180.31 def. Guidera, 7.486, 177.44; Hines, 7.263, 183.29 def. Pollacheck, 7.378, 179.78; Krawiec, 7.283, 183.89 def. Tonglet, 7.373, 179.44; Arana Jr, 7.246, 183.15 def. Ray, 7.515, 157.65; SEMIFINALS — Hines, 7.270, 182.90 def. Stoffer, 7.318, 180.33; Krawiec, 7.286, 183.22 def. Arana Jr, 11.152, 73.39; FINAL — Krawiec, 7.301, 182.28 def. Hines, foul.
MORRISON, Colo. — Sunday's sportsman final results from the 33rd annual Mopar Mile-High NHRA Nationals at Bandimere Speedway:

Super Stock — Dan Fletcher, Chevy Camaro, 11.353, 107.79  def. Tim Nicholson, Chevy II, 10.867, 108.95.
Stock Eliminator — Michael Brand, Pontiac Firebird, 11.877, 111.24  def. Stephen Hagberg, Plymouth Savoy, foul.
Super Comp — A.J. Percival, Dragster, 9.491, 162.35  def. Cody Perkins, Dragster, 9.483, 148.53.
Super Gas — Ken Harkema, '27-T Ford, 10.511, 133.43  def. Michael Phillips, Chevy Beretta, foul.
Super Street — Joey Horan, Chevy Camaro, 11.586, 107.90  def. Bob Myers, Chevy Chevelle, 11.572, 125.79.