Despite a series of passes well into the 3.60-second zone Saturday night, no one topped Johnny Camp's 3.626 at 205.91 MPH effort at the top of the qualifying order for the Drag Illustrated World Series of Pro Mod presented by J&A Service at Bradenton Motorsports Park. Just .056 seconds separate Camp and the No. 32 qualifier, Spencer Hyde, with his 3.682 at 204.51. Sixty-one cars attempted to qualify for the 32-car field, and 44 of them dipped into the 3.60-second range.
No. 1 qualifiers in the other WSOPM classes are Richard Freeman in the $hameless Racing Mountain Motor Pro Stock Invitational presented by Seminole Paving, Nichole Elff in the Xtreme Front-Wheel Drive Challenge, AJ Berge in the D H Davies Racing Factory Stock Classic, and Pete Maduri in Top Dragster.
Pro Mod and all other heads-up classes had a random chip draw to set the first-round pairings for Sunday eliminations. The random chip draws will continue throughout eliminations.
PRO MOD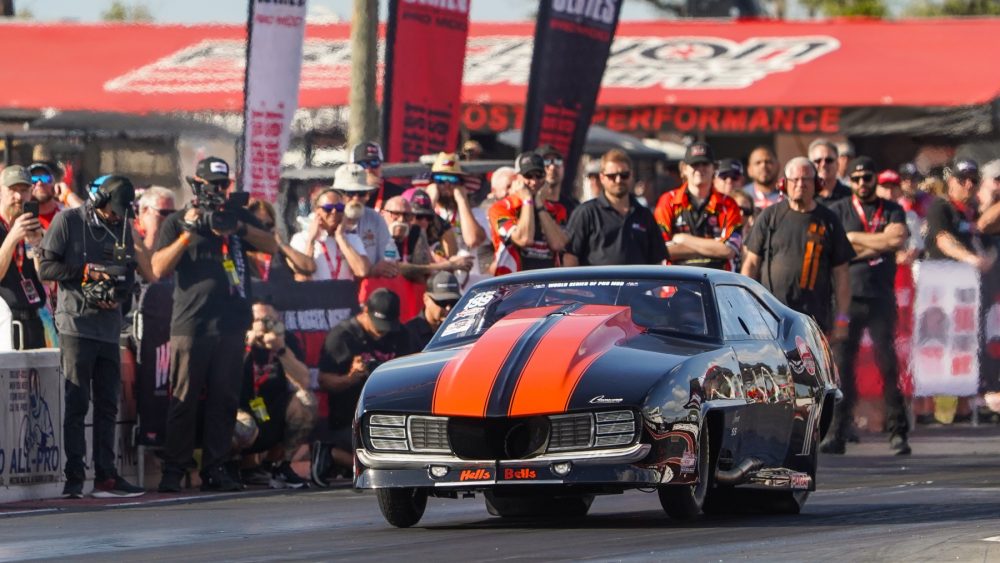 As the provisional low qualifier from Friday night, Johnny Camp had a huge target on his back going into final qualifying on Saturday night. His 3.626 at 205.91 held up through the final session that saw driver after driver improve their best numbers. The Pennsylvania-based driver was consistent, laying down a 3.630 at 206.01 on his last qualifying pass.
"It's unbelievable," Johnny Camp said, referring to his No. 1 qualifying spot. "We came in here with this new motor package, not knowing anything about it. It's a good car, and I've got a good team with me."
For his efforts, Camp collected the $10,000 Mike Janis Superchargers Low Qualifier Bonus, plus a $2,500 bonus from Gene Pilot and Pilot Racing.
"The $10,000 is a nice little bonus, and it's just a privilege to be invited here to this big event, and it's been all-around really good," Camp said.
Camp, who's been a consistent front-runner in PDRA Pro Boost competition for the last few seasons after switching from Pro Nitrous, was quick to credit his Brandon Stroud-led team and the manufacturers and sponsors who support him.
"This [motor package] is just a twinge better than the other stuff," Camp said. "The other stuff was good too. We had a lot of laughs with the other stuff, but I think this motor is superior. We'll see about durability and reliability down the road. Right now, it did its job, and the team did its job. It's the tuners, Pro Line, ProCharger, NGK Spark Plugs, Tatman Electric Contractor, and all these people behind the scenes that let us be able to do this."
During Saturday night's random chip draw to determine first-round pairings, Camp's name was called along with No. 31 qualifier Kenny Lang, who qualified with a 3.679 in his screw-blown '69 Camaro. Pro Mod and all other heads-up classes will use random chip draws to determine pairings throughout Sunday eliminations, which will conclude with the winner receiving $100,000.
"It's not like a regular race where you get your No. 1; you get 16," Camp said. "You don't know who you're going to get in any car on this property right now. Any of the 61 cars could have won this thing. You know, there's a lot of luck in racing, good fortune, and good preparation."
Behind Camp, Marcus Birt qualified No. 2 in Jose Gonzalez's ProCharged Q80 Racing/El General Racing '69 Camaro with a 3.647 at 205.13. Two-time PDRA Pro Nitrous world champion Jason Harris in his ProCharged '69 Camaro with a 3.647 at 204.79. Multi-time Pro Extreme world champion Jason Scruggs took his screw-blown "Mississippi Missile" Camaro to the fourth spot with a 3.648 at 208.55. Four-time and reigning PDRA Pro Nitrous world champion Jim Halsey clinched the No. 5 spot with a 3.648 at 206.26 in his Fulton-powered "Daddy Shark" '68 Camaro.
A $10,000 second-chance race was added to the Sunday line-up. The quickest 16 non-qualifiers will come back for a Chicago-style shootout after the second round of the heads-up classes. The drivers will be paired up randomly, and the quickest two winners will return for the $10,000 final round to run just before the $100,000 Pro Mod main event final round.
In the first round of Pro Mod eliminations, all 32 qualified drivers will be eligible to earn a $1,000 bonus for holeshot wins. There are also a number of other bonuses on the line through the Red Line Oil Race Day Performance Bonus program.
MOUNTAIN MOTOR PRO STOCK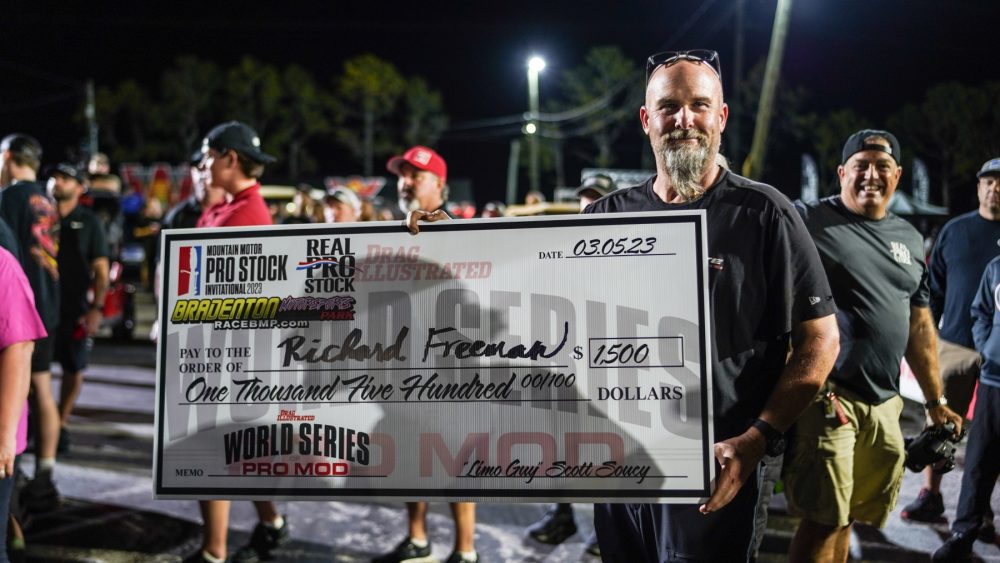 Pro Stock team owner Richard Freeman swapped his uniform shirt for a firesuit this weekend and strapped into a Mountain Motor Pro Stock entry at the World Series of Pro Mod. The multi-class team owner raced to the No. 1 qualifier with a blistering 4.065-second pass at 177.81 mph on Friday behind the wheel of his Chevrolet Camaro. After four qualifying runs Freeman sat at the top of a field that began with 18 tough entries and collected a No. 1 qualifier check for $1,500 for his efforts.
"We're just getting started, and came out here to see how things went," said Freeman, who hasn't raced Mountain Motor Pro Stock competitively in 14 years. "I'm very pleased with being on the pole, and (teammate) Erica (Enders) ran good too. Got a lot to do in the year to come, but it's gonna be fun."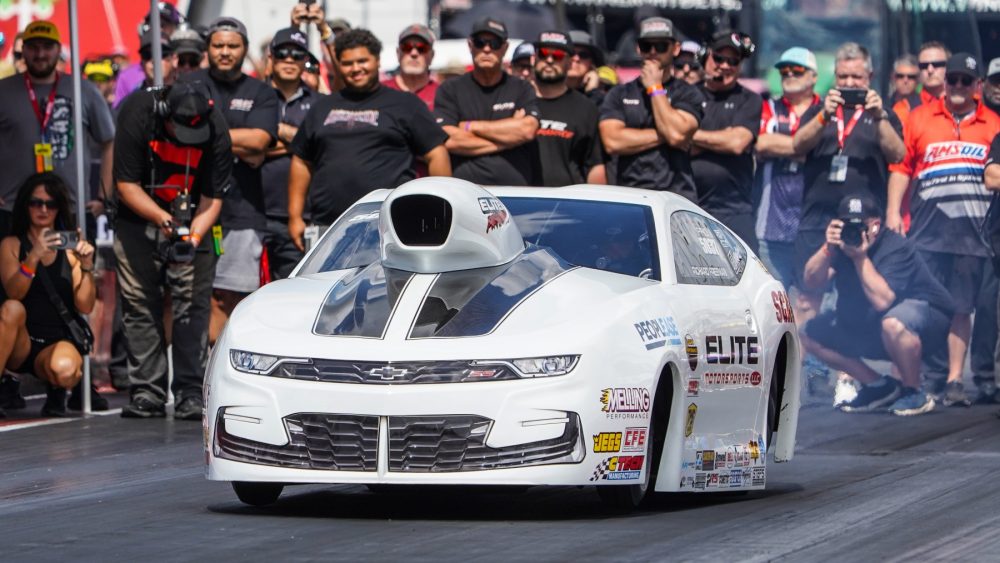 Conditions during the first two sessions provided Freeman and the rest of the Mountain Motor Pro Stock class with great conditions to prepare for race day and also make quick runs. The final session of the day looked to be a game changer with cool conditions, but many teams overpowered the track, including Freeman, who was looking to shake up the world with his final run.
"We were trying to go 4.03 right there," said Freeman. "The .06 run [on Friday] was decent but wasn't as good as it could have run."
The top five qualifiers heading into the $25,000-to-win race day include Freeman, John DeFlorian Jr., Tommy Lee, Elijah Morton, and Enders. At the conclusion of qualifying chips were drawn to set the pairings for race day. Freeman will race No. 6 qualifier Alan Drinkwater.
"I'm not really good enough in the seat," said Freeman. "I ain't been in one of these things since 2009 so whoever gets me, they probably have a fair shot even though I'm fast. It ought to be good and I'm excited about it. I wouldn't be surprised if these cars go some rounds."
FACTORY STOCK CLASSIC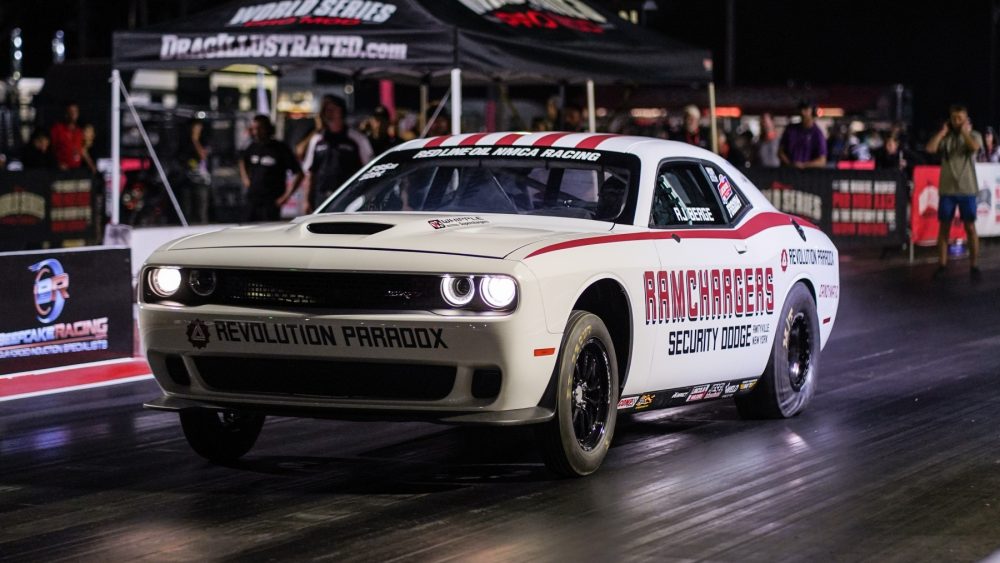 After four qualifying sessions, including three amazing runs Saturday, AJ Berge ran to the No. 1 qualifier spot in the D H Davies Racing Factory Stock Classic, which will pay $15,000 to win. Berge's quickest pass of 7.746 at 178.33 placed the veteran driver and his RAMCHARGER-themed 2021 Dodge Challenger Drag Pak in the top spot heading into Sunday eliminations. Right behind Berge sits Lenny Lottig and David Barton.
"Truth be told, this is a brand-new program, you know; it's our first season on our own," said Berge, from his pits at the end of the day. "We teamed up with David Barton and his crew. We have new power. I just got the car back and last night was my first run on the car since September. We have a great brain trust here. That's really what deserves the credit, the guys in the brain trust. That was what was instrumental in getting us to where we are right now."
Saturday in the first session of the day for the D H Davies Racing Factory Stock Classic Lottig held on to the top spot with a strong 7.769 at 176.28. He was followed by Berge's 7.815 at 176.95 and reigning NHRA Flexjet Factory Stock Showdown world champion David Barton's 7.846 at 172.92.
As the sun set during the second session 15 Dodge Drag Paks, Chevrolet COPO Camaros, and Ford Cobra Jets got another shot at the track as conditions that were steadily improving as the sun went down. Berge ran his iconic themed RAMCHARGER Drag Pak to the top spot with an impressive 7.746 second, 178.33 mph pass right in front of former No. 1 Lenny Lottig's best pass of 7.769 seconds. The rest of the top five quickest Factory Stock entries includes Belles' COPO Camaro, Jesse Alexandra's COPO Camaro and Del Holbrook's Mustang Cobra Jet.
At the conclusion of qualifying a chip draw was used to match Berge up with No. 2 qualifier Lottig in the first round. No. 5 qualifier Jesse Alexandra was gifted the first-round bye through the random draw.
"I never count my chickens before they hatch," said Berge. "My approach is very humble. On these nine-inch tires, all this power to track and the weather means that anything can bite you at any time. And it's a unique format with a chip draw. You really don't have to worry about it; it's just gonna be whoever it is. Everybody wants a first-round bye, but I came to the race. I'd rather run somebody every round. We're gonna make some changes and back it up a little bit to where we were before. We'll see if we can take home a win tomorrow."
XTREME FRONT-WHEEL DRIVE
Using her last opportunity to make a major move in Xtreme Front-Wheel Drive Challenge qualifying, Nichole Elff powered to the No. 1 spot with a stellar 7.780 at 195.87 in her Boston Scientific '92 Honda Civic. The Avon, Indiana-based driver was the only competitor to dip into the 7.70s, taking over the top spot from Rafa Famania and his 7.809 at 191.78. Joel Olivo posted a 7.816 at 190.48 to qualify third, Edwin Lopez used a 7.817 at 177.77 to end up fourth, and Joel Tavarez rounds out the top five with a 7.918 at 186.67. XFWD will pay $20,000 to the winner on Sunday.
Eliminations at the Drag Illustrated World Series of Pro Mod presented by J&A Service will begin Sunday at 10:30 a.m. beginning with Super Pro and Top Dragster. Opening ceremonies will start at 12:30 p.m. with Pro Mod starting at 1 p.m.
Single-day admission tickets are available online or at the gate for $30. Fans can also watch the race through the official event livestream on FloRacing.