The 2015 Kibblewhite/Mann Hill Garage Manufacturers Cup World Finals is becoming known as the record-shattering showcase for DME Racing's hell-on-wheels, 2-tone flat gray, big turbo, Suzuki Hayabusa. The bike known as "Tink Tink" blistered South Georgia Motorsports Park's quarter mile with a 6.46 at 220 mph to win Cooper Performance Pro Open.
With Joey Gladstone in the seat, the gray bike won the final over Mark Rendeluk's Pro Extreme Motorcycle-style nitrous-huffing GS Suzuki. It was the second straight year that Rendeluk watched the gray bike set a no-bar world record from the other lane.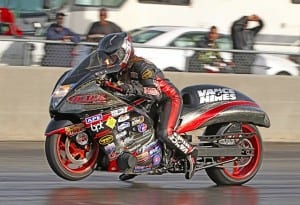 Gladstone also won the APE Pro Street championship for the third straight time on his DME/Vance & Hines "Black Betty" 'Busa, although he lost the final to DME Racing teammate Terence Angela. Gladstone tossed away a 6.82 at 214 with a -.001 redlight.
All-DME Pro Street finals are a frequent occurrence for the Winston-Salem, North Carolina based motorcycle speed shop. With owner Dimey Eddinger, tuner Andy Sawyer, and engine builder Skip Gladstone masterminding the wrenches and electronics, DME has now won six Pro Street championships in three years.
Oh, and destroyed the record books as well.