Immediately following the 2022 NHRA Sonoma Nationals, Joe and Cathi Maynard, together with Don Schumacher, jointly announced that the Maynard family would assume the controls of the Tony Schumacher-piloted Top Fuel operation as majority team owners. Less than one week later, the Maynard's JCM Racing team made its on-track debut at the NHRA Northwest Nationals, and at their first race in an ownership role, Joe and Cathi, along with their partners Eric and Kim Lehman, clinched their first win when Schumacher powered to victory to deliver Wally trophy No. 1 for JCM Racing.

Since that time, the JCM Racing organization has blossomed into a three-car powerhouse with the additions of Tim Wilkerson and Justin Ashley, who teamed up with JCM to form Maynard Wilkerson Racing and Maynard Ashley Racing, respectively. Add a burgeoning driver development program overseen by Maynard's son, Joe C. Maynard, to the mix, and it's not hard to see how the JCM Racing organization has taken the NHRA world by storm in just one year's time.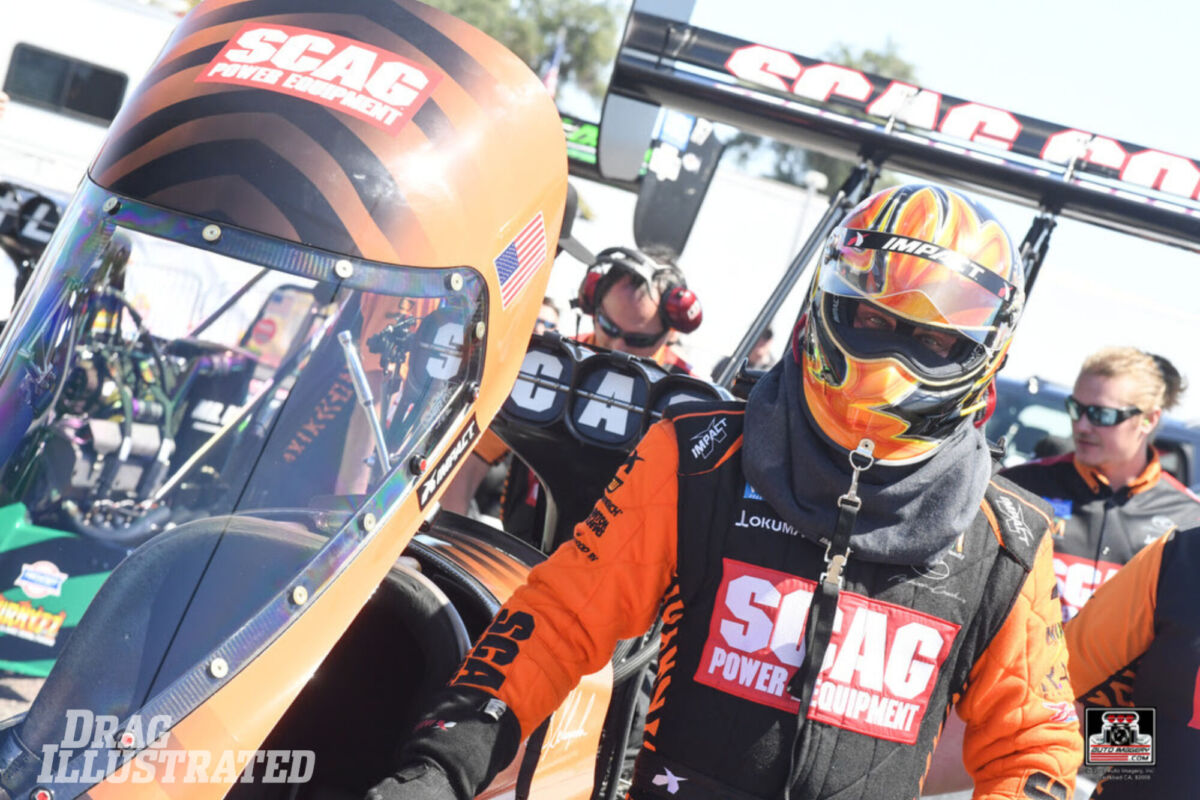 Team patriarch Joe Maynard took time to reflect on JCM Racing's inaugural year following the 2023 NHRA Northwest Nationals where Wilkerson powered the SCAG Power Equipment/Levi, Ray & Shoup Ford Mustang to victory, picking up win No. 5 for the organization.

If you could describe your first year as an NHRA team owner in three words, what would they be?
High, low, and excitement.

There have been several highs. Winning that first race with Tony last year at Seattle, partnering with Tim Wilkerson and him winning a race at his sixth event since we announced the Maynard Wilkerson Racing partnership and again this past weekend, and then partnering with Justin and him winning two of the first three races, those are the highs. Obviously, Cathi's passing was the low, but I will say, the way that the whole NHRA community came together to show their support is a great example of how it's one big family out here. And the excitement? It's just being out here. We love it, my family loves it; it's something we can all enjoy together.

You bring a unique perspective having first started as a fan of the sport, to progressing to an associate sponsor role followed by a primary sponsorship, and now into a team ownership role. How do you feel that progression has benefitted you?
It's helped a great deal simply because as a sponsor, I was being sold to and now as an owner, I'm having to transition from being sold to, to now doing the selling, which enables me to understand what the challenges are on both sides. Having a sponsor like SCAG Power Equipment and Randy Gloede (SCAG President and CEO) has been tremendous because he's taught me a lot on the business side of it from their perspective.

Did this first year go as you had envisioned?
I would say so. No one comes out here and anticipates that they're going to win every single race. You have to be realistic. We basically started with a new car and two new Top Fuel crew chiefs on Tony's team this year, but yes, I'd say it's gone as we'd hoped it would go. Five Wally (trophies) so far in our first year with our combined teams; we're happy about that.

What has surprised you the most with this venture?
There are some things that have been eye-opening, particularly with how much the costs are as it relates to parts and pieces, and how quickly they can add up. But not a whole lot really surprises me because at the end of the day, I'm a businessman that also happens to be a big drag racing fan so I anticipated a lot of this going into it. Not to mention, I had a great mentor in Don Schumacher. He gave me all of the insight I could've ever asked for, so I felt very comfortable going in.

You've been very successful in business with ECHO Power Engineering, and the recent opening of your new Clarksville, Tenn. restaurant, Shelby's Trio. How does that particular business savviness help you on the racing side?
For me, the ability to judge what's real and what isn't real, and the ability to convert what's real into actionable items. What I mean by that is, I can easily see through 'the fluff.' There are people that tell you things that may not necessarily be in your best interest and there are others who genuinely want to be helpful, and not just tell you what they think you want to hear. My experience has helped me be able to easily discern the good from the nonsense.

In just one year, you've gone from majority owners of Tony's car to now having three cars operate as part of the JCM organization plus a growing driver development program. What's next for the JCM Racing team?
Well honestly, probably another car, preferably a Funny Car. I'd love to have a rounded, balanced team with two Top Fuel dragsters and two Funny Cars, and if we can find the right partners, I'd also love to expand into other classes. Ideally, I'd have something in every pro category, so Pro Stock and Pro Stock Motorcycle, those are next on my list, but I'm not against an alcohol team either because that's a natural feeder to the premier level.