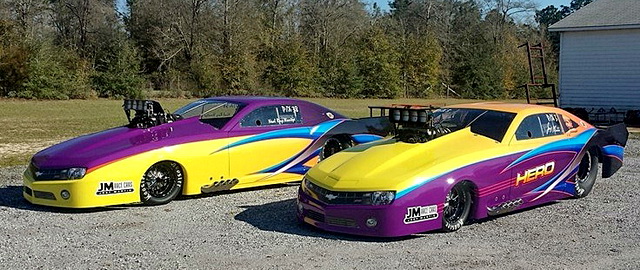 He doesn't wear a cape, and it's a safe bet that he can't leap tall buildings in a single bound, but there's no doubt that Joey Martin has earned his "Hero" nickname.
Martin, a veteran Pro Mod racer and owner of Joey Martin Race Cars (JMRC) in Milton, Florida, isn't a superhero in the characteristic comic book sense, but his ability to build winning race cars in record time has certainly convinced many of his customers that he has talent and dedication far beyond the norm.
"Back in the day, I'd have racers come to me and say things like 'I sure want to go racing but my stuff is tore up,'" Martin said by way of explaining how he got his nickname.
"I'd tell them to bring it to me and I would fix it. The response I usually got was 'Ain't no way.' Well, a couple of days later I would call them and tell them their stuff was ready. I was known for getting the work done in a hurry, and more than one racer told me that I was their hero, so the name stuck."
Martin, most recently the driver of the popular '55 Chevy Nomad "Lowmad" for owner Dave Elsberry, has been an active competitor since 1999, but by the end of last season he was considering calling it a career.
"I have been racing for quite a long time, and I was seriously thinking about hanging it up," Martin said. "It's not that I didn't still love the sport, but the politics, time and money involved just had taken a toll on me and I was on the verge of calling it quits."
Things changed dramatically, however, when just a week after his last race of the 2013 season Martin got a phone call from Pro Extreme racer and team owner Neal Wantye.
"Neal called to ask me if I wanted to crew and tune his cars this season, and I told him that I wasn't interested in doing that because I'm a driver," Martin said. "I told him that I had already tried the crew chief thing and it wasn't for me. He then asked me if I would be interested in driving one of his cars, and I had to be honest with him when I told him that while he had good equipment, motors, drive trains, trannies and so on, the cars were not going to cut it. I told him that if I raced a car I wanted it to be capable of setting records and winning championships and his cars were just too heavy."
Wantye then sweetened his proposal, making Martin the classic offer too good to be refused.
"He said, 'well, then build me two new cars,' Martin said. "We talked a little more and he offered to pay me good money, so we came to an agreement to team up for 2014 and run in the PDRA's NAS Racing Pro Extreme class. He and I would each drive a car, and I would tune and maintain them both."
Martin immediately got to work on the team's new Camaro-bodied cars, cutting the first piece of tubing on November 13, 2013.
"Now you have to remember that I'm a one-man band – I do everything by myself," Martin said. "And I wasn't able to work non-stop on the cars, either. Just after I started working on them I went to Australia for ten days, then I went to Qatar for six days. I took off another five days at Christmas, three days at New Years, and two days to go to the PRI show. So, basically, from the first of December until now I have built two complete race-ready cars. Two cars in three months, all by myself.
"I call the cars JMRC Specials," Martin said with a laugh. "The cars are twins – they are as identical as I can make them. When I was building them I would measure one car and then cut two of everything. I put them together at the same time and I started them both on the same day last week. They have 2012 Five Star Race Cars Camaro bodies, Brad Anderson Hemi engines, PSI screw blowers, Neal Chance converters and Lencodrive transmissions.
"This is the same combination I ran in the Lowmad, but of course it's all newer stuff. I ran a 3.58 with the Lowmad and the engine was seven years old and worn out, so we are looking for big things from these Camaros."
Since Martin originally declined Wantye's offer to drive because he considered his cars to be too heavy, how did he make out with the new pieces?
"The chassis' themselves were not built heavy, but I added some weight by including things like three-inch stainless zoomies, which also look really cool. I will actually have to add some ballast to my car because I weigh 165 while Neal goes 220. With him weighing what he does, Neal's car will make the 2,275-pound weight but I will have to add 40 pounds to mine to bring it up to class spec. To answer your question, the cars are not extremely light, but they can be made real light if I just go back and change out a few pieces."

With both cars having just been fired up a week ago, the first time they will actually take to the racing surface will be Thursday, April 3, when teams gather for the PDRA's Inaugural 2014 Spring Open at North Carolina's historic Rockingham Dragway.
"These cars will be out-of-the-box brand new when we debut them at Rockingham," said Martin. "We are sure looking forward to it. With the people behind the series and the racers and sponsors involved, we think it will be real successful. It will be the best place for eighth-mile competition in the country. As far as [PDRA co-owner] Jason Scruggs is concerned, let me put it this way: If I was on the battlefield I would want him fighting right beside me, because he will always have your back."
After all, even superheroes need back-up once in a while. Batman had Robin, and the Green Hornet had Kato, so it's fitting that Martin and Wantye, along with all PDRA racers and fans, will have the owners and staff of the Professional Drag Racers Association standing firmly behind them.