On September 30th, Quaker City in Salem, Ohio, buzzed with excitement as the final UMTR North race of the season took place, sponsored by Sharp Trucking. Champions emerged, marking the culmination of months of intense dedication to stick shift drag racing.
The day began with a shroud of fog, but the sun quickly burned it away, paving the path for perfect racing weather. A total of 24 Quick Stick racers and 14 Street Stick racers participated in the season-ending race.
Ron Kovalski held the lucky 50/50 drawing ticket and displayed the spirit of generosity by donating half of his winnings back to the UMTR community.
In round one of Street Stick, Brandon Margo was only two points behind the leaders for the championship and also the bounty. Margo faced new UMTR racer J. Shannon and was able to grab the win advancing to round two and keeping the bounty alive.
Jim Wilson, who was sitting tied for first place, lined up next to Paul Adamczyk and got the win light. This kept his chances alive for grabbing the crown. Dom Klein faced Jeremy Murray, with Murray snagging the win. Tom Eitel lined up with Aaron Adyniec, in a classic Ford vs. Chevy race. Eitel advanced to the next round in his Mustang
Jack Miller and Donald Cooke lined up, and Miller took the win thwarting Cooke's chances to get into the top five.
First-year UMTR racer Jay Wood advanced with his win over Dave Chiotti. Jim Colletta lined his Ford Mustang up against Ray Tartabini, who was tied for first place. Coletta took the stripe ending Tartabini's hopes for the crown with Jim Wilson still in competition.
In round two, Jeremy Murray faced Jim Coletta, Murray and his Neon would take the win light. Tom Eitel lined up with Jim Wilson. Eitel took the win, opening the door for Brandon Margo to possibly take the number one spot, but those hopes for Margo were crushed when he lost to Jack Miller, giving Jack the $25 bounty money. Furthermore, Jay Wood got the bye that round.
In round three, racers Tom Eitel faced Jeremy Murray, with Murray taking the win. Jack Miller and Jay Wood lined up, with Wood taking the win light, advancing him to his first final. Murray and Wood faced off, both getting a green light start, and it was Jeremy who took home his third win of the season. He also scored $500 from Sharp Trucking and the Clutch Artist Award sponsored by DRC Truck and Equipment Repair.
On the Quick Stick side, Steve Tucholsky secured his position against newcomer Eric Baker. "Revin' Kevin" Margo provided a memorable upset by defeating current points leader Pat Himes. Notably, Troy Blile achieved one of his fastest passes, dipping his Camaro into the 8s. The championship was ultimately decided when Steve Tucholsky was handed a red light, making Pat Himes the champion by a mere two points.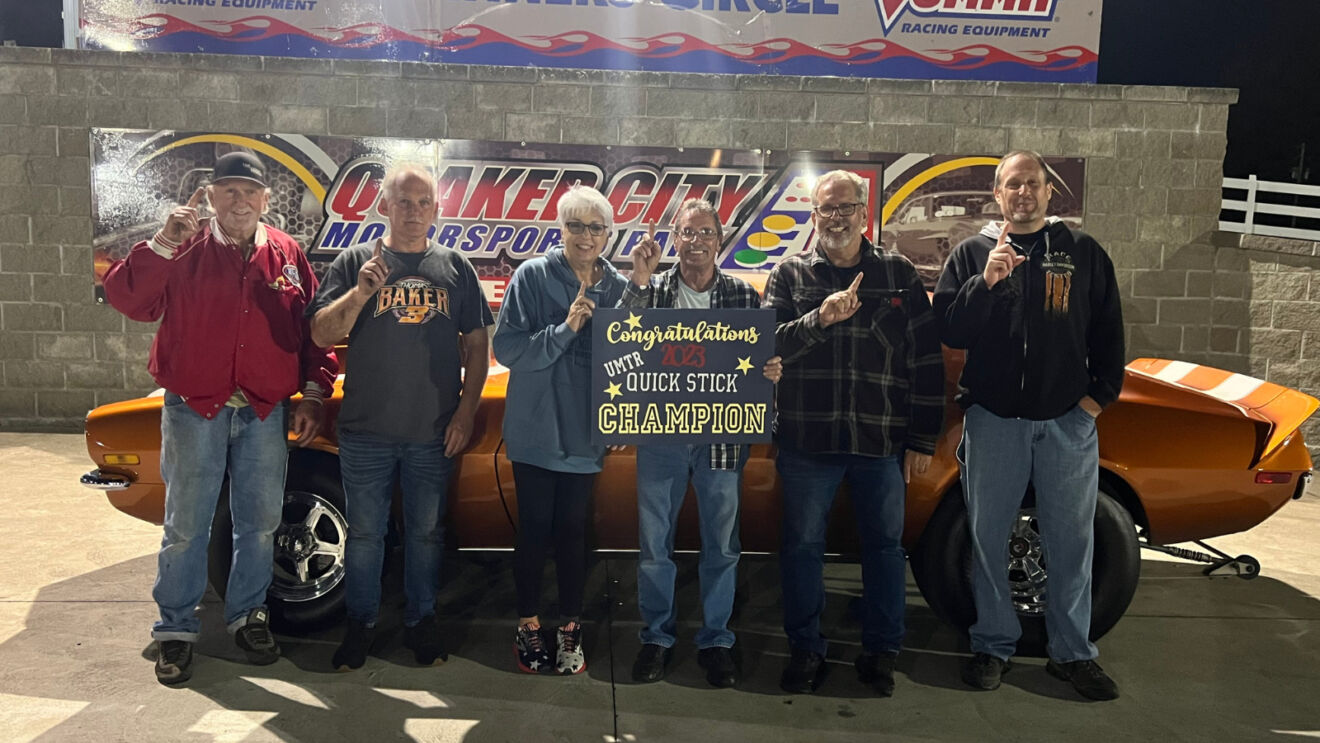 Additionally, the racing community rejoiced in seeing Dave Wasson back at the track, following his early-season crash.
UMTR North class champions honors were awarded to Pat Himes and Jim Wilson.
The success and vibrancy of this season are owed much to the local sponsors and corporate supporters, including Summit Racing Equipment, Mickey Thomson Tires, Ram Clutches, Liberty Gears, VP Fuel, Moser, G-Force, and Custom Floaters.
UTMR is set to host its yearend banquet on February 3, 2024.