The readers of RACER magazine turned out in record numbers to recognize two John Force Racing (JFR) drivers for their high levels of excellence during the 2013 NHRA season.
John Force the newly crowned 2013 NHRA Mello Yello Funny Car champion was voted Drag Racer of the Year and even more impressively recognized as the RACER of the Year for all forms of motorsports, and his daughter, Top Fuel driver Brittany Force, was the overwhelming choice for RACER Rookie of the Year.
John Force, driver of the Castrol GTX High Mileage Mustang Funny Car, becomes just the third multiple time RACER of the Year winner joining four-time winner Michael Schumacher and two-time winner Jacques Villeneuve. Force won his first RACER of the Year award for his then record setting 15th Mello Yello Funny Car championship in 2010.
"This is the kind of thing that really makes you stop and think. Someone was just telling me how great I did last year, and I had to tell 'em to stop. I didn't want to hear it. Still don't. It's like my dad told me once, a long time ago, when I came home bragging about how I'd just won 50 grand at some race. He said, 'What makes you think you're so great? Because you read that in the paper? You're probably the one who told them how great you are.' I never forgot that.
"I try to stay hungry and stay humble and not think about it, but this award from RACER makes you think about it. The 2013 championship was special, and this award makes it even more special. All I can say is what an honor it is," Force said when notified of both awards.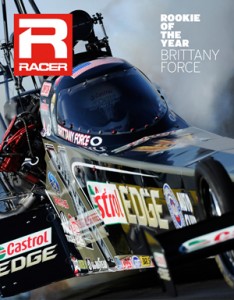 Force received an astounding 67 percent of the fan vote for RACER of the Year and an unbelievable 83 percent of the vote for Drag Racer of the Year. This was the seventh time Force has been named Drag Racer of the Year.
Last year Courtney Force took home top rookie honors from RACER readers. Brittany, the first Force to race Top Fuel dragster, outdistanced NASCAR Sprint Cup rookies Danica Patrick and Ricky Stenhouse as well as young drivers from racing series around the globe.
"This is huge. I thought for sure Danica Patrick would win. She's Danica Patrick. NASCAR's fan base is so much larger than NHRA drag racing's, but this just goes to show that we have the best fans," said Brittany Force.
"I struggled all year then ended the season at Pomona with a career-best E.T. and my first semi-final ever. Reaction times are still the toughest part. You can practice all you want, but it's completely different when someone's in the next lane and you're strapped in with a helmet on and the engine making all that noise behind you. I'm still learning, and I'll be learning for a while."