When NHRA announced that Top Alcohol competition would be divided among four regions rather than the traditional seven divisions, JEGS personnel immediately began devising a plan to keep the popular race cars as part of the prestigious JEGS Allstars format.
Renowned artist and sculpturer Dan Dreisbach was commissioned by executives at JEGS Mail Order to create a special trophy for the winning Regional Top Alcohol Dragster and Funny Car team at next year's JEGS Allstars event in Chicago.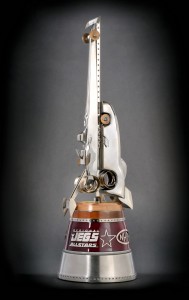 "The team portion of the JEGS Allstars race has been such a popular and unifying element and we didn't want to lose that with the Top Alcohol racers," said Jeg Coughlin Jr., who together with his three brothers owns and operates the 52-year-old, high performance parts company. "We brainstormed on a few ideas and worked with the NHRA to figure out how we could keep them involved."
The end result is very similar to the long-running Allstars race, with invitations extended to the top two competitors from each category in each region. Once they get to Chicago, the best-of-the-best will once again be able to race for individual and team titles.
The team that wins it all will take home Dreisbach's handmade creation.
"I really like how this piece came out," said Dreisbach, an Indy Car fabricator who has made numerous trophies for JEGS events in the past. "I used purple heart, red heart and maple woods as well as some aluminum, brass, copper and stainless steel, which I actually harvested from some Indy Car skid-plates.
"The dragster and Funny Car bodies are hammer-formed stainless and are hollow inside. I didn't use any patterns or bucks; I just got out my hammers and dollies to make the shapes and cut the excess with conventional band-saws and grinders. There is about 150 hours of work in this trophy and I'm pleased with the final product. I hope everyone likes it."
(Photo courtesy JEGS; Click to enlarge)