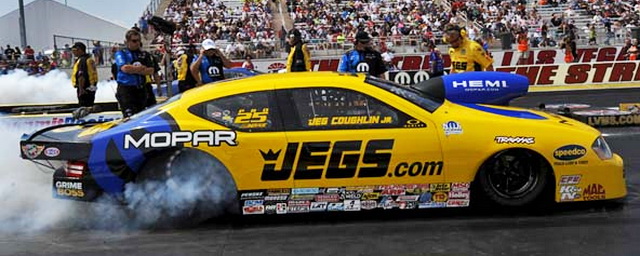 With five world championships and 68 national event victories to his credit, there's not much drag racer Jeg Coughlin Jr. hasn't accomplished in his illustrious career.
But at this weekend's fourth annual Dollar General NHRA Four-Wide Nationals at zMax Dragway, Coughlin can notch a pair of "firsts," and considering the way his JEGS.com/Mopar Dodge Avenger has been running this season, he just may be able to take care of business.
"We've won at just about every drag strip on the schedule except zMax and the new one up in New Hampshire," Coughlin said. "And we haven't won a four-wide race either, so we definitely have some clear goals for this weekend's race."
The 42-year-old from Delaware, Ohio, has had a ripping start to the 2013 season, racing to two final rounds in the first four events and posting a 9-4 race-day record, good enough for third place in the championship standings. He currently trails leader and teammate Allen Johnson by just 24 points, or slightly more than one round of elimination action.
"This is probably the best racecar we've ever had coming into this race," Coughlin said. "We did qualify No. 1 the first year they did it and we've managed to go some rounds a few times, but so far a four-wide win has alluded us.
"We've done everything this year but turn on the win light in the final round so maybe we can accomplish all these goals this weekend. We're certainly riding a lot of momentum and we don't expect any kind of drop-off in performance."
The four-wide racing format is unique to this race, making it a touch more complicated for the drivers. But Coughlin has been preparing himself for the event since the tour's last stop in Las Vegas.
"It's a one-of-a-kind deal," he said. "There's a lot going on during the staging process and you really have to focus on what you're doing. There's a different mindset and strategy for this race.
"I've spent a lot of time watching tape from the last few four-wide races to kind of mentally prepare for what we'll encounter. When you have something like this that you only do once a year, you have to study a little bit harder."