Science fiction fans and pop culture enthusiasts alike are familiar with the voice of actor William Shatner as Captain James T. Kirk explaining the five-year mission of the Starship Enterprise at the beginning of each episode of Star Trek. Kirk ends his oration with, "to boldly go where no man has gone before."
In five months time, drag racing pioneer and icon Jeg Coughlin Sr. and his team of "scientists" at JEGS High Performance have boldly embarked on a new age of competition with the future stars of the sport exclusively in mind for a revolutionary adventure.
The idea sparked from a conversation with the folks at electric car innovators Tesla Motors some two-plus years ago. Coughlin, 79, set himself to the task of developing a reliable electric motor combination for Jr. Dragsters, the half-scale category near and dear to the Coughlin family and tens of thousands of kids throughout the world.
"I wanted something for my grandchildren to drive," Coughlin said. "I wanted to them to have an electric motor car that's easy to maintain and easy to tune. We've done that with what we have going now."
What Coughlin and the team at the Jr. Dragster racing division of JEGS, helmed by David Ruark, have is a turn-key conversion kit touted as the best and most proven way to easily turn a alcohol-powered Jr. Dragster into an electric machine. Even its developers have been surprised with its ease of tuning, its ease of maintenance, and, grab a seat for this one – Its long term cost savings.
"You can install this motor and the kit we've developed and never have to buy another motor for your Jr. Dragster," Ruark said. "Even as your child gets older and moves on to quicker classes, this motor can move from class to class with a few simple adjustments of voltage and amps. There is no need to get a different motor for each class, and that alone is going to save people a lot of money in the long run.
"Plus, we've taken away the cost of fuel. To refuel our car you just have to plug it in between rounds."
"I made a bunch of phone calls and researched several options," Coughlin said. "It took a while to narrow it down to a good, reliable motor and controller. We wanted something to get the kids more involved with tuning their own racecars, too. With the setup we have now, a child can plug in an (electronic) tablet and within a few seconds have a tune-up in the car that will run almost the same E.T. (elapsed time) and speed time after time."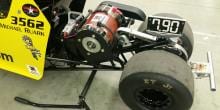 Unlike his interstellar cohorts, Coughlin didn't want to have a motor going to warp speed; he wanted a motor's performance more in the range of the Starship Enterprise's impulse speed setting. NetGain's ImPulse 9 power plant — coincidentally in the company's WarP Series — fit the bill and the budget.
"Everyone kept telling me about the biggest and the fastest, but I wasn't looking for fastest," Coughlin said. "We needed a consistent and reliable combination, but it also needed to be economical. Racing at any level can be very expensive. Maintaining parts and pieces can be a big financial burden. We wanted to try to alleviate some of that worry and cost.
"After 1,000 runs, you unscrew two bolts on the motor, replace the brushes, screw the bolts back on, and you're ready to race another thousand runs," Ruark said. "It really is that simple. Again, it gets the kids more involved because its something they can do themselves with little, if any, guidance from their parents. They can tune it and maintain it by themselves if they want."
The lithium battery pack is rechargeable with a quick connect to an 110v outlet on a pit-side generator. The battery lasts almost three years from initial findings according to Ruark.
Every racer knows what you see on paper is great, but how well something works on the racetrack is the only data that matters. So, Ruark and his 17-year-old son Michael put the new combination through its paces in competition. Over the course of a weekend, their second outing racing the EV junior, Michael won a remarkable 17 rounds and proclaimed his allegiance to the electric racer.
"We sold our gas car after that," Ruark said. "We're totally committed to the electric car because it's a winner time and again."
And there's no concern about rules compatibility with the electric combination. "There was already a section about Jr. Dragster electric cars in the NHRA (National Hot Rod Association) rulebook," Coughlin said. "Our combination is completely NHRA legal for competition right out of the box."
"We had a lot of people from JEGS working on this project," Ruark said. "We had welders and fabricators and all sorts of help from so many people in the company. It really was a big team effort. Thanks to everyone who helped, especially Greg Cody, Rick Rossiter, Michael Ruark, Justin Beaver, Mike Rees, John Metric, Geo Hamstra and Tony Collier."
"We live in a computer age, a technology-driven era," Coughlin said. "I'm really proud of what we've accomplished with this program. It's a wonderful, new program. It couldn't have come together the way it did without great people doing great work."
The JEGS Jr. Dragster EV Conversion kit can be ordered online at
Jegs.com
.