There is a movement going on in the sport of drag racing that is bringing one particular style of competition to the top of the headlines. Drag radial racing has been booming across the east coast and southern states for several years now and the craze is moving west in a hurry. Famed cars like "Murder Nova" driven by Shawn Ellington and "Shadow" owned by Phil Shuler and driven by Steve Jackson made the switch to radials recently and have seen impressive success getting big power machines to hook up on the challenging radial tire. There's big news in the great state of Texas as yet another big name in the game is going radial and making his debut this weekend at the Radial Tire Racing Association's "Radial Rebellion" at North Star Dragway in Denton, Texas.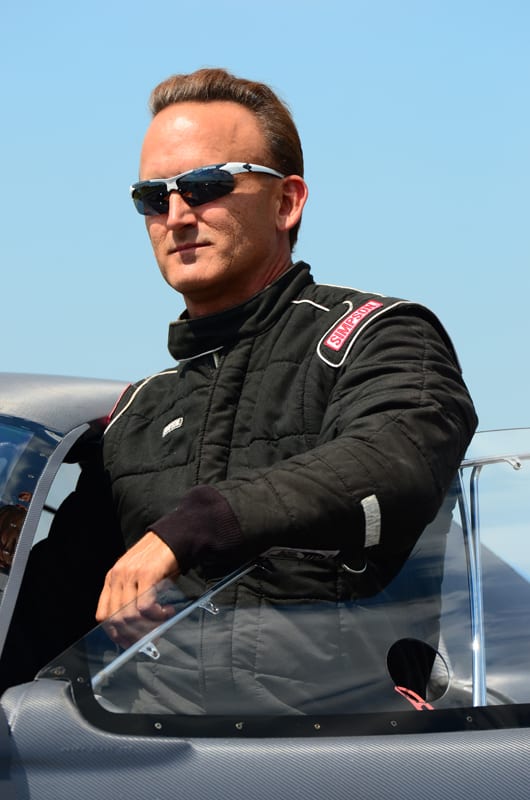 Jeff Sitton, a 46 year old drag racer in the oil field business from Ft. Worth, Texas, is the owner and driver of "Hyde", a car most grudge racing fans will agree is the quickest and fastest nitrous backhalf car in the country. A major threat in the grudge race game, Sitton has been involved in some of the fastest, highest stake no time grudge races we're aware of, from Texas to North Carolina to Florida and back. "Hyde" is half of the former two car duo "Jekyll & Hyde" as Sitton had sported not one, but two wickedly fast grudge machines before recently making some changes to his racing operation for the 2015 season.
Aside from adding a PDRA Pro Nitrous machine to his stable over the winter, currently driven by Steve Jackson, Sitton has sold "Jekyll" and put primary focus on "Hyde" and his switch to a pair of Mickey Thompson 315 drag radial tires. A powerhouse team composed of Sitton behind the wheel and tuning calls from none other than Steve Jackson and Billy Stocklin leaves this combination with no lack of knowledge on handling horsepower and applying ponies to a radial and making it stick. Expectations are high and Sitton aims to quickly be a player in the Pro Drag Radial class of the RTRA racing series, the only points-earning series of its kind. The team has completed two weeks of testing and seen promising results in a short time. This weekend will be the first time the public will see "Hyde" racing in class competition with times shown, a big change for a former drag racer joining the radial movement in Texas.
"My first grudge race was in 2012 when we literally bought this car Hyde at a warehouse in Dallas after it had sat for two years. We dusted it off, changed the battery, spark plugs, ran the valves and drove to North Carolina to call out Stevie Fast because he was the man to beat on the east coast. Here we are three years later working together. All I wanted to do with my cars was beat the best and the "Shadow" car was the car to beat so I wanted all I could get as often as I could get it until I beat him. We had a big race here in Denton two years ago that I'll never forget. I got word he wanted to stage last so I told myself I'd burn the motor to the ground but I won't go in first. We sat there pre-staged for over a minute and I finally went on in and ended up loosing that race by about a half a car. But I knew then those guys were the guys I needed to work with to get my cars to perform how I wanted them to perform," says Sitton.
Planning on a full year commitment to the Radial Tire Racing Association, which is holding its second of six events this weekend in Denton, Texas, Sitton confirms he also plans to travel and hit up any major drag radial event anywhere in the country if the money is good and racing is competitive. Competition is the name of the game for Sitton. A challenge is what he wants, no guarantees. The ability to measure himself against the best of the best is what gets this man's blood pumping. A former bracket racer who lost interest in that form of racing quickly, Sitton found himself addicted to the unpredictability and intensity of heads up outlaw grudge racing, but now is excited about a new challenge. "Hyde" is a Kim Smith-built 2000 Chevy Camaro powered by an 800+ cubic inch nitrous-injected Reher & Morrison powerplant with a 5.3 bore space and Rossler three speed transmission.
"Radial racing really caught my eye here at North Star in March at the first RTRA race. These cars are impressively fast and you can really measure yourself in this class. Your racing against the best of the best as far as drivers and tuners both and you can really see what your made of when you line up against competition like that. Grudge racing at the level we are at right now is just not the same as it was a few years ago when I could find a race easier than I can now. I can't find a race in the grudge scene anymore and have had several people back out of races recently so this is a new challenge and I'm extremely excited about it. I'll still grudge race anytime, those guys know I'm here and can come get some whenever they want, but I'm not going to wait on them, I want to race," says Sitton.
"My goal is to be the person to beat in radial racing. I want to come into this series and dominate. I'm not just coming to hangout and have a good time, we're coming to win, every time. On this team we all work together, no one has a specific title. If there's an area on the car that needs to be addressed, we all team up to solve the problem together. Stevie and Billy work great together and to have the fastest car you can't just buy the parts, you have to have the knowledge to make it all work and those two are the best in the business. I also need to recognize Jack and Chris who make a big sacrifice to go racing on this team. I also need to thank Kim Smith for all the outstanding work he has helped us do to this car over the years," continues Sitton.
"I really want to see radial racing grow in Texas because it's huge on the east coast and I want to help pack the stands here for events like this. There is no other track in the country that can measure up to what you get when you come to North Star Dragway. I will run anyone on any track, but to run on a track like this, I'd drive 4,000 miles. I'm lucky it's here in my backyard. Most places we go, we're constantly pulling power out to get down but at North Star you can give it all you want to give it and it will take it. They say it's 'where the fast go faster' and that's a true statement. Gene Nicodemus has done amazing things with this facility since he took ownership. This place has amazing potential and the RTRA series is going to grow and I'm just a glad to be a part of it all and look forward to this weekend's event," says Sitton.
Catch all of the action at the Radial Tire Racing Association "Radial Rebellion" at North Star Dragway for free on live steam via MotorManiaTV.com this weekend.
Invalid Displayed Gallery