While up-and-coming tuner Jeff Pierce has had ample opportunity to step into the driver's seat, he's chosen the road less traveled, pursuing a career as crew chief and consultant. His Jeff Pierce Race Car Tuning business have already been key to breaking major Pro Mod barriers and helping both well- and lesser-known drivers gain consistency and success in their race programs.
At the still-tender age of 26, Pierce has worked with the likes of Jeremy Ray and Mike Stawicki, but one of his biggest advocates and success stories is his own father, Dave Pierce. Pierce credits his dad with getting him involved in the sport and teaching him much of what he knows, but the Oklahoma native also has benefited from opportunities to learn from some of the best in the business.
"My dad has always raced. Probably when I was about 12 years old I started wanting to go with him and I started picking up and learning stuff about it," Pierce explains. "I got to learn from him, and he and I actually got the opportunity to go work at a few races on Kenny Koretsky's Pro Stock car. At the time he was teamed up with Rickie Smith. So my dad and I both got to learn from Rickie Smith as well as Eddie Guarnaccia, who is Koretsky's crew chief. We had also gotten to know Mike Edwards because he only lives about 30 minutes from where we live. Mike taught me a bunch about chassis tuning and reading graphs.
"At the time my dad had what we call a Pro Street car," Pierce continues. "It was basically a single-stage, 700-inch motor that ran local stuff in Oklahoma and Missouri. It had to have tail lights and a horn, but basically it was a full tube-chassis car. Slowly but surely Dad's racing developed and the next big thing was Pro Mod, so now we had to get a Pro Mod car and a bigger motor. It took off from there. In 2007 or 2008 I started having guys want to hire me to go help them, mostly Top Sportsman-style cars, but then it developed into other Pro Mod teams. After I graduated college with a mechanical engineering degree, I decided to start my own company as a for-hire crew chief firm."
Right away, Jeff Pierce Race Car Tuning took off. "The first year I worked with Cummings Motorsports, with drivers Jeff Cummings and Bob Gulitti, and later in the year Keith Haney Racing, with drivers Keith Haney and Monroe Guest. At the very end of my first year my dad got another car so I started crew chiefing his car again. Last year I worked with Jon Salemi, who has Resolution Racing Services. We've been tag-teaming on some of the Pro Boost cars at the PDRA races. There was Jeremy Ray and his '57 Chevy, Mike Stawicki in an '05 Corvette and a few others here and there."
For the 2015 season Pierce will again head up the tuning duties on his dad's PDRA Pro Nitrous '68 Camaro driven by Ron Muenks, with possible plans to attend some NHRA Pro Mod events, where they've seen great success in the past.
"Being able to race with my dad is one of the most rewarding things I do," he stated. "That's something I know a lot of people don't get to do with their family. I think it was 2010 when we went to Indy, we had never raced an NHRA race in our career and we went out there and ran 6.01 and shocked a lot of people who had no idea who this guy from Oklahoma was. Getting to qualify and race at Indy—I mean, it's Indy—so just to qualify is a huge feat. Getting to do that with Dad was a really cool moment.
"My other defining moment was the 5.99 run we ran at St. Louis in 2013. That was our first five-second run. For some reason it seemed like there was a huge barrier between us and making a five-second run. We were going 6.01, 6.02, 6.03; and then here we are a year later and we've been a 5.89. So it seems like once we broke that six-second barrier it was easier to pick up some more after that."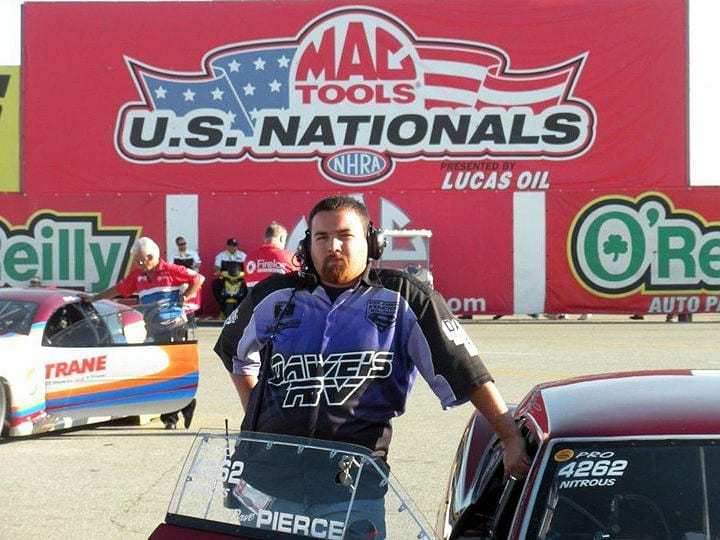 Pierce clearly prefers the challenge of tuning over the thrill of driving. While he earned his IHRA Pro Mod license just before he turned 18, his desire has always been to conquer the science behind the performance.
"It's a dream come true to do this for a living," he emphasizes. "Since I was 14 or 15 years old, going to those NHRA races and getting to be a crew guy on a Pro Stock car and learning from some really intelligent crew chiefs, it's been a dream of mine to crew chief on professional drag race cars. To turn that into a living I can support myself on has just been phenomenal. There's definitely times where the hours and the amount of work you have to put into it make you think, 'well there's a lot easier ways I could go make a living,' but there's too many times I find myself enjoying it to every trade it."
Still a few years from 30, Pierce recognizes his youth can sometimes foster resistance in clients; however, he says it also can be an advantage when it comes to keeping up with the latest technology.
"It's definitely tough [to be young] for a couple of different reasons. One is when you're trying to convince somebody that you've had enough experience to go tune one of their cars. I can't think of a client that's hired me that's younger than me. So having people older come to a younger person for advice and consultation can be a weird situation, but luckily I've had plenty of people give me opportunities, and I feel like I've done very well by them for the most part," he says.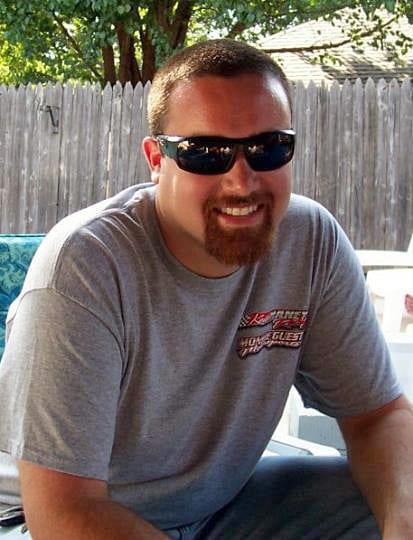 "I'm always going to be learning. I think any crew chief would tell you you're going to be learning until you quit crew chiefing because things change. There's always new parts and components and you have to adapt and learn with it. One of the advantages I have, I think, is since I am a younger guy I'm fairly electronic savvy and that's something that's changed in the last 10 years. When I first started with my dad you barely had a programmable ignition in the car. And now you've got all kinds of Racepaks and sensors and programmable ignitions, EFI, all these different aspects. It takes somebody that's willing to be computer savvy to run one of these cars now."
To stay on the leading edge of technology, Pierce focuses heavily on research and development, which brings even greater benefit to his customers.
"I do extensive R&D," he says. "One of the main reasons behind Dad's car was to do R&D for my customers' cars. Since we brought it out that car has always had R&D components on it. It's never been ran as a typical car where we just buy off-the-shelf stuff and go run. I've worked with Neil Chance Converters, as well as working on and modifying the converter drive units myself, and we've made massive gains in that area. So much so that you used to not be able to run a nitrous convertor car against a nitrous clutch car and be competitive unless you ran a lockup, which NHRA does not allow. Last year I think we proved that our convertor car can run with the clutch cars. I feel like that was a pretty significant feat. I think we have the fastest nitrous, non-lockup car, as far as NHRA quarter-mile legal trim. We went 5.89 in Houston last year. I haven't seen anyone run faster."
While Pierce has seen the proof that R&D is invaluable to any program, he admits getting clients to adopt that mentality can sometimes be a struggle.
"Most people, when they try to find a tuner, they're looking for someone who can help them win races and they're not always willing to go through the R&D process to get there. Sometimes you can't always make the car go down the race track every single run. But people want immediate results.
"As the crew chief, you're trying your best to predict everything, but there's so many variables on these cars that it's very difficult to do. Sometimes it just takes going out and making runs with it. And some customers are easier than others in understanding that it's going to take time to develop a tune up for a specific car. That's one of the biggest difficulties we all face, being given not only the funding but also the time that it takes to develop a winning tune up in a car."
Now that he's enjoyed a measure of success in a variety of classes, Pierce says he's looking forward to whatever comes next.
"I've worked on everything from nitrous, Pro Stock, turbo, blower; I actually like the fact that I have a well rounded background on different cars. I think you can learn things from one car and apply it to different types of cars and end up with better results," says Pierce, who also has Outlaw 10.5 experience. "Nitrous is probably my favorite; out of everything I've worked on, I think it's the most challenging. I would like the opportunity to go work on a well-funded turbo or blower team, but if I was going to put a team together myself it would probably be a nitrous car just because to me it's the most challenging.
"[But] just trying to get your name out there can be difficult," he continues. "I don't like going up to people and directly propositioning to help fix or tune their car. So just trying to get out there and make a name for myself while being a young person with a lot of big-name tuners around can be tricky at times. But so far things are starting to pay off. More and more people are recognizing me around the track."