In front of a packed house, the Lone Star State's own Jeff Jones earned his first Summit Racing Equipment Mid-West Pro Mod Series (MWPMS) victory July 13, at Xtreme Raceway Park (XRP) in Ferris, TX, near Dallas.
"This was a long time coming," Jones said after his final-round victory over Todd Martin. "We've come close a couple of times before, so it feels pretty good to get it done."
Also visiting XRP's winner's circle were Keith Haney in the unique MWPMS Slammers class for Pro Mod non-qualifiers and first-round runners-up, Shawn Ayers driving for team owner and Philadelphia Eagles star Fletcher Cox in X275, Rudy Vedros with his first major event win in Top Sportsman, and Ron Scott in Top Dragster.
Jones, who races a supercharged C7 Corvette alongside teammate and son Justin Jones in a similar machine, also shares the tuning prowess of crew chief Brandon Pesz with Martin and his Tulsa-based '68 Mustang. Martin narrowly defeated Justin Jones in the semi-finals to reach his dad, who started seventh in the 16-car Pro Mod field before racing through Jeffrey Cummins Jr., points leader Aaron Wells, and Jim Sackuvich in the semis.
"Sometimes you get kind of amped up to race certain people, but this was kind of a unique experience because it felt like just going to throw a football in the backyard with one of your best friends. So there was absolute zero pressure on either one of us," Jones said of his final-round match against Martin.
When the tree finally dropped, Martin got away first with a .031 light with Jones at .046, but the Imperial Construction Corvette quickly closed the gap and a classic door-handle-to-door-handle race ended at the eighth-mile finish line with a 3.70-seconds win for Jones over a 3.72 by Martin.
"The only way this could've been a better win for me would've been if I'd raced Justin in the finals. But that day will come in due time," Jones said. "You know, after it was all over and we got together at the end of the track, Todd came over and his eyes were a little bit welled up and even he goes, 'Dude, I'll never throw a race, but I sure wanted to; I really wanted to see you race Justin in the finals.'"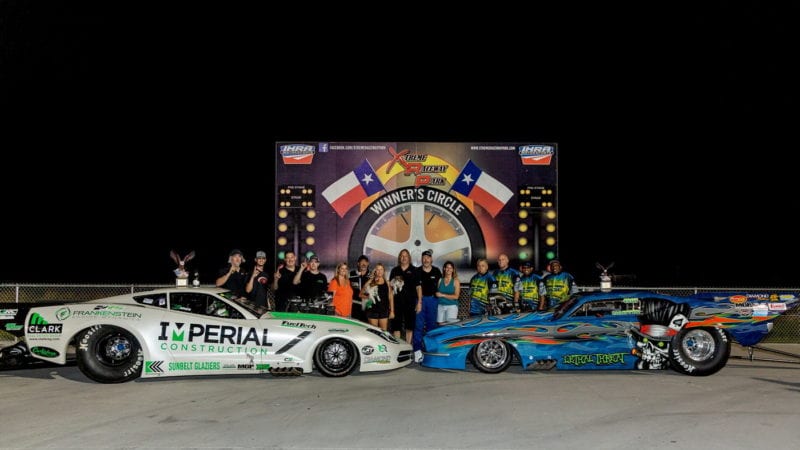 For Martin, just the opportunity to qualify and race represented a victory in itself. After making a 3.76 pass at near 200 miles an hour in Thursday night's practice session, the parachutes on his supercharged Mustang failed to deploy, sending it into a high-speed, top-end spin.
"I got on the brakes and it just started hopping down there and next thing I know it's going towards the right wall and then just going back left again," Martin recalled. "And then it just starts to come around on me and it slides backwards for a ways and I'm like, 'Man, is this ever going to stop?' I'm just thinking it's got to be ready to back into the wall here.
"So I just jammed on the brakes and turned it like I thought might keep it off the wall and it spun it all the way around and added up enough momentum for me to just to straighten it up and coast off the track. I mean it was amazing that I didn't hit anything at all. So yeah, I'm just happy to still have a car right now."
Slammers winner Haney, who also owns and promotes the MWPMS, praised the track, the staff, and a record-setting crowd at XRP, but it was the on-track action that left the greatest impression.
"Everybody was talking about it being the best Pro Mod race they've seen in years," he said. "I mean, it was side-by-side racing every pass. And I'm not kidding; throughout all the rounds of racing, maybe three cars shook the tires.
"That's a testament to the track prep by Galen Smith and Clyde Scott and they did it without any fancy equipment, just a regular dragger. Which also says a lot about the skill level of the teams and drivers in the Mid-West Series. Whatever prep we have is what we race on and it shows our guys are as bad as anyone–anywhere–in Pro Mod right now.
"I also want to mention the people who make it all happen and come together so I can actually concentrate and enjoy my own racing," Haney continued. "I mean, Jimmy Boles did a great job running the event along with Ellen Eshenbacher. Those two do so much for everyone in the Mid-West Series, it's really unbelievable.
"And we have Jimmy Biggs documenting everything on video with Damon Steinke taking still photos while Al Tucci and Colton Jordan keep everyone entertained on the P.A.; those are the things that make a race weekend like this even more memorable."
Leaving XRP, Wells held on to the MWPMS points lead, with Justin Jones remaining second, but Jeff Jones bumped up from fifth to third, followed by Sackuvich and Haney. The 2019 Summit Racing MWPMS season will resume Aug. 2-3, with its second visit this year to Worldwide Technology Raceway at Gateway, near St. Louis.