Jasmine Salinas has earned her NHRA Top Fuel license after various test sessions throughout the 2023 season. The 31-year-old daughter of NHRA Drag Racing Top Fuel driver, Mike Salinas, will officially make her first start in the Top Fuel ranks racing for her family's race team, Scrappers Racing, when the 2024 season kicks off in Gainesville, Florida, in March.
Salinas tested at various facilites beginning with her first pass in a Top Fuel car in March at Wildhorse Pass Motorsports Park in Chandler, Arizona. Her license was signed off on in June at Indianapolis Raceway Park by fellow racers Blake Alexander, Antron Brown, Tripp Tatum and her father, Mike Salinas.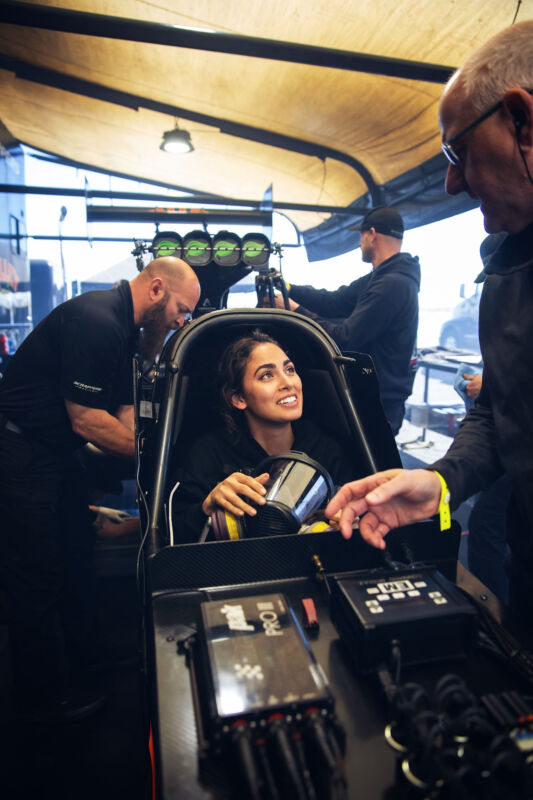 "It's really hard to put into words what it means to say that I'm now officially a Top Fuel dragster driver," said Jasmine Salinas. "From my first pass in Arizona, where it was all about getting the feel of the launch and the power to my first 'full pull' and passes over 313 mph, it's really been a unique experience. Now it's Pme to spend as much Pme as possible the rest of the 2023 season getting runs and continued testing where possible and ensuring I'm in the best physical and mental condition possible when the 2024 season kicks off."
Now that Salinas is officially licensed to compete in Top Fuel in 2024, the Scrappers Racing team is focused on obtaining sponsorship for the full season and ultimately contend to make the Countdown in her first full season.
"It's really an exciting time for Scrappers Racing to be expanding to two Top Fuel dragsters for the 2024 season and especially having Jasmine behind the wheel of one of them," said Mike Salinas, team owner. "Now that we've got Jasmine officially licensed, our focus is sponsorship on the cars for 2024. I know she will make an incredible ambassador for the right partner and I want to make sure she has the best opportunities possible to not only compete at the top level every weekend, but also enhance the sport through her work with the right partners."
Salinas has competed in the Top Alcohol Dragster ranks since 2019 and has earned five victories in her career. She spent the 2023 season competing in select Top Alcohol events, but primarily kept her focus on preparations for the 2024 season by spending time with the Top Fuel team and getting quality test sessions completed whenever possible.
Salinas began racing at the age of 15 in the Junior Dragster division. After college, Salinas began working for her family's Top Fuel team, Scrappers Racing, as a Floater and Supercharger Assistant. She currently serves as the teams' General Manager and handles all day-to-day operations of the team.
Announcements pertaining to crew chief and other members of the second Scrappers Racing Top Fuel car will be made at a later date prior to the kickoff to the 2024 season, which is slated to take place March 7 to 10 at Gainesville Raceway.