Mike Janis' first-round matchup against Stevie "Fast" Jackson in the $100,000 winner-take-all Drag Illustrated World Series of Pro Mod is still about three weeks away. For crew chief Mike Janis Jr., that means three more weeks of his sleep getting abruptly interrupted.
"I'd like to lie to you and say it doesn't mean anything or you're not thinking about it, but, true story, I was lying in bed and Stevie ripped off a 5.70 at 252 up in Denver," Janis Jr. said. "I woke up sweating, and normally you don't dream about who you're racing. It's definitely playing a part. That's going to be a really big matchup, especially with all this money."
Drag Illustrated Editor-In-Chief Wes Buck announced the first-round matchups for the inaugural Drag Illustrated World Series of Pro Mod presented by One Cure and J&A Service on his live Facebook show a week ago. It's simply added to the wave of momentum for the event, which takes place Aug. 4-5 at Bandimere Speedway.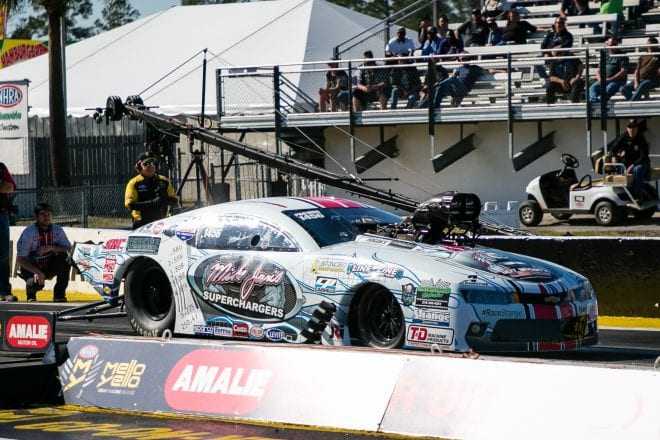 Jackson and Janis is certainly one of the first-round races everyone is circling, and Jackson and Janis Jr. appeared live on Buck's show on Wednesday. Janis Jr. readily admitted that Jackson is already on the team's minds almost a month before they face off in Denver. He joked that Jackson's nickname will be "Stevie Slow" by the time the first round finishes, but they obviously know the talented Jackson, who made his NHRA Pro Mod debut this year and already has a win, poses a major threat. With Janis' ties and sponsorship with Sheikh Khalid Al-Thani and Al-Anabi Racing in Qatar, and Jackson's Bahrain 1 partnership, it makes for another interesting layer in the blower versus blower face-off.
"It's a big deal for KH and us," Janis Jr. said. "His biggest thing is for us to try to be the fastest automatic NHRA car out there. We've done that for many years, but Stevie's been running really good and he's kind of taken that title away from us. We've got to really try to bring it back home."
Doing well on the mountain and returning to Lancaster, New York, $100,000 richer would certainly make for a nice way to erase the struggles of a frustrating NHRA Pro Mod season for Janis. He currently sits 13th in the loaded class, but those rough patches would quickly be erased with a successful weekend at Bandimere Speedway.
"This race, it's taking it to the next level," Janis Jr. said. "We're racing for $100,000 and it's going to be exciting. There's a lot of pressure and we're all taking it seriously. How long have we been racing Pro Mod? And we've never got to race for $100,000? It's going to be exciting and we're going to have fun out there."
Janis and his team were one of the first to reach out and show their immediate interest in the event. Their "race anytime, anywhere" mantra included the unique World Series of Pro Mod, where the scoreboards will be shut off during qualifying, competitors will race at an altitude of nearly 6,000 feet and Janis knows his first-round matchup a month ahead of time. But for those who discounted the potential of the World Series of Pro Mod, Janis Jr. said they are simply missing the boat. He believes that will be apparent when a massive crowd comes out in full force for Saturday's main event.
"Quite honestly, those people need to get a reality check," Janis Jr. said. "We're out there racing and people are putting up money, and that's a really big deal. We're honored to be part of it. Going to Denver, I think it's a great move and it will definitely be one to remember."