It was just a year ago that Jamie and Gina Chappell, Justin Carmack, Terry Coyle, Chuck Ford, Robbie Matthews, and the rest of the "War Eagle" team won a big-money race at historic Piedmont Dragway during the Big Dog Vs. the World event. One year later, on October 12, after running the entire Big Dog schedule of six races, the team was looking to repeat in the fall event but this time, a healthy $20,000 was going to the winner.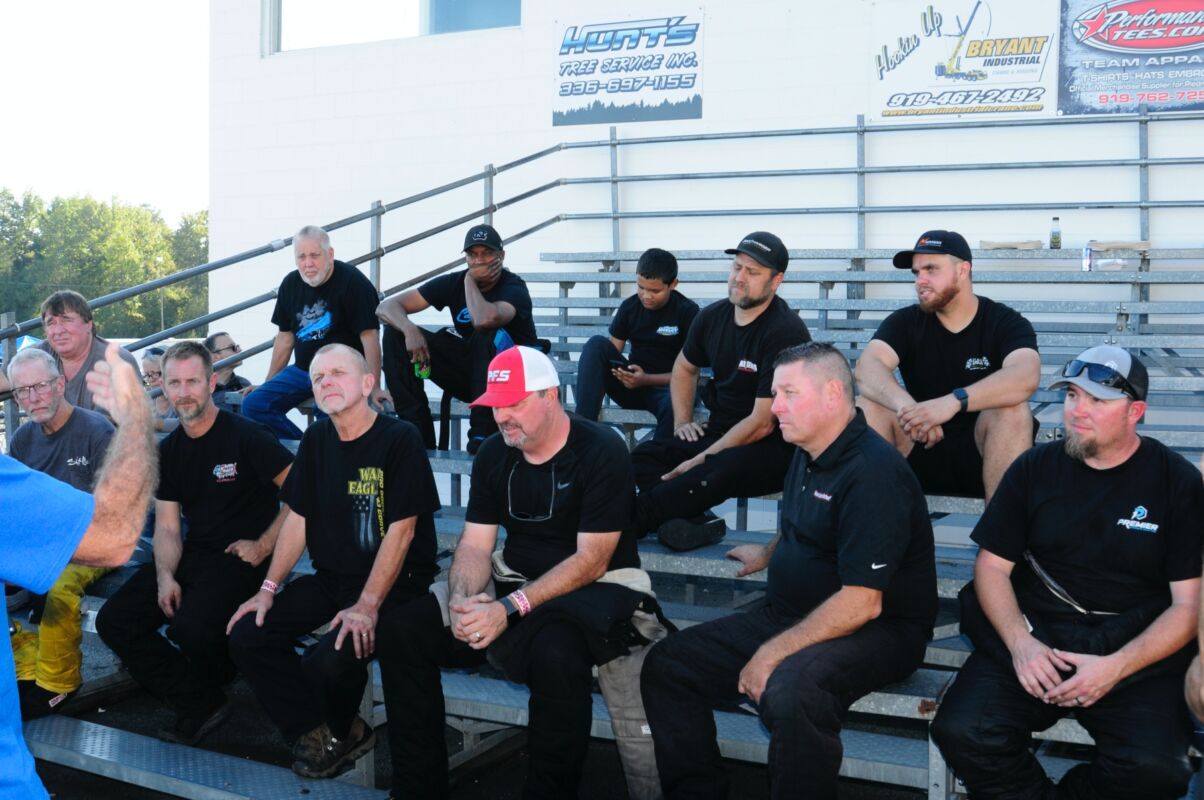 As this is a one-day event, plans were made for an eight-car field or a 16-car field, or anywhere in between. General manager Rick Moore and track owner Ron Senecal tried to plan for any alternative and were pleased to see 12 cars coming through the gate for a shot at the very healthy purse. Two hundred mile-an-hour runs were the order of the day as during qualifying seven of eight cars were at 200 MPH or above. All eight cars were in the 3.80 or quicker zone. The No. 9 qualifier was Doug Winters' Chevelle at a 3.818 with Michael Dawkins in the No. 11 spot with a 3.947, and recent PDRA ProStars winner Tim Lawrence at 4.20 for the No. 12 spot. The No. 10 spot went to a racer absent from the scene for way too long, Dale Brinsfield, having recently purchased the Camaro of SomeTime Racing, recently driven by Jayme Thompson. Brinsfield shook off the dust for a great 3.909 for the No. 10 spot, only to fall short of qualifying for the field as was the fate of Winters, Dawkins, and Lawrence.
This qualified field began with Barry Mitchell in 'Cuda Time' at a 3.729 at 203.57, with 2023 points champ Travis Harvey at 3.736 at 201.07. No. 3 was Chappells's beautiful split-window '63 Corvette coming in at a 3.765 at 200 mph in a car built by Tommy Mauney over 14 years ago. No. 4 was Jason Harris' 3.767 at 203.25, with the fifth spot going to Mauney in his personal car at 3.771 at 201.02. Cam Clark landed in the sixth spot with a 3.782 at 202.02. Another TM split window '63 driven by Tony Wilson landed in the No. 7 spot with a great 3.791 at 201.52. The final spot went to Robbie Keziah in another TM '63 split window at 3.804 at 199.68 mph.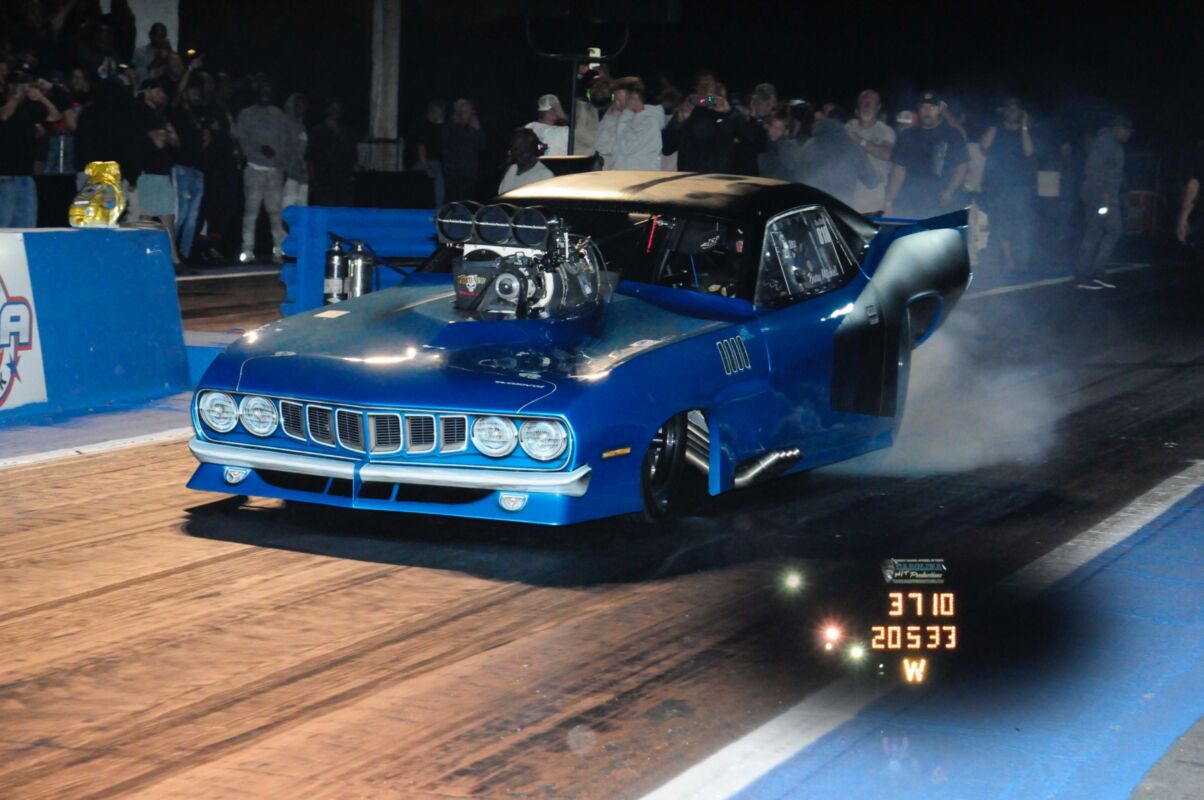 With the field set, first out was Harris against Mauney. Harris ran a 3.742 to defeat Mauney's Camaro. Second out was the War Eagle team against Clark. The Corvette ran a 3.73 at 202 mph to defeat Clark, who had problems down track. Third out was a repeat of the final from last month's race with Harvey facing off against Wilson's Premier Concrete Finishing Corvette. The victory went to Harvey at 3.712 over Wilson's Corvette. The final pairing put team cars against each other with Mitchell up against the TM Corvette of Keziah. Mitchell and Cuda Time put down a track record 205.33 MPH at 3.710 in the WYO Motorsports Cuda to defeat Keziah's Corvette.
Semifinal action was just as hot and heavy with Mitchell running a 3.72 at 205 to defeat Harris' game 203.98 even with brushing the wall just past the finish line. Mitchell proved that he was dead serious about winning the event by putting a .000 light on the board. INCREDIBLE. The other pair consisted of Harvey going red with a 3.717 at 203.11 to put Chappell in the final.
The final saw Mitchell and the Cuda Time Barracuda trying to chop down the tree again but drawing the untimely red light to allow Jamie and Gina Chappell to take the "War Eagle" Corvette to the Winners' Circle for the second straight time in a fall, big-money race at Piedmont Dragway.
Jamie and Gina want to thank Justin Carmack, Kyle Carmack, Terry Coyle, Chuck Ford, Robbie Matthews, Chris Edwards, and Jerry Sale for making this happen. Jamie also wanted to thank Jody Goodwill at SRM Paintwerks for the patriotic paint scheme. When I asked Jamie for comments about the race, his first comment was that this event is a true one-day race and is very important to racers like himself that have to go to work on Friday after a race.
Other winners included Michael Paschal in the Paschal family Falcon winning Outlaw DoorSlammer and Ken Myrick winning in the 7.49 class.
For 2024, Rick Moore and Ron Senecal will have to really work to top the 2023 race, but rest assured they are already making plans for a bigger and better show for the upcoming season. See you there.