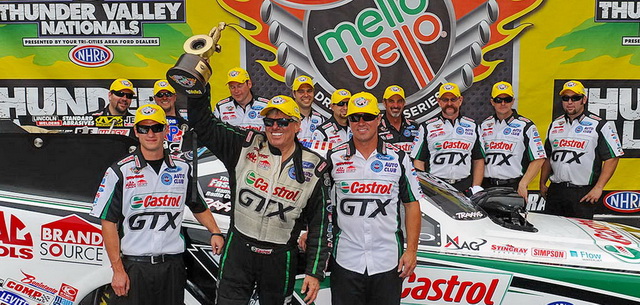 John Force (above, center) ended a 31-event winless drought by racing to a special Father's Day victory Sunday at the Ford NHRA Thunder Valley Nationals presented by Tri-Cities Area Ford Dealers.
Steve Torrence (Top Fuel) and Rodger Brogdon (Pro Stock) also were winners of the NHRA Mello Yello Drag Racing Series event.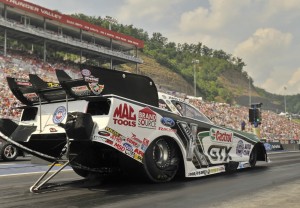 Force earned his fourth victory at Bristol Dragway and the 135th title of his legendary career when he defeated arch-rival Cruz Pedregon in the final round.  Force outran daughter Courtney Force, points leader Matt Hagan and rising star Blake Alexander to advance to the final round.
"I really thought Courtney was going to take me out first round," Force said. "Her car has been flyin' all year. It's all in the teamwork. We haven't won the championship, we haven't won the Countdown, but we have a race car. That's what I'm excited about. It's a great day."
In the final, Force powered his Castrol GTX Ford Mustang to a winning performance of 4.148 seconds at 305.29 mph to take the victory as Pedregon's Snap-on Tools Toyota Camry shut off as it approached the finish line, ultimately coasting across in 4.335 at 224.02.
"If you can't compete you are just mentally out of it," said Force, 64, the seventh different Funny Car winner of the season. He celebrated the win with his wife Laurie and daughters Courtney and Brittany. He said he received a phone call from daughter Ashley to congratulate him and wish him a happy Father's Day while he was in winner's circle.
"This is great to come back here and win," Force continued. "So many fans wanted me to win on Father's Day. It's just a great day for the Force family and to do it on Father's Day is just awesome."
Pedregon moved up to second in the points standings with the runner-up finish, 16 behind leader Hagan. Force improved to ninth in the standings with the victory.
In Top Fuel, Torrence claimed his first win of the season and fourth of his career by defeating event top qualifier Spencer Massey in the final round. Torrence covered the distance in 3.871 at 320.13 in his Capco Contractors dragster to finish in front of Massey's Schumacher Electric dragster, which trailed with a 3.894 at 317.19.
The victory was the first for Torrence with his new crew chief, veteran tuner Lee Beard. Prior to the Atlanta race in May, Torrence hired Beard to replace his previous tuner, Richard Hogan.
"Today's been unbelievable," Torrence said. "I didn't expect the car to turn around nearly as quickly as it did. My guys worked their tails off with 14- and 15-hour days to get the car setup like we wanted it. I am happy with the way the car is running and it's real consistent right now. I am happy with the decision we made (to hire crew chief Lee Beard) and it is paying off now."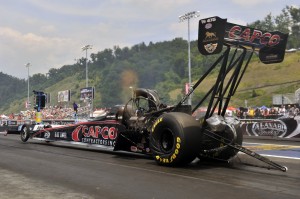 Torrence, who qualified second, outran rookie Leah Pruett, points leader Shawn Langdon and Morgan Lucas to advance to his first final round since winning last August in Seattle.
"When you go up there with a load of confidence in your car and your team it's such a huge difference," Torrence said. "Lee Beard is very good and he definitely exceeded what we expected. It means we gained some points to get into the Countdown (to the Championship, NHRA's six-race playoffs) and we earned a spot in the Traxxas Nitro Shootout."
Tony Schumacher reclaimed the series points lead and now leads Langdon by one. Runner-up Massey moved to third overall and Torrence moved into the top 10 for the first time since the season-opening Winternationals in February, and now holds down the ninth spot.
Brogdon claimed his first Pro Stock victory by outrunning fellow Houston native Erica Enders-Stevens in the final round. Brodgon's ProtectTheHarvest.com Chevy Camaro posted a 6.745 at 205.38 while Enders-Stevens trailed with a 6.752 at 205.66 in her Charter Communications Camaro.
Brogdon scored early-round wins over V. Gaines, points leader and top qualifier Mike Edwards and Jason Line before driving around Enders-Stevens in the final.
"Erica is like a daughter to me," Brogdon said. "I've known her dad for a long time and we used to race against each other years ago. But when you go up against each other in the final, you have to put all that behind you."
Brogdon, who moved to ninth in the points order with the victory, said some changes that he's put in place in the last couple of months are finally starting to pay off. He said his decision to test at Bristol Dragway last week also proved to be critical in this outcome.
"I said that when we started this deal that it was going to take at least 10 races or so [for it to show results] and this happened to be the 10th race," Brogdon said.
"We made nine runs in two days of testing here, and it sure paid off. We were so much better at the end of our testing than we were when we got here. I have to give my guys a lot of credit to my guys for coming up here and doing such great work."
Edwards, who saw his four-race Bristol winning streak snapped, maintained his series points lead and Jeg Coughlin and Allen Johnson are tied for second. Local favorite Johnson, from nearby Greeneville, Tenn., lost in the second round to Greg Anderson.
The NHRA Mello Yello Drag Racing Series continues June 20-23 with the Auto-Plus NHRA New England Nationals at New England Dragway, Epping, N.H.
(Photos courtesy NHRA/National Dragster; JFR; Click to enlarge)
BRISTOL, Tenn. — Final round-by-round results from the 13th annual Ford NHRA Thunder Valley Nationals presented by Tri-Cities Area Ford Dealers at Bristol Dragway, the 10th of 24 events in the NHRA Mello Yello Drag Racing Series:
TOP FUEL
ROUND ONE — Shawn Langdon, 3.807, 323.89 def. Bob Vandergriff, 3.885, 320.66; Doug Kalitta, 3.818, 322.19 def. Khalid alBalooshi, 3.821, 319.22; Clay Millican, 3.814, 324.05 def. Chris Karamesines, 4.024, 287.29; Spencer Massey, 6.374, 95.92 def. Doug Herbert, broke; Steve Torrence, 3.833, 320.05 def. Leah Pruett, 4.261, 240.64; Morgan Lucas, 3.882, 315.42 def. David Grubnic, 3.899, 309.34; Tony Schumacher, 3.848, 323.12 def. Antron Brown, 4.607, 184.95; Brittany Force, 3.872, 318.09 def J.R. Todd, 3.947, 290.57; QUARTERFINALS — Massey, 3.864, 319.98 def. Force, 3.871, 319.75; Lucas, 3.864, 314.61 def. Schumacher, 3.882, 323.66; Millican, 3.821, 322.58 def. Kalitta, 3.962, 309.49; Torrence, 3.856, 319.22 def. Langdon, 4.202, 308.85; SEMIFINALS — Massey, 3.857, 321.04 def. Lucas, 4.909, 165.80; Torrence, 3.892, 314.39 def. Millican, 4.410, 195.59; FINAL — Torrence, 3.871, 320.13 def. Massey, 3.894, 317.19.
FUNNY CAR
ROUND ONE — Cruz Pedregon, Toyota Camry, 4.183, 298.27 def. Tim Wilkerson, Ford Mustang, 5.007, 160.59; Del Worsham, Camry, 4.449, 227.57 def. Robert Hight, Mustang, 4.746, 191.84; Matt Hagan, Dodge Charger, 4.161, 310.13 def. Tony Pedregon, Camry, 4.238, 294.37; Blake Alexander, Charger, 4.242, 283.67 def. Jack Beckman, Charger, 4.513, 202.33; Chad Head, Camry, 4.880, 225.48 def. Ron Capps, Charger, 10.767, 84.08; John Force, Mustang, 4.125, 309.49 def. Courtney Force, Mustang, 4.132, 311.13; Bob Tasca III, Mustang, 4.151, 307.30 def. Johnny Gray, Charger, 4.583, 189.95; Alexis DeJoria, Camry, 4.298, 292.84 def. Jeff Arend, Charger, 4.505, 211.83; QUARTERFINALS — Worsham, 4.171, 301.67 def. DeJoria, foul; C. Pedregon, 4.196, 297.16 def. Head, 4.793, 223.99; J. Force, 4.167, 305.29 def. Hagan, 4.195, 304.25; Alexander, 4.283, 298.67 def. Tasca III, 4.675, 226.51; SEMIFINALS — C. Pedregon, 4.150, 303.50 def. Worsham, 4.199, 298.87; J. Force, 4.117, 308.00 def. Alexander, 4.199, 300.20; FINAL — J. Force, 4.148, 305.29 def. C. Pedregon, 4.335, 224.02.
PRO STOCK
ROUND ONE — Rodger Brogdon, Chevy Camaro, 6.730, 205.57 def. V. Gaines, Dodge Avenger, 6.757, 205.94; Greg Anderson, Camaro, 6.705, 206.67 def. Greg Stanfield, Camaro, foul; Jeg Coughlin, Avenger, 6.668, 206.80 def. Rickie Jones, Camaro, 6.706, 206.99; Jason Line, Camaro, 6.710, 206.73 def. Vincent Nobile, Avenger, 6.711, 206.20; Erica Enders-Stevens, Camaro, 6.680, 206.54 def. Larry Morgan, Ford Mustang, 6.743, 205.29; Mike Edwards, Camaro, 6.676, 206.51 def. JR Carr, Mustang, 6.785, 203.43; Allen Johnson, Avenger, 6.692, 206.73 def. Lewis Worden, Mustang, foul; Shane Gray, Camaro, 6.708, 206.83 def. Steve Kent, Camaro, 6.806, 203.89; QUARTERFINALS — Line, 6.719, 206.67 def. Gray, foul; Anderson, 6.723, 206.13 def. A. Johnson, 6.715, 206.45; Brogdon, 6.724, 206.01 def. Edwards, 10.138, 70.34; Enders-Stevens, 6.694, 205.94 def. Coughlin, 6.690, 206.23; SEMIFINALS — Brogdon, 6.777, 205.22 def. Line, 12.543, 68.70; Enders-Stevens, 6.706, 205.88 def. Anderson, 6.739, 205.98; FINAL — Brogdon, 6.745, 205.38 def. Enders-Stevens, 6.752, 205.66.
BRISTOL, Tenn. — Sunday's sportsman final results from the 13th annual Ford NHRA Thunder Valley Nationals presented by Tri-Cities Area Ford Dealers at Bristol Dragway. The race is the 10th of 24 in the NHRA Mello Yello Drag Racing Series:
Super Stock — Anthony Bertozzi, Pontiac Grand Am, 9.172, 141.97  def. Dan Fletcher, Chevy Camaro, 10.365, 121.55.
Stock Eliminator — Drew Skillman, Ford Mustang, 9.065, 150.73  def. Brian Rogers, Chevy Camaro, foul.
Super Comp — Ed Richardson, Dragster, 8.950, 171.97  def. Greg Slack, Dragster, 8.939, 162.86.
Super Gas — Sherman Adcock, Pontiac Trans Am, 9.904, 163.47  def. Jason Lynch, Chevy Cobalt, 9.913, 159.78.
Top Sportsman — Marco Abruzzi, Chevy Camaro, 6.910, 193.24  def. Ronnie Proctor, Ford Mustang, 7.041, 195.87.