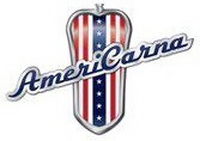 Reigning NHRA Funny Car champion John Force will join host Ray Evernham on Tuesday night's episode, February 4th, of AmeriCarna TV (video link) on the Velocity Network at 8:00 p.m. ET.
Force will talk with Evernham about the history of hot rods and the NHRA, growing up in California, and competing against Don "The Snake" Prudhomme.
"It was a cool day touring Rick Hendricks' car collection and talking about hotrods with Ray. I have never seen so many vintage Corvettes in one place. I have a nice museum in Yorba Linda and one in Indy but that place was amazing," Force said.
"Ray has a big passion for cars and speed. We told some great stories about drag racing in the early days and then racing my heroes like Prudhomme and (Kenny) Bernstein."
AmeriCarna, a program following a real American Car guy, NASCAR racing champion Ray Evernham, and his crew as they scour weathered barns, garages, junkyards and even basements for hidden historic racing cars, classic cars, folklore and automotive legends – all in the pursuit of authentic AmeriCarna.
For more information about the show visit http://americarnatv.com/