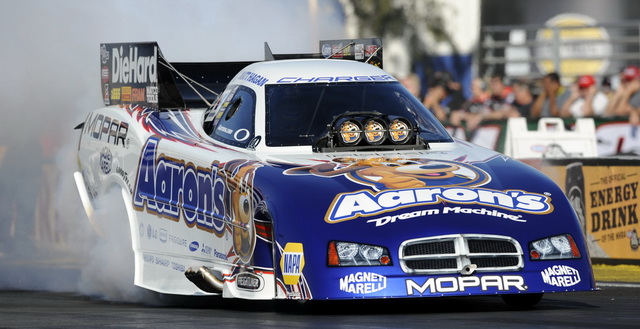 At the end of the 2011 NHRA Full Throttle Drag Racing Series season, Matt Hagan was on top of the world as the newly crowned NHRA Funny Car world champion, and he was looking forward to a very promising future in the sport.
Fast-forward to the 2012 season, and as the NHRA Full Throttle Drag Racing Series heads to the penultimate race of the regular season, the Lucas Oil NHRA Nationals, Aug. 16-19 at Brainerd International Raceway, no one would have predicted that Hagan would be fighting for one of the final spots in the Full Throttle Countdown to the Championship, NHRA's playoffs.
Hagan and his Aaron's/Mopar Dodge Charger team have struggled all season, winning only four rounds of racing in the first 13 events. His slump started to turn around at the race in Sonoma, Calif., where Hagan earned his first final-round appearance of 2012. He then repeated that effort at the next race in Seattle, moving from 13th in the standings to 11th, 62 points out of the 10th and final spot in the Countdown.
"A month ago, I probably would have told you our chances of making the Countdown were not very good," Hagan said. "But we've made it to two championship rounds in the last two races, and it's within reach now. I think we're going to make it in with our Aaron's Dodge, and once you're in, anything can happen, like last year."
Hagan's 2011 championship run started at the first race of the Countdown; he began in sixth place and moved to second with his record-setting performance in Charlotte, N.C. The reigning champion knows more than anything that the first step to defending his championship is to just get in the top 10.
"Bottom line, you can't win it if you're not in it," Hagan said. "Our goal heading to Brainerd is to qualify well and then win rounds. We're not looking any further down the road than that. You can't 'cause if you do, you're going to get bit. If you qualify good and win rounds, everything else will take care of itself."
As hard as Hagan and his team have had to fight this season, the reigning champ never lost hope or confidence, especially in his crew chief, Tommy DeLago.
"You know, I've been confident in Tommy and our whole Aaron's Mopar team all year," Hagan said. "That might sound stupid because of the lows we've had, but Tommy never forgot how to tune a race car, and our guys sure as heck haven't forgotten how to work on my hot rod. I'm always confident when it comes to our team."
Last season at the Lucas Oil NHRA Nationals at Brainerd International Raceway, the Don Schumacher Racing team, which Hagan is part of, was the one to beat in both Funny Car and Top Fuel. DSR had two cars in both final rounds, guaranteeing a DSR win. Antron Brown (Top Fuel) and Johnny Gray (Funny Car) claimed victories, and that gives Hagan even more confidence heading to Minnesota.
"Don Schumacher gives each of us the best stuff and the best people, so we should be in the finals every week," Hagan said. "The only people we should lose to are our teammates, and that's going to happen. There's a lot of great competition out there, but I believe I'm with the best organization."