Tony Stewart may be new to drag racing as an NHRA Top Alcohol Dragster rookie, but the significance of the Dodge Power Brokers NHRA U.S. Nationals at Indianapolis Raceway Park is not lost on him. He's entering this year's edition – the 69th annual running of the Big Go – as a serious contender for the national championship as the driver of the Mobil 1 A/Fuel dragster out of the McPhillips Racing camp.
Many years before Stewart met his wife, Top Fuel star Leah Pruett, he got his first experience with Top Fuel dragsters launching off the iconic IRP starting line courtesy of fellow racer George Snider, local motorsports artist Ron Burton, and late NHRA chief starter Rick Stewart (no relation). The two Stewarts had met years before at a radio station in Sacramento, California, when Rick was promoting Jr. Dragsters with his grandson and Tony was running for the USAC Triple Crown.
"George and Ron are there and they're trying to get me up on the starting line in the center there," Stewart says. "I was like, 'I don't think I'm allowed to be in there.' They're like, 'You're fine, you're fine.' All of a sudden, here comes Rick, and I don't even recognize him at the time. Rick walks back, grabs me by the arm, and drags me up in front of him…like five feet in front of him. [Kenny] Bernstein and [Joe] Amato were paired up for night qualifying. They hit the gas and it scared the shit out of me. I turned around and Rick's laughing. He knew exactly what he was doing."
Stewart returned to the U.S. Nationals several years later as a guest of the U.S. Army, which sponsored Stewart's NASCAR team and Tony Schumacher's NHRA Top Fuel team at the time. It was race day Monday, Stewart's first glimpse at one of the most important days in drag racing.
"It's race day and I'm a racer – I was just trying to stay out of everybody's way, but I loved it and enjoyed it," he says.
Even once Stewart started dating Pruett in 2020 and joining her at races – many of them held at IRP due to COVID – he tended to stay in the background, out of the way of the crew chiefs and crew members. But the crew chiefs insisted Stewart was welcome, even in the lounge during post-run debriefs. As a diehard racer, Stewart ate it up.
"The more I stayed and listened to the conversations, it's like setting a treble hook in your lip fishing. Once it's in there, it's not gonna go away," Stewart says. "I love it. That's how it all started and how it evolved. Getting to go with Leah – she went to my races and I went to her races – I just fell in love with the sport."
Fast forward to August 2023, and Stewart is now an NHRA Camping World Series team owner and Top Alcohol Dragster driver. He reached the final round in his debut at the NHRA Nevada Nationals in Las Vegas last fall, then scored his first national event win at the Four-Wide Nationals in Vegas this spring. Two regional event victories followed at Indy and Maple Grove. The Columbus, Indiana, native is now second in the national points behind Shawn Cowie.
With all but two of the top 10 drivers entered for this weekend's race, the U.S. Nationals will be a critical race in the battle for the championship. Stewart also realizes it's the biggest race of the NHRA season, and it's in his own backyard.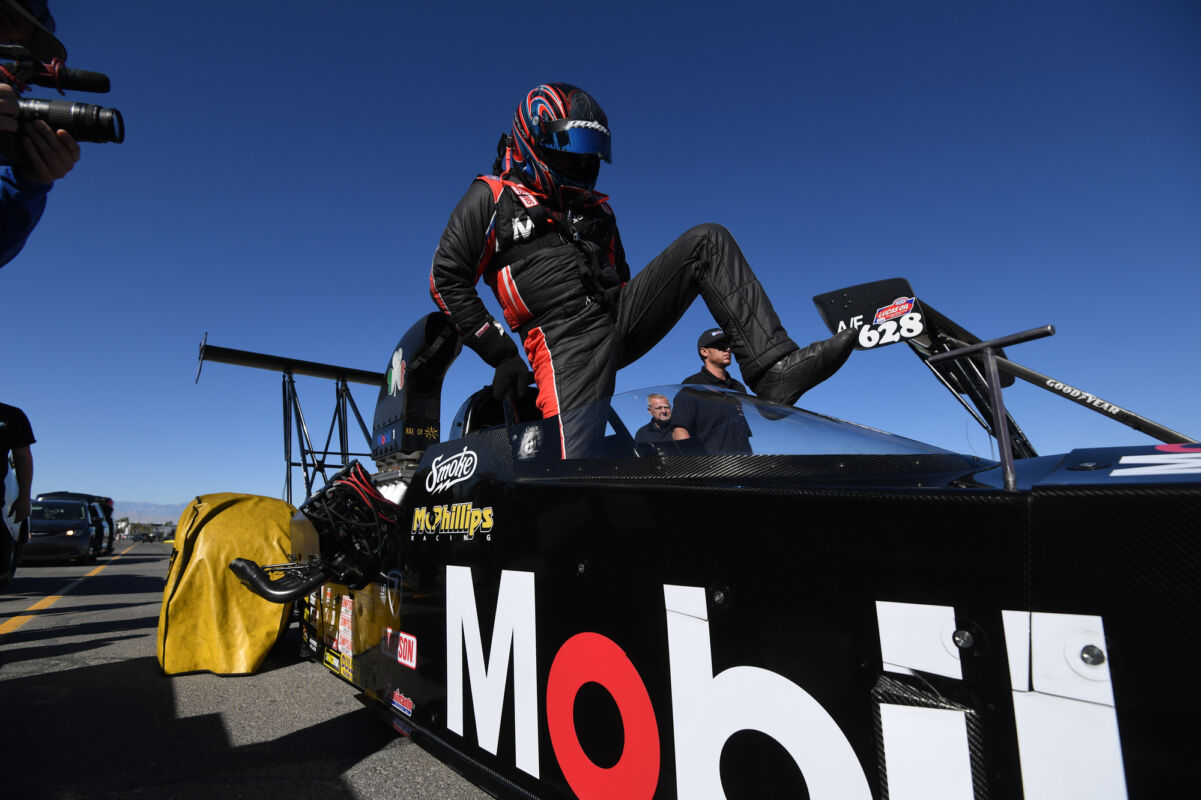 "It's the same feeling of going to race the Brickyard," Stewart says in an interview in early August. "You know you're racing before that, but you know it's coming, and your eye's on the prize. Now, when we get to Maple Grove this weekend, I won't think anything about Indy. But on those off days when you're not at Maple Grove and you're not at Brainerd, this is what you're going to think about. It's hard not to.
"For me, it's a home race just like Brickyard would be, either the Indy 500 or the Brickyard 400," he continues. "I've spent who knows how many laps out there running around the oval at IRP. I raced go-karts around the road course. Now I've raced at the dragstrip. It's a home race. All our friends and family will be there. Last year, it was awesome to be there for my first year as a team owner and experience it. But it's going to be that probably times 10 being able to try to qualify and compete at the race this year myself."
Stewart enters the U.S. Nationals just 9 points behind Cowie and 1 point ahead of Julie Nataas, the defending event winner. But Stewart has run one less national event than Cowie and one less regional race than Nataas, which comes into play when the points system is considered. Drivers in the Top Alcohol classes are eligible to earn points at their first 10 national events and first five regional races. Of those, a driver's best three regional and seven national event finishes constitute their national championship points total.
"Just to be in that spot at this point in the season is pretty cool for us," Stewart says. "It's trying to learn and understand the points system of claiming races and throwing away races – that's a little bit of a different deal, but I like where we're at. I kind of feed off of Rich and Richie [McPhillips]. They've been in these points battles before. They know what it takes. They feel like we're in a good spot. We just have to go out and do the job the rest of the year."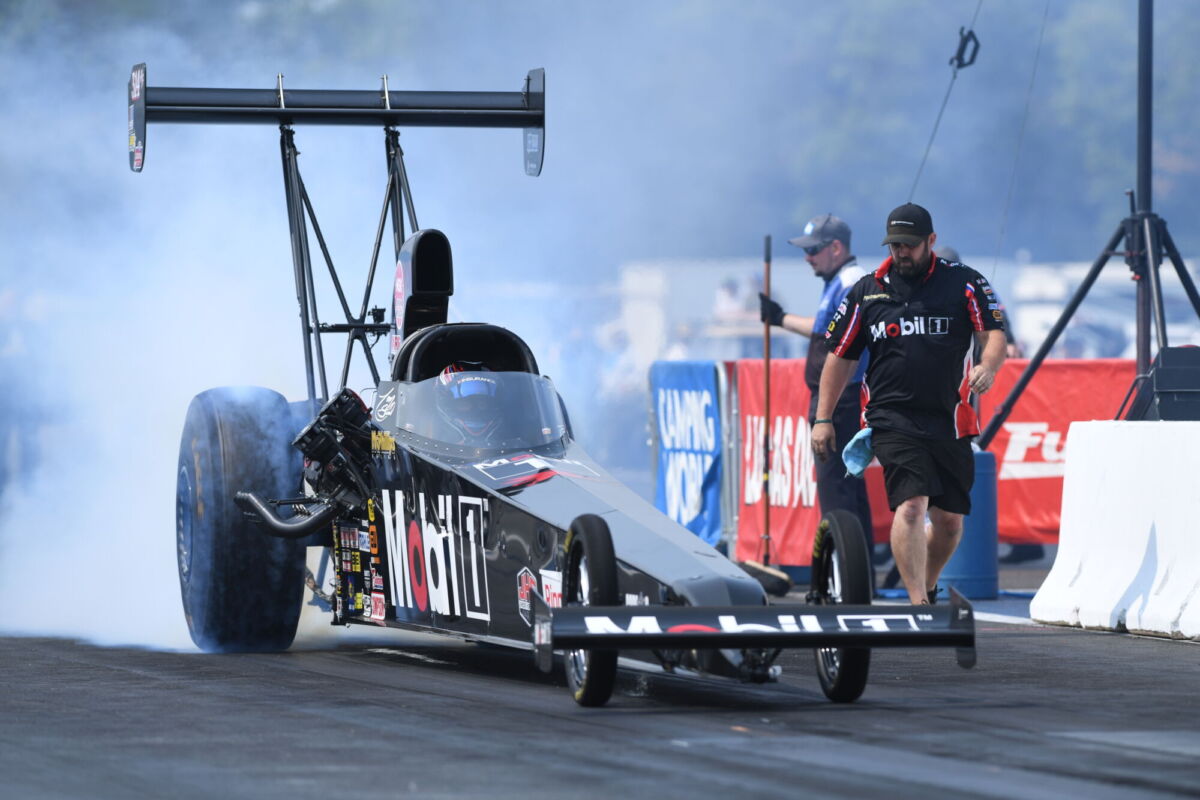 The details might be different, but Stewart also knows what it takes to hunt down a championship. Over the span of his motorsports career, he's won championships in the NASCAR Cup Series, IndyCar, all three of the USAC major divisions, and the World Karting Association. He also won the inaugural Superstar Racing Experience (SRX) championship in 2021.
With the top five drivers each already having five or more regional races on their scorecard, the remaining national events on the schedule become more important.
"I feel like you get through the regional races to where everyone has their regional points locked in, then it's down to the nationals, and everybody's at the nationals," Stewart says. "I'm looking forward to that part of it. I want to race them all. It's refreshing and invigorating, I guess to a certain degree, to be back in a points battle again. I haven't had that for a while."