If you follow NHRA's Lucas Oil Drag Racing Series, chances are you've heard the name Collier. If you race Super Gas or Super Comp in Division 4, you're probably hoping you don't draw a guy with that last name during eliminations. The Collier family experienced a hearty amount of early success in 2018, and the trio of drivers don't intend to let up any time soon. The challenge, though, is how often they're finding one another in the other lane.
Benton, Louisiana, Assistant Chief of Police Steve Collier led the charge in racing, and he and son Koy locked horns in both Super Gas and Super Comp finals this season. Jack, Steve's younger brother, came out on the winning end of a battle with nephew Koy to represent Division 4 at the JEGS Allstars this summer at Route 66 Raceway.
"We're on a tear this year," Steve said following NHRA's Houston national event. "One of the three of us has
been to the final at every race we've been to, and that includes the Money Monday race Britt Cummings put on after the Dallas double divisional. I made it to the final in Super Comp there, and Koy went to the final in Super Gas. Jack won the Moser Shootout and an IHRA shootout. It's been good.
"I've been fortunate to be in the finals every race this year. The only two I've lost have been against Koy. Last year at the Houston nationals I had to run him second round in Super Gas. I popped him pretty good and won the race, but this year is the first time he's ever actually beaten me. I guess I can't win them all."
It's been a family affair since the beginning. In the early 1990s, Steve cut his racing teeth at Hallsville Raceway in Texas in his 5.0 Mustang. He kept his developing appreciation for speed a secret from his father, Mike Collier. Rather than shutting it down when he found out, Mike was in full support.
"When my dad caught on, he said, if you're going to do that, let's buy a race car," Steve says. "First we bought a Chevy II, and then a Vega. I started doing pretty good, and when my dad finally came to watch, I won that night. I won again the next week, and after that he wanted to get more involved."
The Colliers bought a dragster for Steve in 2003 and traded the Vega for a Chevelle for Mike to race. They brought Tony Brown on board – the guy who introduced Steve to drag racing – and put him in a dragster as well. During that time, young Jack was learning the ropes in the Jr. Drag Racing League. Koy was just a tot, but he was clearly paying attention.
"Koy was very good right from the beginning," says Steve, who won the Super Pro track championship at Hallsville Raceway before it was shut down. "He listened to me his entire life, so when he stepped up into a big car, he was successful pretty quick."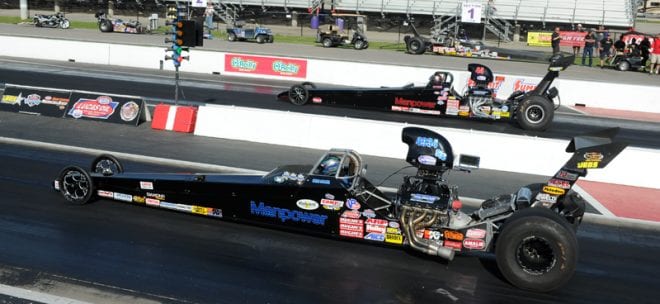 Koy scored an NHRA Wally just two days after turning 18. In his first national event, he knocked out Jacob Elrod in the final round of Super Gas at the 2016 Midwest Nationals in St. Louis.
"That first one caught me by surprise," Koy admits. "I didn't know what to think about it. Getting it on my first try set the bar pretty high. A bunch of people out here have been doing this for 20 years or more and have yet to accomplish that, so it was pretty cool."
Koy beat his dad at the Houston SpringNationals this season, claiming his second Super Gas trophy with a 9.902 on the 9.90 index to Steve's just-barely-under 9.890.
"That was a good race," Koy says. "The pressure was trying to take me over, I guess you could say, but I rolled into the water box like he was any other opponent and thought to myself, 'he's about to go down.' Pressure doesn't get to me real easy, and I always noticed that about my dad. When the pressure gets heavy, he excels. I try to follow in those same footsteps. I love pressure. When it's on me, that's when I shine the brightest."
Koy attributes a big part of his success to the fact that, back in the day, his Jr. dragster had the capability of going faster than competition rules would allow. He had to learn to drive both ends of the racetrack consistently at the age of 8. "One mistake, and you lose," he says.
No one in the Collier family likes to lose, and they have nine cars between them to increase their odds. Steve, Koy, and Jack run both Super Comp and Super Gas, and teammate/mechanic Brown races Super Street and Super Comp. In recent years, Steve added Top Alcohol Dragster to his racing rotation.
"My dad stepped out of racing after a heart and kidney transplant, and now he's kind of our Don Schumacher," Steve says. "With his help, we were able to step our program up. He's highly competitive, so sometimes we have some pressure from him. He'll say, 'all this money spent, you better win something or don't come back.' He's tough, but he's survived a lot. We all want to win."
It's the only way of life Koy has ever known.
"I like it," Koy says. "Everybody comes together, and the competition between us is fun. It's all jokes at the end of the day. Racing with family makes everything a little easier. At the end of the day, you know they have your back."
Story by Kelly Wade
This story originally appeared in DI #133, the Sportsman Special Issue, in June of 2018.