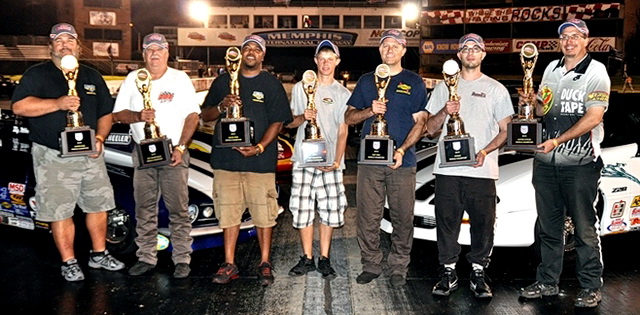 From a 17-year-old fresh out of the ranks of Junior Dragster to a 64-year-old reveling in one more shot at glory, the 2012 IHRA Summit Racing Equipment Tournament of Champions featured just about everything you could cram into an event.
Rookies, veterans and everything in between were on hand at Memphis International Raceway Oct' 12-13, for the IHRA Summit Racing Equipment World Finals and at the end of the day 10 drivers were left standing as the 2012 class of IHRA World Champions. Among them were rookies, multi-time champs and even a few that probably weren't supposed to be here, but all 10 were able to walk away from Memphis with the biggest prize in IHRA sportsman drag racing during the Summit Tournament of Champions and Summit SuperSeries championship races.
A grand total of 10 world champions were crowned on Saturday led by Top Sportsman TOC winner Mike Thompson (Naples, Fla.), Top Dragster winner Wesley Washington Jr. (King George, N.C.), Super Stock winner Michael Beard (Seagrove, N.C.), Stock winner Brent Darroch (Monaca, Pa.), Quick Rod winner Corey Manuel (Winston Salem, N.C.), Super Rod winner Mike Ruff (Orlando, Fla.) and Hot Rod winner Patrick Forster (Pittsburgh, Pa.). From the Summit SuperSeries were Top winner Tim Butler (Sarasota, Fla.), Mod winner Shane Kay (Ragland, Ala.) and Junior Dragster winner Austin Johnson (Pearisburg, Va.).
Among that class only Michael Beard has claimed a prior IHRA championship.
After a grueling season nearly 200 drivers made their way to Tennessee from 20 different states and four Canadian provinces to participate in the Summit World Finals culminating with the two championship tournaments Saturday evening. All of the drivers had to earn their way into the tournament and, once there, had to compete on the track to decide the champions in each of the 10 classes.
One of Saturday's most surprising winners was 17-year-old Corey Manuel. The younger brother of 2010 Super Rod World Champion Cameron Manuel, Corey wrapped up his Junior Dragster career just two years ago and snuck into the 2012 Tournament of Champions in a big car via a big win at the Richmond TOC qualifier back in May. Clearly excited, but with no real expectations to go multiple rounds, Manuel surprised everyone by following in his brothers footsteps and storming through the field to take his first championship in the Quick Rod category all before the young man can even vote.
"It just feels like a dream. It doesn't feel real, but here I am holding this trophy," Manuel said. "It feels awesome knowing I am carrying on the name and doing well just like my family. To do it so early is just so exciting."
Manuel whittled down a Quick Rod field with wins over Michael Pennington, Dale Scates, Carey Long and Scotty Campbell before meeting Patrick Forster – who had just won the championship in Hot Rod – in the final.
Despite the intimidation factor going up against a man who had already won one championship on the evening, Manuel showed no fear and hammered the tree with a .001 light while Forster went red giving the North Carolina native a win he will never forget.
"It was just another run and just another race for me," Manuel said. "I didn't treat it any different and we were able to come away with the win."
Another man that probably shouldn't have been in the winner's circle is Michael Beard. While you might find that statement odd considering Beard's former championship successes, but Beard was certainly not having that kind of weekend in Memphis.
"I was having problems staging. Every time I would try to come up on the converter the thing was trying to die on me and if I went the other way I red lighted which I did on Friday. I honestly thought I didn't have a chance at this thing," Beard said. "I didn't look at the weather all night, all my times slips stayed in my pocket, I didn't put anything in the log book. I just thought we were going to be putting the thing on the trailer.
"But a number of people came through for me helped get it fixed and I couldn't have done it without them. It really was an unbelievable turn of events to be standing here right now."
Among those helping Beard get the car fixed was Tim Sloan, Mark Nowicki and Stock champion Brent Darroch. Once Beard got things back on track, he recorded round wins over Gianni Cantusci, Michael Crumpler and Brandon Peterson – someone who had been giving him fits as of late, before meeting Emily Volkman in the final.
In the championship tilt Beard had a .034 light and ran a 10.781/122.39 on a 10.73 dial in his 1980 Volare to edge Volkman's 10.234/125.33 on a 10.19 giving Beard his first career Super Stock title.
Beard got into the tournament by via his Division 2 Super Stock title.
Helping Beard to that title was Stock racer Brent Darroch who had his own luck on Saturday with another unexpected championship behind the wheel of his '94 Camaro.
Darroch, a two-time championship runner-up, came to Tennessee with a brand new motor and a brand new clutch after breaking the car the week prior. Despite the new parts and pieces and several big issues early, Darroch finally got the monkey off of his back this weekend and picked up his first career championship.
"This means everything. We have been working so hard for a couple of years chasing points and I have been second in the world twice. To get the monkey off of my back was incredible," Darroch said. "After the troubles we had with the new engine and clutch, to win the whole thing was very unexpected. But I am not a person who gives up. If it is not hard it is not worth it and trust me we worked hard for this one."
Darroch, who got into the TOC thanks to his divisional championship in Division 3, went five rounds on Saturday with big wins over Rob Bihl, Jacob Pitt and finally B.J. Bianchi in the final. With a championship on the line Bianchi got off the line first .008 to a .022, but Darroch ran the numbers with a 10.608/118.18 on a 10.60 dial while Bianchi broke out by .005.
Two drivers that suffered the cruelest twist of fate at the World Finals were Michael Ruff and Wesley Washington Jr. Both drivers entered into the Tournament of Champions earlier in the weekend and both drivers lost in the first round, setting them up for a potentially bad weekend – that is, until Saturday.
Washington was most affected by the early weekend woes, not because it hurt the car or his confidence, but because he did it one day and immediately had to race on the 13th the next which, for a superstitious man like Washington, was not a good thing.
"I am very superstitious and racing on the 13th was not something I particularly wanted to do," Washington said with a laugh. "I didn't think we would be racing, but then things got moved up due to weather and I thought we were in trouble, especially after losing on Friday.
"But once I won first round it was like a monkey was lifted off my back and we got on a roll. This is a great thing Summit puts on to support us class racers. I had an up and down year, but thanks to them, I am able to say I am a champion."
Washington snuck into the tournament via a third place finish in Division 1 on the Summit Pro-Am Tour and went five rounds in the Tournament of Champion's deepest class to pick up the win. Washington had wins over Claude DeBonis, Jeremy West, Brett Nesbitt, Jamie Tupper and Greg Slack – all heavy hitters – to get the win. In the final Slack made it easy for the North Carolina native, going red by .017 to give Washington the win and his first career championship.
In Super Rod Ruff suffered a similar twist of fate with a terrible weekend leading up to Saturday that included a blown tire on the 900 mile drive to the track, two losses on Friday and a major hit to their confidence. But once Saturday came about and Ruff started rolling out round wins, things began to turn around in a hurry.
"This is a great opportunity IHRA has given everybody for all of the champions to come to one race and duke it out for the title," Ruff said. "We didn't do a bunch of races this year, but we got in and even though this weekend was a struggle from the start, we are coming away with the big trophy and I think that is what really matters.
"We were never upset with the car, we just plain got beat on Friday, but when we finally found our groove it was hard for us to stop."
Ruff , driving a '67 Camaro, recorded wins over Jason McCandless, Jeff Estep and Shannon Brinkley to advance to the final, meeting Division 4 champ Joe Collier in the final. Collier had the better light in the money round by four thousandths at the tree, but Ruff won a battle of breakouts with a 9.890 on the 9.90 index to Collier's 9.884.
The man that almost walked away from Memphis with two of the big trophies was Patrick Forster. Forster won the championship in Hot Rod and immediately had to be back in the lanes for Quick Rod, losing to Manuel. But one is better than none and Forster can now call himself a world champion after defeating former champ Donald Webb in the final.
Forster, driving a '78 Monza, went five rounds against Skip Saddler, Steve Dweck, David Bills and Max McGlothin before meeting Webb in the final. With it all on the line, Forster nailed the tree with a .008 light and ran a cool 10.912 in the 10.90 class to pick up the win. Webb broke out by .026.
"We would have loved to take home two, but we aren't complaining about this one," Forster said. "This was a big weekend and we were very excited to be here. To walk away from here with a championship really is amazing."
Forster got into the tournament via a third place finish in Division 3.
Wrapping up the champions from the Tournament of Champions is 64-year-old Mike Thompson. Sitting at the opposite end of the spectrum from young Corey Manuel, Thompson has been racing for two decades longer than Manuel has been alive. But despite all of the miles he has logged, Thompson still treats each win just as he did when he was younger.
"It means a lot to me to win this thing because I am 64 and I might not ever have the chance to do it again," Thompson said. "I have been racing for over 30 years and this is as exciting as they come. I have been doing this a long time so I was relaxed out there, but it was still exciting to get the win."
Behind the wheel of his shiny 2003 Chevy Cavalier, Thompson went five rounds against Don Rudd, Russell Marr, Kamron Wright and finally Donny Urban to get the win – essentially a who's who in the Top Sportsman division. After surviving a grueling day against the classes best, Thompson saved his best for last with a .011 reaction time and a 7.438/180.26 on a 7.42 to drive around Urban who had a .028 light and a 7.156 on a 7.16 dial.
All of the World Champions received $10,000 courtesy of Summit Racing Equipment and AMSOIL and a special championship Ironman trophy as the IHRA closes the books on the 2012 racing season.