Jim Head has always had good ideas. In fact, they never really stop. From on-board recorders to a dual-element wing to running high gear only to his multi-stage clutch system, Head has repeatedly and frequently stayed at the forefront of innovation. Without question, Head is a driver and crew chief by trade, but an inventor at heart.
He has ideas for his ideas. Head has ideas on how to continue to increase safety measures—a personal passion within the sport that dates back more than 40 years—ideas on how to better balance the clutch and engine, and ideas on how to fully take advantage of tracks that are nearly impeccable these days.
His driving days are behind him now, but the ideas and inventions never stop. He's now solely crew chief on his Funny Car with his son, Chad Head, doing the driving, meaning the ideas may come even more freely and regularly now, especially when it comes to safety. Because without ideas, without the chance to innovate and invent, there might not be a Jim Head, Funny Car and Top Fuel driver, six-time NHRA national-event winner—including the U.S. Nationals in both nitro classes—and crew chief.
Why? Well, he jokes his epitaph will state he was "not a good crew chief because he couldn't win races, but he was a good inventor." That may be a stretch, but there was a distinct reason he moved to Top Fuel in 1980 after a limited run of less than a year in a blown alcohol car.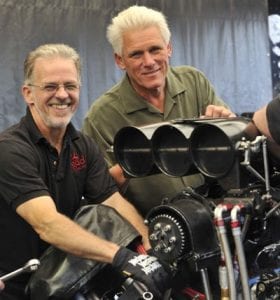 "I gravitated to the class because of the unlimited nature of it," Head explains. "You could really do anything you wanted. It was whoever got to the other end first. That's what attracted me. I'm an engineer and I was born a mechanic. I was always thinking of different things to do with a race car. As a sportsman racer, you're limited to a number of things. When I got to Top Fuel, the sky was the limit; you could do anything you wanted. The technology skyrocketed."
Head played a significant part in that, and it's a major reason why he's still as involved in the sport as he is 35-plus years after making the leap to Top Fuel. The limitations of being an independent one-car team have always been there, of course, but the chance to race and apply the constant ideas have always made it worth it, minus the occasional "Monday after the race, after I got my ass kicked."
Head was one of the first drivers in the NHRA to have onboard computer technology on his dragster, a move he deemed necessary to catch up to the rest of the class. The clunky recorder was as primitive as you could expect for an onboard computer of the early '80s. It spit out raw data of just numbers on printer paper, a rough semblance of what was to come in 1984 when Ron Armstrong developed the Racepak computer. But Head's idea and application was a quantum leap for the sport and an indication of what was going to come.
"The reason we had one is because I didn't know what I was doing and I had to somehow catch up," Head says. "Even though I wasn't that young, I was really behind the power curve as far as knowing how to tune them. The on-board recorder was a big deal."
These days, or at least this year, Head has faced frustration much of the time. Once known for great 60-foot and 330-foot times, Head's Funny Car has provided one quandary after another in that regard. He points to the transition to the laid-back headers in the class, which has brought on one of the most spectacular periods of racing in Funny Car history, as to when the struggles started. With 3.80s now becoming the norm, falling behind can be akin to a freefall in space.
Head is working hard to get it back, running a career-best 3.894 at 328.62 mph in qualifying for the Seattle event this August, but it remains a constant battle against the elite in the class. Just when Head's team reached the .860s for a 60-foot time, getting into the .850s became the new requirement to compete at the top. His 2.23 to the 330-foot mark once would be considered a solid run. That is, until 2.20 and 2.19 became the norm for top contenders. Still, Head's car has shown promise in recent races, giving him an indication of what the next step might be to remain in the midst of this latest Funny Car renaissance.
"With a single-car team, it can be ugly, especially when you get lost," Head laments. "Ironically, back in the day with my Funny Cars and dragsters, I was probably the quickest 60-foot guy and the quickest 330-foot guy out there. I didn't make that much power, I did it all with clutch. That was the old days.
"We lost our ability to 60-foot and it's been extremely frustrating for us. Running a nitro car is a balance between clutch and motor, and a big function of the motor is fuel system for sure, timing curve and how you run the clutch. It's a balancing act between the two and when you are a single-car team, especially when you get lost, there's nobody to talk to per se. It's been a struggle," he continues. "I know what to do. The clutch wants significantly more and the track will take significantly more. They're really minor changes. We're working on the fuel system and the timing curve is huge because we can manipulate it, well, infinitely."
The transition to the laid-back headers is certainly a major point, but Head also points to a new tire and flawless
track conditions for the rapid ascension in performance. Playing catch-up in the current environment can be like head butting a brick wall, as gone are the days of trying to survive a single-lane track. You must be fast and you must be fast all of the time.
"It's hammer and tong," Head stresses. "You have got to get really good 60-foot times, really significant 330-foot times and the rest pretty much takes care of itself. If you don't have an open mind, you're sunk. You really are. I've made some changes in the last six to nine months. You have to pretty much do what it's asking for and give what it's asking for. Again, the headers have changed combinations, obviously for the better. The key for the Funny Car class is to take advantage of the headers, take advantage of the tires, lean on the track when and if it will take it, and clearly it's been taking it."
Head marvels at new tire capabilities and the consistent improvements seen in track conditions. "The race tracks are phenomenal," he says. "NHRA's race track prep has just gone to a complete new level. It's been getting better gradually and Seattle was the culmination. The track was perfect. You couldn't smoke the tires. I was trying and I couldn't do it."
Head credits Bandimere Speedway's Larry Crispe and his revolutionary tire rotator as the launching point of the change in track conditions. "You can put down that rubber and make a great race track," Head says of the machine that counter rotates a set of four side-by-side slicks under pressure against the track to lay down a new, thin layer of rubber on the racing lanes. "You can also bring them back from the dead when they're oiled down because you can scrape and you can always bring back the rubber. So the beginning was Larry Crispe's rotator. The tracks are crazy good. Between the new tire and the rotator, the tracks are just unprecedented."
The crew chief in Head loves the innovative developments in those regards, and the idea man in Head can't get enough of it, but the historian in him takes some convincing at times. He recalls when the left lane in Seattle was nearly impossible to get down, meaning it was a matter of if you could "figure out how to skin the cat." It's a dilemma that idea-man Head and old-school-racer Head battled over at times, but ultimately, the innovation and improvement side of him wins out.
"As a crew chief, you think 'I don't miss that,' but yet as a participant in the sport for 50 years it's almost like something we've lost," Head said. "That's a hard one for me. I don't like one-lane race tracks by any means because if you don't have lane choice you're screwed. But on the other hand, our race tracks are perfect. Seattle was a two-lane race track, absolutely. Nobody could tell the difference between those two lanes and I felt the same way about Sonoma, quite frankly.
"I can't remember the last time I really cared about lane choice," he claims. "Every once in a while there will be something, but it's not much. From a level playing field, that's cool, but on the other hand, when the race tracks are stinkin' perfect, I don't know. Yeah, as a crew chief I guess I would rather have a perfect race track for sure. But it does take a lot out of the game. Years back, the guy that could skin a cat could sometimes win a race."
Head was that guy from time-to-time during his racing days, which were preceded by earning a civil engineering degree from Ohio State University in 1971. Thirteen years later, he became the owner of Head, Inc., a contract company specializing in airfield paving, coincidentally about the same time he switched from Top Fuel to Funny Car.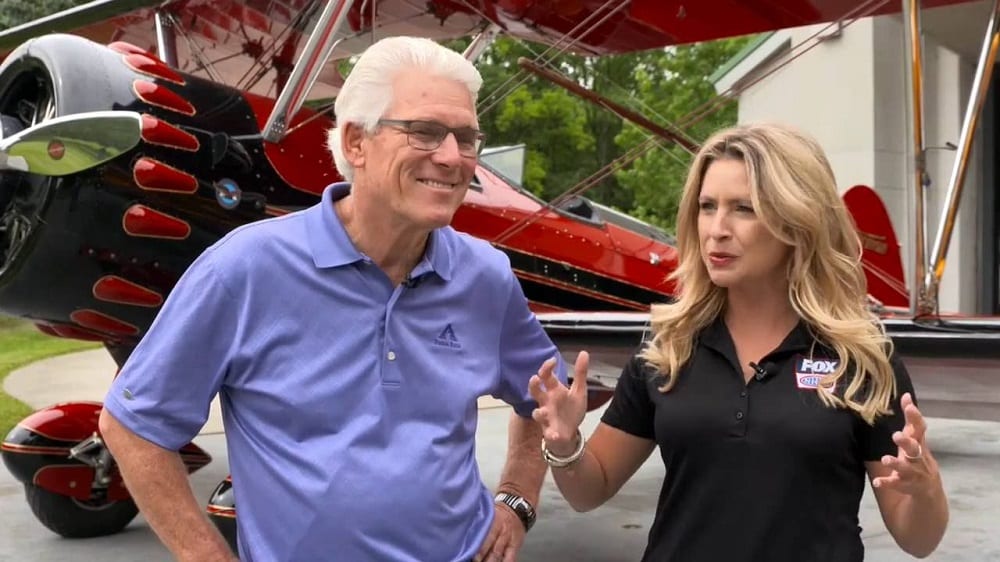 The innovations didn't stop in the new class, putting his first timer on the car in 1986. It then became 12 timers and then 24 timers, and then a programmable controller. There was room for unlimited ideas, with many of Head's ideas helping to shape the direction of the class. But even he agrees it was wise of the NHRA to finally put a limit on what was happening.
"I don't criticize the sanctioning body for stopping us because it was going to go too far," Head says. "Being that as it may, I really enjoyed the development. It didn't matter what it was, I had a ball and I was on the cutting edge of it. I was never very good and I never beat anybody with my ideas, but I had a hell of a lot of them."
Those ideas haven't slowed down in the slightest. With restrictions have come innovations in different areas and Head remains steadfast in staying on the cutting edge in any area he can. One of those continues to be driver safety, which has always been one of his biggest passions. With his son now behind the wheel, it's arguably taken on even greater importance.
Head remains a staunch supporter of 1,000-foot racing and believes there have been other huge safety improvements in recent years. But he is always pushing forward and especially in this aspect. There is more padding and more absorbing materials in his driver's compartment—one reason his Funny Car is heavier than others—and Head is working on even more safety in that area. That's a passion that will never cease, even as Chad has picked up some of the same driving habits his father had.
"When I drove it, I tried to make it as safe as I could," Head says. "A lot of safety has a lot to do with a driver's right foot and Chad does a good job at that. If he didn't, he would be done. He drives it conservatively, just like I did. As far as me tuning it different, I don't think I've ever done anything particularly different now that he's driving it versus when I drove it. I've got confidence in him to know when to say when."
But when it comes to saying "when" in this sport, Head isn't even close to that point. In fact, with the way his ideas flow, that day may never come. "I always look forward to the next race and I really enjoy racing," he says. "I have as much passion today as I've ever had and I've always had plenty, that's for sure."