Heading into the NHRA Nevada Nationals Justin Ashley, driver and team owner of the Leatherwood Distillery Top Fuel dragster powered by Phillips Connect, will also feature additional horsepower from the International Brotherhood of Electrical Workers Local 357 (IBEW) and the Southern Nevada Chapter of the National Electrical Contractors Association (NECA) your Las Vegas Power Professionals. By joining forces with the eleven-time national event-winning team, the IBEW 357 and SNV NECA Las Vegas Power Professionals are looking to highlight their impact on the greater Las Vegas community, which has provided tens of thousands of electrical industry careers for Southern Nevada families since 1931.
"We are grateful for the opportunity to work so closely with IBEW 357 and SNV NECA Las Vegas Power Professionals this weekend at the Nevada Nationals," said Ashley, who is in the middle of an NHRA Top Fuel championship run. "When looking at the landscape around Las Vegas both on and off The Strip, I can't help but think about the contributions from these two groups that helped to make it all happen. Millions of people enjoy their Las Vegas experience thanks to the hard work and expertise of the IBEW 357 workforce and SNV NECA contractors. I can't wait to further introduce their teams to ours and the NHRA Drag Racing community."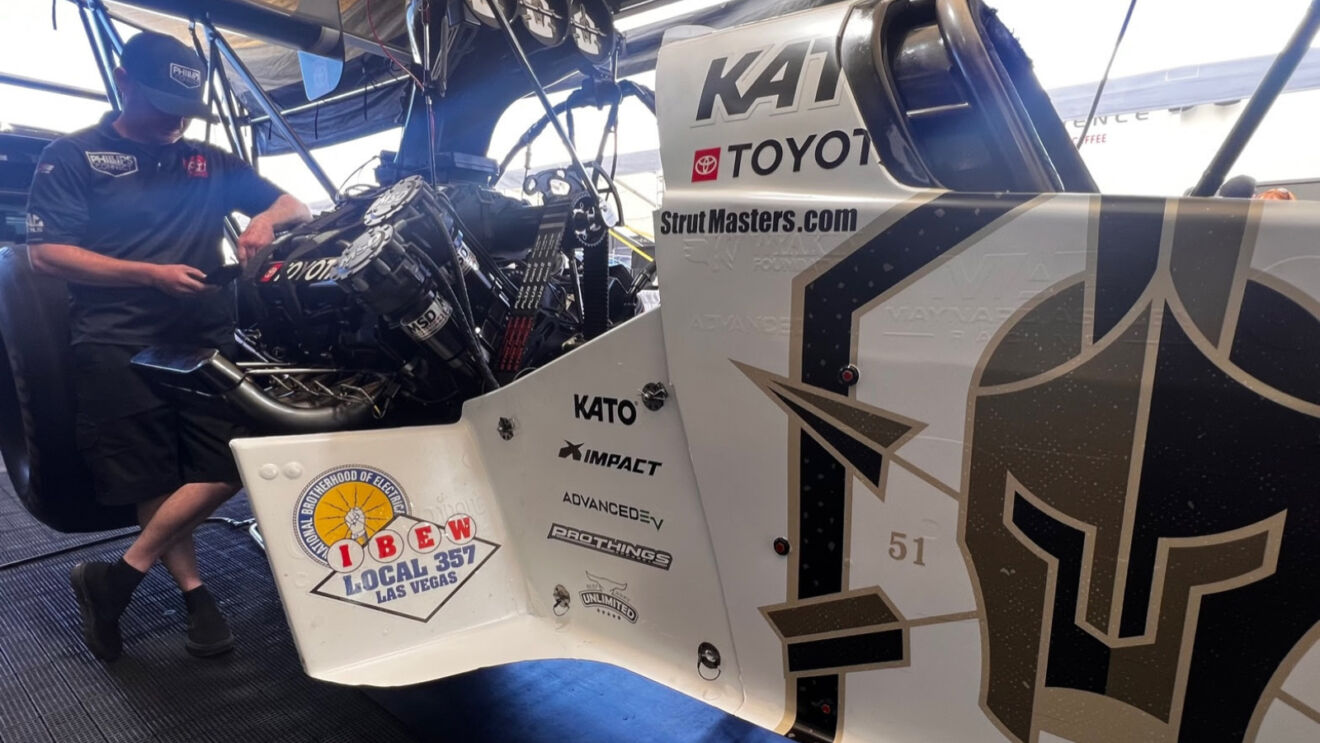 Working together as the Las Vegas Power Professionals, IBEW Local 357 and Southern Nevada NECA, operate as an impartial liaison between labor and management which strives to enhance the image and success of its members, promote fair labor practices, and develop employment opportunities in the greater Las Vegas metropolitan area. They create and inspire a collaborative and impartial environment in which labor and management identify challenges and resolve conflicts in a fair manner, and endeavor to elevate and promote their members and the electrical industry in the interest of a higher standard of citizenship.
"Our experienced signatory electrical contractors and skilled craftsmen and women work together to provide quality electrical products and services timely, safely, effectively and efficiently. Our Union Electrical Construction Industry is a trusted advisor to all our customers and committed to serving our Southern Nevada community," shared Leslie Mujica, Executive Director and Chief Marketing Officer of Las Vegas Power Professionals.

Ashley will be on track with the IBEW 357 and SNV NECA Las Vegas Power Professionals on his Leatherwood Distillery Top Fuel dragster for two qualifying runs on Friday at 1 p.m. and 4 p.m. PT followed by two more qualifying sessions on Saturday at 1 p.m. and 4 p.m. PT. The final eliminations will begin at 11:00 a.m. PT on Sunday for the quickest 16 Top Fuel teams. The race will be broadcasted nationally on FS1 on Sunday night.

To find out more about Justin Ashley visit justinashley.com and to find out more about Las Vegas Power Professionals union electrical construction industry, visit LVpowerpro.org.