Officials from Royal Purple Raceway are taking steps to protect the interest of racers and their fans, as well as the sizable and long-running investment in southeast Texas, from an adjacent business that is jeopardizing the racetrack's sanction with the National Hot Rod Association (NHRA).
Recently, a commercial recycling company, HPP Materials Inc., began concrete-crushing operations on a tract of land east of Royal Purple Raceway. A large concrete debris pile has been growing daily, with the prevailing winds in the area blowing dust and debris from the site onto Royal Purple Raceway property.
At an event at the track in July, the wind was so strong and the debris so thick that all on-track activities were forced to be halted so the track could be cleaned to ensure the safety of the racers.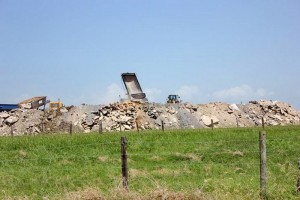 NHRA officials were briefed about the situation and have indicated the NHRA sanction for the track could be in jeopardy for 2014. That would mean the NHRA SpringNationals is at risk of coming off the 2014 schedule, which would force Royal Purple Raceway to close after 27 years of operation.
"If HPP Materials is allowed to continue with its current business plan of operating a concrete crusher and industrial-waste recycling facility next door to an outdoor motorsports park that attracts more than 500,000 participants and spectators annually, then we will have no choice but to cease doing business as a motorsports park," RPR Vice President & General Manager Seth Angel said.
Built in 1988, the Park is situated on 500 acres on the eastern edge of the greater Houston metropolitan area and is Houston's only major multi-purpose motorsports venue.
"Unfortunately, should we be forced to close our doors it will immediately halt the substantial economic impact our venue brings to the region, specifically to the city of Baytown and its hotel and restaurant industry," Angel added.
Track officials say they have attempted in good faith to work with HPP Materials in an effort to come to a compromise agreement. One such compromise offered by RPR was to move the rock-crushing and recycling operations to another location on the company's property, but so far RPR's efforts have been to no avail.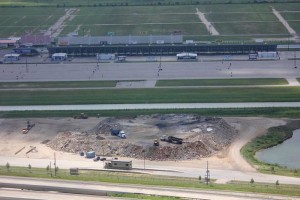 HPP Materials has applied for an air permit with the Texas Commission on Environmental Quality, and track officials plan to protest the granting of the permit. A TCEQ Public Meeting is scheduled for 7 p.m. on Thursday, Sept. 19, in Mont Belvieu, Texas, and RPR officials are encouraging race fans, local merchants, business partners, and others to attend to show support for the racetrack.
"We know how loyal race fans are, and we're asking everyone to come and support us at this public meeting," Angel said. "The future of professional drag racing in Houston is at stake."
The track also has filed a lawsuit in Chambers County, Texas, to address the operations of HPP's facility and its impact on Royal Purple Raceway.
In addition, Angel addressed a letter to NHRA Senior Vice President of Racing Operations Graham Light asking that the track be kept on the 2014 national event schedule. In the 2014 schedule released by NHRA last week, Royal Purple Raceway was given the April 25-27 weekend for the race.
"Royal Purple Raceway is fully engaged to prevent HPP Materials Inc., the owner of the facility, from operating in such a manner that interferes with the activity of our Raceway," Angel said in the letter.
About the TCEQ Public Meeting:
What:     TCEQ Public Meeting: HPP Materials Inc. Air Permit #101641
When:     7 p.m., Thursday, Sept. 19, 2013
Where:    Chambers County Community Building McLeod Park
10717 Langston Drive
Mont Belvieu, TX  77523