Five years ago, Muncie Dragway was in a state of noticeable decline. Interest was waning from both racers and fans. The clientele that did patronize the track had become somewhat rough around the edges, as the family-friendly atmosphere that Muncie once possessed had pretty much disappeared.
Like so many vintage tracks that have been around for decades, this eastern Indiana quarter-mile facility needed some fresh hands and some new vision, and that's exactly what it got when Scott Daniels and his wife, Dawn, bought the track in 2012. The Daniels came in with a desire to make steady improvements in time, realizing it wouldn't happen overnight. The track, which was built in 1959, wasn't exactly falling down around them, so the new owners thankfully didn't have to completely restore everything in sight.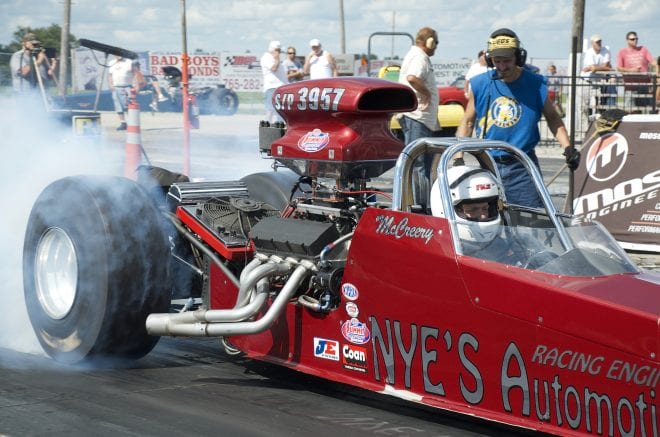 The track was resurfaced four years prior to the Daniels' purchase, so it was in pretty good shape, although some new concrete was added to the starting line and plans were in place to add more during the current offseason. The timing system, on the other hand, instantly plagued the facility during the Daniels' first season, and they realized that a major repair was in order. "Bob Brockmeyer from Compulink came out and redid the entire system with completely new wiring, and we replaced some components that were close to failing. Since then we've had great success with our timing system," Daniels says.
The overall perception of Muncie Dragway was also at the top of Daniels' list after taking over the track. "In the eyes of the sponsors and the racers, I knew I had to get the perception back that we were going to do what we say we're going to do," states Daniels, who also embarked on an aggressive plan to provide his racers with a clean, fair and fun place to race. They also hired Rodney Williams as marketing and operations manager, which has proven to be a great asset in helping the Daniels achieve their goals for Muncie.
Although Daniels is an avid drag racer himself, buying a drag strip wasn't exactly a lifelong dream, but more of a business opportunity that he and Dawn decided to grab by the horns and see what they could do with it. "Dawn is very hands on and handles the books, gate and concessions and I handle the track," Daniels says. They live roughly 50 miles north of the track in the town of Huntington, where Scott owns and operates an auto repair shop and tire store. "We stay very busy between the track and the shop."
He's not too busy, however, to entertain the fans at Muncie by climbing into his monkey costume and throwing prizes into the stands. It's part of the family-friendly atmosphere that he has successfully brought back to Muncie.
"The way the whole monkey costume happened was when we went to have t-shirts made right after we bought the track, the guy we dealt with had previously handled marketing for a major business and he told us that every successful business has a mascot, so we came up with the 'Muncie Monkey!'" Daniels laughs. He also installed a nice playground for the kids, giving them something safer to do than cruising the pits and return road on a scooter.
The one thing Daniels says surprised him the most about owning a drag strip is the amount of time that's required to make it successful. "There's a lot of racers that have the perception that all you do is swing open the gate and start taking money, but let me tell you, that's not it at all! There's constantly work to be done and improvements to be made and sponsors to talk to."
After five years of ownership, the Daniels are pleased with the successful turnaround that's taken place at their local track. Muncie Dragway is in operation three times per week, beginning with a Wednesday night test-and-tune session. "We also do trophy racing on that night with three different classes: Slick Tire, Street and Motorcycle. It's a dial-in-style race that we hold every Wednesday, so that the racers can get some competition instead of just going down the track side by side," Daniels says. Wednesday's T-N-T sessions are also contested on the full quarter-mile. Muncie's shutdown is famously long, with a half mile of stopping distance past the quarter-mile mark.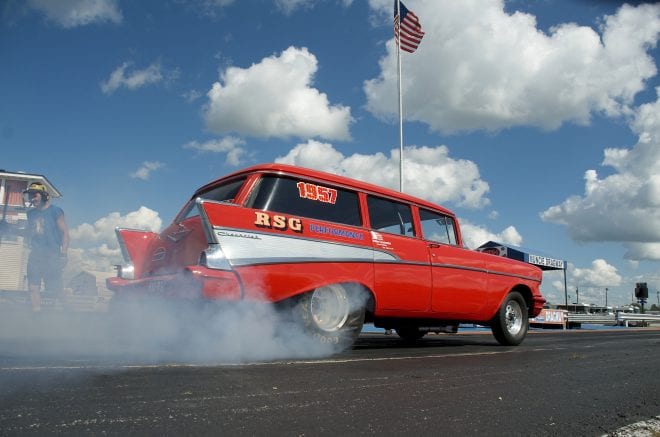 On Friday nights, they present their Street Car Mayhem, which features eight classes spread across index and heads-up categories. Each Saturday, Muncie holds its weekly bracket program, featuring Top, Modified, Street and two categories of Jr. Dragster. A pair of big-buck bracket races are held yearly, once in the spring with the Ohio Crankshaft Twin $2,500s, followed by the Moser Engineering 5-grander in late summer.
Muncie is also acclaimed for its Night of Fire event. Held the first week of August, it features Bob Motz's jet semi, Pro Mods, jet cars, fireworks and lots of great sportsman racing. "It's our one big event of the year," Daniels adds. "It happens on a single Saturday, so we open early at 8:00 a.m. and race until midnight or 1:00 a.m. We're the only track in Indiana that has a Night of Fire event, so the place is usually filled to capacity."
For 2018, the track will focus on ramping up its street and small-tire events on Friday night. "Other than that," Daniels concludes, "we're not going to change a whole lot in 2018. We've pretty much found our formula and it works well."
This story originally appeared in DI #130, the Hottest Issue, in February of 2018.