During the 2012 edition of the popular POWERJAM event, held each July at historic Piedmont Dragway, history was made when New York native Chris Rini in his ATI-sponsored '69 Camaro became the first driver to win a Big Dog Shootout double event. The "Northern Assassin", as he is now known, owned Big Dog competition during this time and was no surprise that Rini would be the first. In much the same circumstances, young Cam Clark piloted his H&H '69 Camaro to a double event win last week to take his place along past winning drivers, such as Rini, Todd Tutterow, Danny Perry, Jason Harris and many more.
The June edition of the famous Big Dog Shootout, held at historic Piedmont Dragway, was halted by rain and was to be decided in the second and final qualifying round in July. On the 19th of July, all the stars and their cars gathered for the third Thursday of the month at an event that would prove to be historic on many levels. Qualifying was a show as nine of the best and baddest Big Dog cars showed up to take a shot at the track. Temps were much better than the June event, so you knew that everyone would be on their game and the fans would get their money's worth for showing up.
Qualifying was led by Brian Shrader's Fulton-powered, Robert Hayes-tuned '63 Corvette with a 4.046-second pass at an event-topping 181.96 mph. Next was Clark's H&H Camaro with nitrous power from their very own Clark Automotive shop at a 4.051. Third was Brett Nesbitt's RJ Race Cars Camaro with a 4.051 with Clark getting the spot due to speed. Fourth was Tim Lawrence with a conservative 4.105 tune from crew chief Dane Wood. The final four included Justin Wall at a 4.186, Bubba Turner's Jimmy Greene-owned Camaro with a 4.216, Shannon Wilson's beautiful '49 Merc with a 4.382 and Scott Lang's Charles Terrell-tuned Mustang at a 4.452.
Second round of qualifying had the finals from June with Clark defeating Shrader with a bracket-like 4.05 over Shraders' 4.14. Shrader later discovered a broken frame that sidelined him for the evening. That led to first round with Lawrence running an event-best 4.036, Nesbitt running a 4.04, Clark running a third 4.05 and Lang would single with Shrader broke. The semis had Clark running another 4.05 to defeat Nesbitt's 4.07 and Lawrence running a 4.053 at 180.36 over Scott Lang to set up the final that was sure to have the great crowd on the edge of their seats. The two Camaros staged and at the green, Clark used a .049 light and a 4.047 to defeat Tim Lawrence' quicker 4.032 that was negated by a .156 light.
This gave Clark and company the historic double with two Dogs to show for the evening. It was only a matter of time until this group won, but to play catch-up by winning two in one day was equally special. Clark went on to thank all his sponsors and crew, first thanking everyone associated with H&H Racing: Senecal Construction, Hunt's Tree Service, Clark's Automotive, Harris Racing & Rollback Service, and of course, his dad, Rayvon Clark. These two dogs will be carried back to Reidsville and displayed prominently in their shop. Clark now joins all those other drivers in the Big Dog history book. He certainly deserves his place in that group.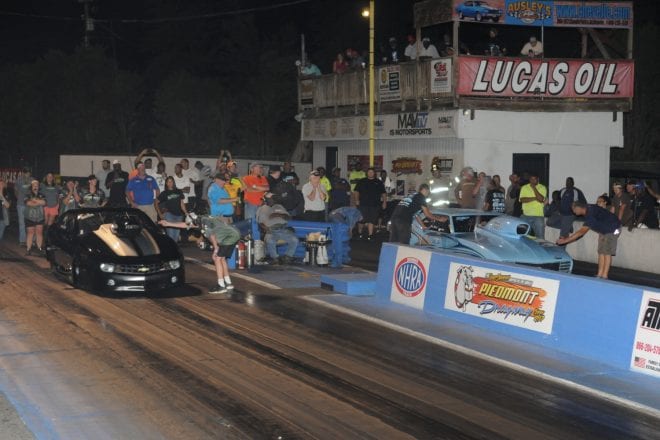 Also on had was the Rudy's Diesel-sponsored-and-built fastest diesel pick-up running a 4.78 at 152.15 in the eighth-mile. A Dash for Cash was contested between Justin Wall and Bubba Turner. This was won by Wall when Turner could not fire.
Other winners included the June Real Street winner Ken Myrick over Jeff Faucette. July winners included Ray Giles in Outlaw Door Slammer over the Richardson Racing Nova. Don Cassidy won the 7.49 Rico's Real Street, and Mike Sigmon won the 6.00 class in a Monza he calls "Grumpy's Revenge". The reason, this car is one of the SRD Monzas that was built for Bill Jenkins and Larry Lombardo to use on the match race circuit back in the day.
The finals are coming in September, when the Big Dog winner will not only receive the much-coveted Big Dog trophy, but will also be awarded an NHRA Wally, reflecting Piedmont Dragway's NHRA Division 2 association. There will also be a 3-second showdown in October with details to follow. For more on this event, or any others at Piedmont, check out: www.piedmontdragway.com.
Story and photos by Greg Burrow