Andrew Hines' first professional race in the NHRA Mello Yello Drag Racing Series came at Bandimere Speedway in 2002. The track will always hold a special memory because of that despite its unique challenges of racing at an elevation of more than 5,800 feet.
Of course, just debuting in Pro Stock Motorcycle in Denver isn't the only reason Hines, the current points leader in PSM, is fond of racing in Denver. He has posted two wins and four final round appearances at Bandimere Speedway, something that certainly makes him one of the favorites at this weekend's 35th annual Mopar Mile-High NHRA Nationals at Bandimere Speedway.
But the success stretches much deeper than that. Hines' older brother Matt, who is now the crew chief for the Screamin' Eagle Vance and Hines Harley-Davidson team of Andrew Hines and Eddie Krawiec, won four times in Denver during his highly-successful career. Krawiec also has two victories at Bandimere Speedway, giving Andrew Hines plenty of reasons to believe more success is coming this weekend.
"I have a lot of great memories there and being able to go back to this track is always fun," Hines said. "We've got a pretty good grip on what you need to run well on the mountain. We have good knowledge to draw from and hopefully that will help us. You have to change so much on the bike but we know what it takes to succeed here."
The first eight events this year have brought out the best in Hines, who has rebounded from a thoroughly frustrating 2013 in resounding fashion. He won the most recent event in Norwalk and has posted three wins and four final round appearances this season.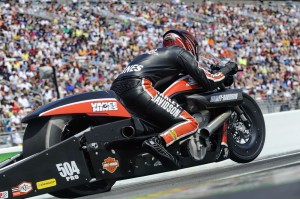 Hines has maintained the points lead since the second race of the season and his teammate Krawiec is currently in second. But Hines feels as though he has unfinished business in Denver after a disappointing outing in 2013.
Those came often during a year when not much went right, including not qualifying in the Top 10 for the Mello Yello Countdown to the Championship. But an impressive amount of work in the off-season started the turnaround and that has continued throughout 2014, including getting ready for the rigors of Denver.
"It's not a typical weekend and you have to put in a big effort to do well," Hines said. "We want to get up there, get rolling and get that Wally up at Bandimere Speedway. We struggled all season a year ago and Denver was no different. We've been on a good roll and we want to keep that going."
To keep his banner season going Hines will have to deal with the likes of reigning world champion Matt Smith, John Hall, Hector Arana Jr., Michael Ray, Angie Smith, Hector Arana Sr., Steve Johnson and Scotty Pollacheck.
Hines' won't have a problem advancing to the Countdown to the Championship this year, but he remains focused on the upcoming two-race stretch in Denver and Sonoma, Calif. The altitude at Bandimere Speedway poses numerous challenges but Hines is locked in on the task ahead.
"You need to have the total package together for this race," Hines said. "Everything plays a part, including the tuning. You run a half-second longer up here and your bike is revving like crazy, so you have to really get your tuning down. It's up to the rider after that. The riding aspect is a big deal at an event like this. Any mistake you make is going to get compounded in Denver, that's for sure."
(Photos courtesy NHRA/National Dragster; Click to enlarge)