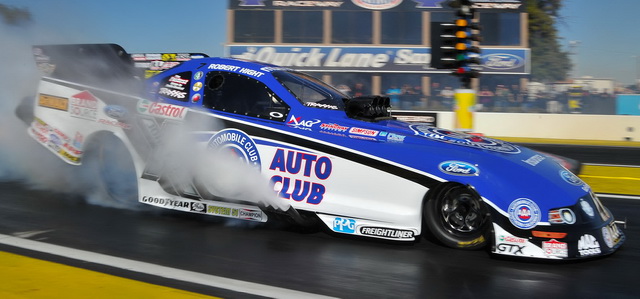 Robert Hight had planned to start his race weekend by attending the Mello Yello Champions Banquet on Wednesday night in downtown Atlanta. This prestigious event is a celebration of new and previous NHRA champions and as the 2009 Funny Car champion Hight has a standing invitation to attend.
Unfortunately, just like unpredicted rain showers at a race track sometimes your plans have to change. Hight will be foregoing the Champions Banquet due to business obligations in Yorba Linda, Calif., and will instead travel to the East Coast on Thursday.
"There were a few things I needed to get done here in California and I just couldn't get them wrapped up in time to leave tomorrow. That doesn't change the fact that the banquet is a huge deal and I am sorry I'll miss it this year. Being a Funny Car champion is a huge honor for me, my team and for the Auto Club. We came close a couple of time before I won in 2009 and that made the championship even more special," said Hight.
"It has been a few years and there have been three different champions after me. In the past six years there have been six different Funny Car champs. If that doesn't tell you this is one of the toughest classes out there I don't know what will. I am focused on winning every round and that mindset will continue this weekend in Atlanta."
The only other time there were six different winners in a row in either Top Fuel or Funny Car was the beginning of the modern era (1974-present) when Gary Beck (1974), Don Garlits (1975), Richard Tharp (1976), Shirley Muldowney (1977), Kelly Brown (1978) and Rob Bruins (1979) all won Top Fuel championships.
Hight is looking forward to getting back into championship form when qualifying starts at the 33th annual Summit Racing Equipment NHRA Southern Nationals. He has raced in the final with one win in two of the last three races at Atlanta Dragway.
"There are some race tracks you just do well at. Auto Club Raceway in Pomona is definitely one for me and so is Atlanta Dragway. I went to the finals the first three times I raced there and in the past three seasons I have been in the finals twice. I have had success from the top of the field and from the bottom," said Hight.
A two-time winner and five-time finalist at the Commerce, Georgia track Hight raced to the finals last season before losing to Ron Capps. Since Hight began racing in 2005 behind the wheel of the Auto Club Ford Mustang Atlanta has been one of his most successful events both from a victory and performance standpoint. In addition to reaching the finals over half the times he pulls onto the property Hight has been the No. 1 qualifier once in 2012 and the No. 2 qualifier twice (2006 and 2007). Hight has won from the top of the field as the No. 2 qualifier in 2007 and from the bottom of the field when he won in 2010 from the No. 13 spot.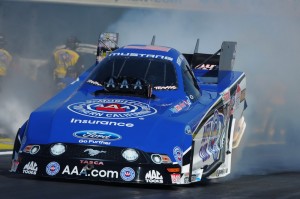 "The points are tightening up and we are only six races into the season. I am not really looking at the points but you do want to qualify well and go rounds so you get data for the Countdown. We want to be peaking in the Countdown and there is no doubt we want to get one of the guaranteed spots in the Traxxas Shootout. There have been five different winners in Funny Car so there are only two guaranteed spots left," said Hight.
In Houston Hight's Auto Club Mustang was the No. 3 qualifier before being upset in the first round by Johnny Gray. The rain shortened qualifying sessions forced all the Funny Car and Top Fuel teams to scramble on Sunday morning. Unfortunately for Hight and the Auto Club team they came up a few feet short in a tire smoking race that saw Gray take the win light with a 5.147 second elapsed time to Hight's accelerating 5.167 second pass.
"Houston was a tough race but it was tough for everybody. You saw both the Top Fuel and the Funny Car Mello Yello point leaders lose in the first round and there didn't seem to be too much of an advantage to be a higher qualified Funny Car or Top Fuel dragster. That is all in the past. This is the third week in a row that we are getting to race and we want to make the most of it," concluded Hight.
(Photos courtesy JFR; Click to enlarge)