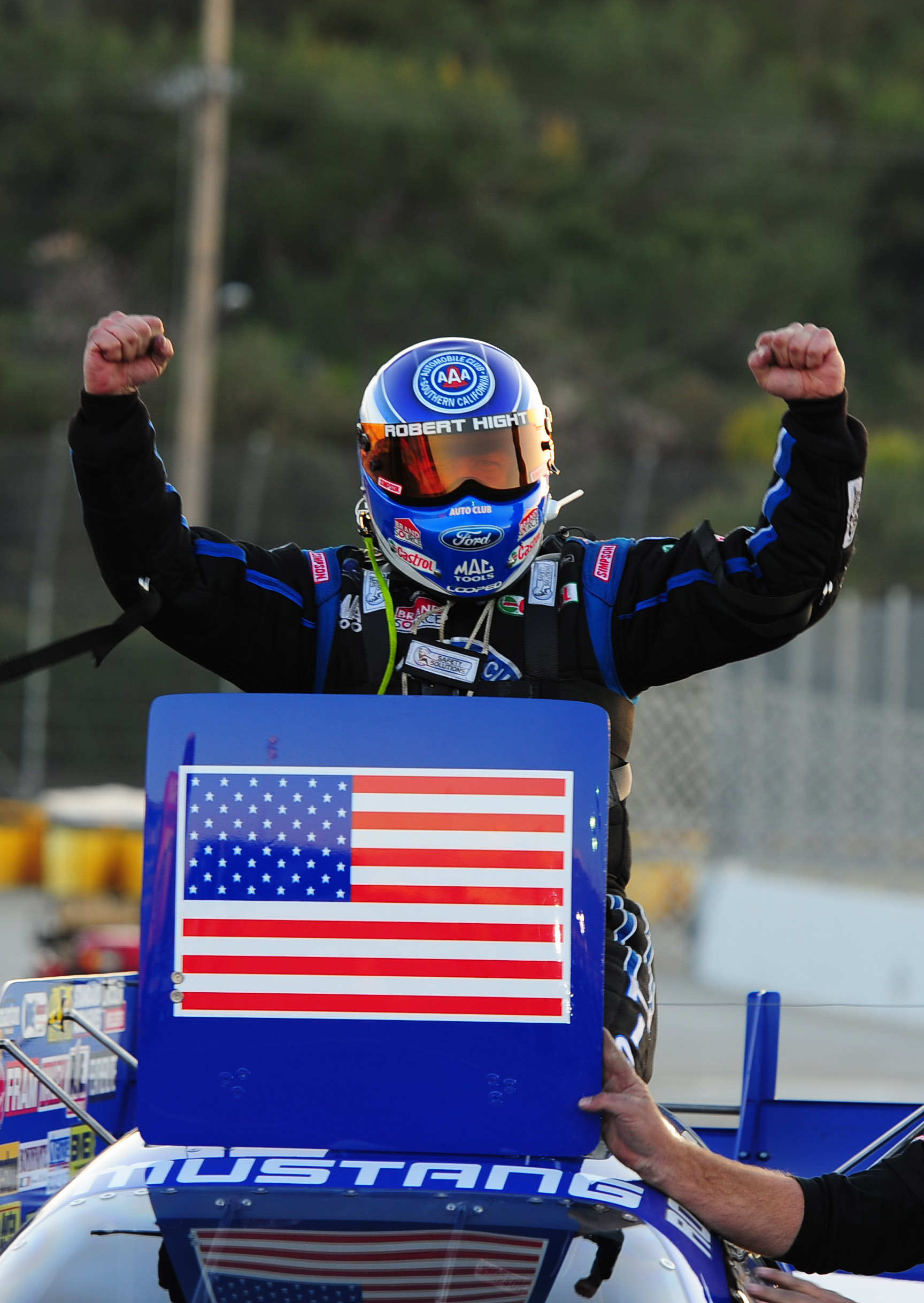 Robert Hight won for the second time this year Mar. 12, defeating Johnny Gray in the final round of the 43rd annual Tire Kingdom NHRA Gatornationals presented by NapaFilters.com.
For Hight and the Auto Club Ford Mustang team is was their second consecutive final-round victory over Johnny Gray (Toyo Tires NHRA Nationals in Reading, Pa., in 2011) and HIght's 14th win in sixteen final rounds. This win was one of the big ones of Hight's career.
"I have won the US Nationals and I have won both the Pomona races, but next to Indy this is where you want to win. Ron Capps said it best a few years back, 'Yyou don't want to retire without winning the Gatornationals,'" said Hight a first-time Gatornationals finalist.
"This is a huge race. The Hall of Fame inductions are before this race so everybody from drag racing past is here for this race. They are out there watching and I have a lot of admiration for them. If it wasn't for them, the pioneers, this sport wouldn't be where it is today. I want to show my respect to them."
Two weeks ago Hight defeated teammate Mike Neff in the Funny Car final of the NHRA Arizona Nationals, locking in his position as a member of the inaugural Traxxas Shootout to be held during the Mac Tools US Nationals. Getting another win in Florida has Hight motivated for continued success.
"Two is a row is huge. That is a great way to start the season and three in a row for John Force Racing. I was really hoping for a third all-Ford Racing final with JFR drivers, but it didn't work.
"I don't know exactly what took place with my car. It shook and I had to pedal it. You want to be perfect and you want the car to be flawless, but sometimes as a driver you have to win one of those pedaling. This is a historic race and that was an old-school pedalfest. That is huge and it gives you a lot of confidence as a driver."
In the final round, two of the strongest and quickest Funny Cars squared off. In the semi-finals both cars had posted low 4.0 elapsed times, but as the sun came out the crew chiefs had to make some tough decisions. Hight was pleased he was able to contribute to a win after so many people had been supporting him on his road to victory.
"I wasn't expecting that (smoking tires) at all. Jimmy said he was going to back it off because the track was warming up. We were trying to run 4.08 or something. I think he backed it off too much and it shook. You saw Morgan Lucas run 3.74 right behind us and that showed you how good the track was. We probably would have been better off to leave it like it was and try and run 4.03 or 4.04. It really doesn't matter how you get here as long as you get the win light," said Hight.
"You give it a quick look. You have to get the car under control and then take a look. You don't want to look too early because then that could make you late getting back under power. You have to know if you need to stay with it or if the other guy is way out there, there is no reason to blow your car up. You don't want to oil the track and kill it for the dragsters coming up behind you. At one point I got over near the center line and I backed off because I did not want to cross that center line. I eased back into it again. There is a lot going on in that sub-five-second race.
"Usually the guy that smokes the tires first loses; if you smoke your tires second you have more momentum."
Hight credited his team for his dominance in final rounds and was quick to share the accolades. With his 25th career victory, Hight moves into a tie for seventh (with Del Worsham) on the all-time Funny Car win list.
"The team I am on (is the key). In the final there was a lot of pressure because all the (JFR) teams were behind me. All our teams are standing back there and they all helped get us ready," said Hight. "They have given you the car and you just want to do your best. The Traxxas people were here and this is good for all sponsors like Castrol, Ford, Mac Tools and BrandSource. There are so many people back at the shop you just don't want to let them down."
Hight has now won multiple events in each of his seven seasons as a professional Funny Car driver, but that kind of success does not make early-round racing any easier.
John Medlen (2nd from left in front of car) joined Robert Hight and the rest of the JFR crew after Hight won Mar. 12, 2012, at Gainesville, Florida. (Photo courtesy JFR)
"It was double the pressure having two days of racing. It was like two first rounds. I have asked Don Garlits if first rounds every get any easier and he has told me they don't. Basically we had another first round today. I had all night to think about that semi-final race with Beckman. Once you get going it is nice to get that first round win of the day out of the way. We really had two first rounds this weekend."
Winning the Tire Kingdom Gatornationals at Auto Parts Raceway at Gainesville was Hight's 17th different event win and 15th different race track.
"It was good to get (recently returned JFR crew chief) John Medlen back in the winner's circle in Gainesville. It was five years ago when we had a tragic accident and we lost (Medlen's son) Eric here. It means a lot to get him back in the winner's circle here," Hight concluded.