Don't tell Auto Club of Southern California driver Robert Hight that the Night Under Fire is just another match race, just an exhibition race.
For Hight and his John Force Racing team, the Night Under Fire on Saturday was a chance to out-run seven other Funny Cars and bring home another trophy. And Hight did just that, beating Cruz Pedregon in the final to win the special event for the third time.
"It doesn't matter if you're running a foot race: You want to beat these other guys," Hight said as the smoke
cleared from another epic fireworks show at Summit Motorsports Park. "We came here to put a great show on for the fans, but, really, we wanted to win this thing – and we did."
Hight came into the Night Under Fire having won two of the last three NHRA Mello Yello Drag Racing Series races and having set the national speed record of 339.87 mph in Sonoma.
The 40th annual Kelly Services Night Under Fire featured eight nitro Funny Cars, including two from JFR: Hight's Chevrolet Camaro and John Force's PEAK Coolant and Motor Oil Chevy. The eight cars make one qualifying pass, and the drivers with the top two elapsed times advance to the final round.
Hight qualified No. 2 with a pass of 3.939 seconds at a slowing 282.66 mph, but that was enough to race Pedregon in the final.
There, he made a terrific run of 3.865 seconds at 321.50 mph to dispatch Pedregon.
"It gives you confidence that you can come in under any conditions – hot, cold, mile-high, sea level, humidity, whatever – and run like we're running," Hight said. "First run today, it was going to run .88, and a piston failed. It wasn't like a tuneup problem; a piston failed – we had some different pistons in it.
"We put some different ones in the final and stepped it up. We ran .86, smooth as glass. It gives you a lot of confidence as a driver."
John Force made a nice run of 3.959 seconds at 323.17 mph to qualify No. 3, but he was off the throttle early in his consolation race against Ron Capps.
Hight collected his third Night Under Fire trophy, and JFR scored back-to-back wins. Courtney Force won this race in 2015, with the 2016 version rained out.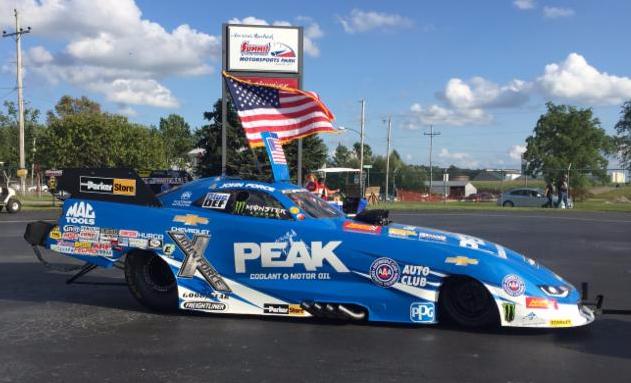 Hight accepted his trophy from Summit Motorsports Park's Bill Bader Jr.
"This is an unbelievable show," Hight said. "There's nothing like it. The show they put on for the fans, it's like none other. We look forward to coming here. I'm honored they invite us every year. They really care about the fans, and it shows. That's why you have 40,000 people here. The biggest one-day drag race in the world, and we just won it."