Robert Hight (above) became the first two-time Funny Car winner at the fifth annual NHRA Four-Wide Nationals after his win at zMAX Dragway on Sunday.
Antron Brown (Top Fuel), Jimmy Alund (Pro Stock) and Andrew Hines (Pro Stock Motorcycle) also took home victories during the fifth event on the 2014 Mello Yello Series schedule.
Hight took the 2012 NHRA Four-Wide Nationals and returned in style to Charlotte once again. The 2009 Mello Yello Drag Racing Series Funny Car world champ was the winner of the fall Charlotte race last season and won his second consecutive event with his 4.074 second pass at 311.34 mph in the Auto Club Ford Mustang.
"This has been a great weekend," Hight said. "We love coming to zMAX Dragway. What a better place to bring potential sponsors than this facility. John and I getting to the final made it that much more special. It's my fourth final in a row and we've only missed two rounds in Pomona to start the season."
Coming into the final, the JFR driver was 0-4 against Alexis DeJoria, one of the other three final round drivers, including losses to the Patron XO Cafe Funny Car in the finals of Phoenix and Las Vegas this season.
"You would think three Ford Funny Cars in the final would be pretty good odds," Hight said. With the way she's been running and winning races it's no gimme. That was a big one."
John Force finished as runner-up in his Castrol GTX High Mileage Ford Mustang while DeJoria and Tim Wilkerson were credited with semifinal finishes.
It was Hight's second win of the season in four final round appearances with both wins coming over Force. With the win, Hight increases his points lead over Force to 53 points.
Brown secured his first career victory at the NHRA Four-Wide Nationals, piloting his Matco tools dragster to a 3.800 pass at 317.42 mph. The 2012 Top Fuel world champ took out runner-up and No. 1 qualifier Shawn Langdon, J.R. Todd and Doug Kalitta to secure his second win of the season.
"My guys gave me an incredible race car," Brown said. "Everybody's competing on such a high level right now, and you just want to be on time because I know for sure that us as drivers all we can do is screw it up once we get up to the starting line. You just want to be on point. You want to be on time, and you just want to give it all you have."
Brown, a member of the Don Schumacher Racing stable, went up in the final against two Kalitta Motorsports entries and an Al-Anabi Racing entry, a juggernaut team final in Top Fuel.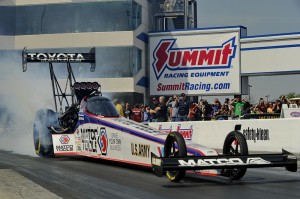 "When you go into a final and there's two Kalitta cars and an Al-Anabi car, it's pretty much stacked against you because the Kalitta team and Alan [Johnson]'s team work together," Brown said. "It's like running three teammates car against one, so they definitely had the advantage, but you go out there and do what you do. We just keep our head down and keep it to the grind, and we put our best foot forward today, and we were able to edge out and become the victors."
The Don Schumacher Racing driver leaves Charlotte second in points, 25 behind Kalitta.
Appearing in his first career Pro Stock final, Alund took advantage and drove to victory in his second NHRA Four-Wide Nationals appearance. The Swede is substituting for four-time Pro Stock world champ Greg Anderson and ran a 6.562 pass at 211.59 in his Summit Racing Equipment Chevy Camaro, becoming the first European winner and only fourth non-American winner in the Mello Yello Drag Racing Series.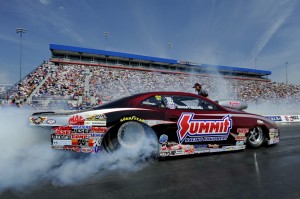 Alund took out runner-up Shane Gray, Vincent Nobile and recent Las Vegas winner Erica Enders-Stevens in the final.
"Since I got here the very first time I didn't feel pressure," Alund said of his run in Pro Stock and the assignment of replacing Anderson. "I knew if I did my best that I could do much more. They're [KB Racing] professionals and they gave me a great race car. I think we work well together."
Hines, a three-time Pro Stock Motorcycle world champ, won his second straight race in Charlotte with a 6.859 run at 196.10. The three-time Charlotte winner secured his first win of the season and 33rd of his career with the win over Eddie Krawiec, John Hall and Scotty Pollacheck on a Harley-Davidson.
"This does a lot for my confidence because I've never had a round win here [at the Four-Wide]," Hines said. "In fact, Charlotte was bad to me. It took four races before I broke through for a win at the two-wide race in the fall.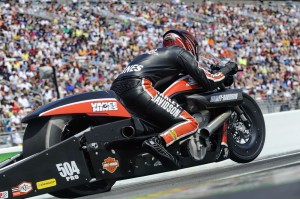 "At this race there is so much going on that you never know what's going to happen. Some guys take a long time to stage and some guys want to get up there as quickly as they can. You have to be prepared for anything."
The NHRA Mello Yello Drag Racing Series heads on to Baytown, Texas for the NHRA O'Reilly Auto Parts SpringNationals at Royal Purple Raceway, April 25-27.
(Photos courtesy NHRA/National Dragster; JFR/Nastase; Click to enlarge)
CONCORD, N.C. — Final round-by-round results from the 5th annual NHRA Four-Wide Nationals at zMax Dragway, the fifth of 24 events in the NHRA Mello Yello Drag Racing Series:
TOP FUEL
ROUND ONE — Antron Brown, 3.801, 323.04 and Brittany Force, 3.814, 323.19 def. Clay Millican, 3.983, 285.05 and Leah Pritchett, 4.537, 194.83; Tony Schumacher, 3.815, 324.12 and Khalid alBalooshi, 3.926, 289.88 def. Richie Crampton, 4.517, 237.00 and Sidnei Frigo, 4.970, 148.46; J.R. Todd, 3.783, 324.51 and Doug Kalitta, 3.795, 325.69 def. Bob Vandergriff, 4.173, 89.05 and Pat Dakin, 6.779, 97.50; Shawn Langdon, 3.791, 321.27 and Spencer Massey, 3.840, 322.65 def. Steve Torrence, 3.860, 315.27 and Terry McMillen, 4.621, 170.62; SEMIFINALS — Langdon, 3.821, 315.86 and Brown, 3.988, 280.84 def. Massey, 4.066, 238.34 and Force, 5.802, 145.50; Todd, 3.822, 322.73 and Kalitta, 3.847, 323.81 def. Schumacher, 3.847, 317.94 and alBalooshi, 4.154, 254.71; FINAL — Brown, 3.800, 317.42 def. Langdon, 3.800, 322.11, Todd, 3.799, 318.32 and Kalitta, 4.587, 172.04.
FUNNY CAR
ROUND ONE — Tim Wilkerson, Ford Mustang, 4.109, 311.70 and Blake Alexander, Dodge Charger, 4.137, 304.25 def. Bob Tasca III, Mustang, 4.310, 256.36 and Cruz Pedregon, Toyota Camry, broke; John Force, Mustang, 4.046, 312.71 and Tommy Johnson Jr., Charger, 4.113, 312.57 def. Courtney Force, Mustang, 4.104, 315.12 and Jeff Arend, Charger, 5.068, 151.75; Alexis DeJoria, Camry, 4.089, 307.72 and Del Worsham, Camry, 4.096, 311.34 def. Ron Capps, Charger, 4.125, 309.98 and Chad Head, Camry, 4.146, 304.25; Matt Hagan, Charger, 4.087, 314.75 and Robert Hight, Mustang, 4.115, 311.34 def. Jack Beckman, Charger, 4.138, 310.41 and Tony Pedregon, Camry, 4.436, 97.55; SEMIFINALS — DeJoria, 4.087, 310.84 and Wilkerson, 4.125, 308.21 def. Worsham, 4.128, 308.14 and Alexander, 4.151, 299.20; J. Force, 4.123, 309.63 and Hight, 4.139, 305.98 def. Johnson Jr., 4.164, 289.14 and Hagan, DQ; FINAL — Hight, 4.074, 311.34 def. J. Force, 4.132, 307.51, DeJoria, 4.098, 301.67 and Wilkerson, 6.631, 98.01.
PRO STOCK
ROUND ONE — Jeg Coughlin, Dodge Dart, 6.681, 210.28 and Shane Gray, Chevy Camaro, 6.566, 211.69 def. Rodger Brogdon, Camaro, 6.947, 165.56 and Robert Patrick, Ford Mustang, DQ; Vincent Nobile, Camaro, 6.579, 210.70 and Jason Line, Camaro, 6.560, 211.76 def. Dave Connolly, Camaro, 6.650, 211.76 and Justin Humphreys, Mustang, 6.679, 207.05; Erica Enders-Stevens, Camaro, 6.546, 212.33 and Allen Johnson, Dart, 6.554, 211.46 def. Jonathan Gray, Camaro, 6.598, 210.77; Chris McGaha, Camaro, 6.545, 212.56 and Jimmy Alund, Camaro, 6.554, 211.53 def. V. Gaines, Dodge Avenger, 6.606, 210.57 and Larry Morgan, Mustang, 6.641, 208.62; SEMIFINALS — Enders-Stevens, 6.559, 211.30 and Nobile, 6.603, 210.21 def. Line, 7.482, 141.71 and Johnson, 17.414, 49.25; Alund, 6.563, 211.43 and S. Gray, 6.555, 211.96 def. McGaha, 19.450, 43.54 and Coughlin, 6.542, 211.63; FINAL — Alund, 6.562, 211.59 def. S. Gray, 6.563, 211.69, Nobile, 6.667, 209.46 and Enders-Stevens, 11.719, 79.19.
PRO STOCK MOTORCYCLE
ROUND ONE — Scotty Pollacheck, Buell XB12R, 6.885, 193.46 and John Hall, Buell XB9R, 6.835, 195.96 def. Jerry Savoie, Suzuki TL1000, 6.899, 193.88 and Adam Arana, XB9R, 6.943, 192.08; Andrew Hines, Harley V-Rod, 6.820, 196.27 and Hector Arana, XB9R, 6.933, 196.70 def. Shawn Gann, XB9R, 6.927, 193.29 and Matt Smith, XB9R, 6.831, 196.85; Chaz Kennedy, XB9R, 6.903, 192.33 and Mike Berry, XB9R, 6.928, 192.22 def. Michael Ray, XB9R, 10.233, 80.79 and Katie Sullivan, TL1000, DQ; Hector Arana Jr, XB9R, 6.805, 196.22 and Eddie Krawiec, V-Rod, 6.817, 196.53 def. Angie Smith, XB9R, 6.943, 192.52 and Jim Underdahl, Suzuki GSXR, 8.632, 111.13; SEMIFINALS — Hall, 6.869, 193.38 and Pollacheck, 6.901, 193.43 def. Kennedy, 6.920, 190.35 and Berry, 6.968, 191.16; Krawiec, 6.840, 194.91 and Hines, 6.851, 194.83 def. Arana Jr, 6.879, 195.14 and H. Arana, 6.980, 195.28; FINAL — Hines, 6.859, 196.10 def. Krawiec, 6.874, 196.13, Pollacheck, 6.966, 191.73 and Hall, 7.547, 133.32.
CONCORD, N.C. — Sportsman final-round results from the 5th annual NHRA Four-Wide Nationals at zMax Dragway. The race is the fifth of 24 in the NHRA Mello Yello Drag Racing Series:
Top Alcohol Dragster — Corey Michalek, 5.428, 264.55  def. Brandon Booher, broke.
Top Alcohol Funny Car — Dan Pomponio, Chevy Monte Carlo, 6.120, 249.81  def. Jonnie Lindberg, Monte Carlo, 15.758, 31.56.
Competition Eliminator — Scotty Richardson, Chevy, 8.645, 119.16  def. Russell Joly, Chevy Cobalt, foul.
Stock Eliminator — Greg Rowe, Pontiac Firebird, 10.552, 118.98  def. Jeff Hairrington, Ford Mustang, 10.266, 129.11.
Super Comp — Brad Plourd, Dragster, 8.957, 160.38  def. Alan Kenny, Dragster, 8.921, 181.45.
Super Gas — Ray Sawyer, Chevy Camaro, 9.893, 168.68  def. Jeremy Jensen, Chevy Corvette, 9.891, 147.84.
Top Sportsman — Marco Abruzzi, Chevy Camaro, 6.890, 192.30  def. Marc Caruso, Chevy Cobalt, 7.043, 188.46