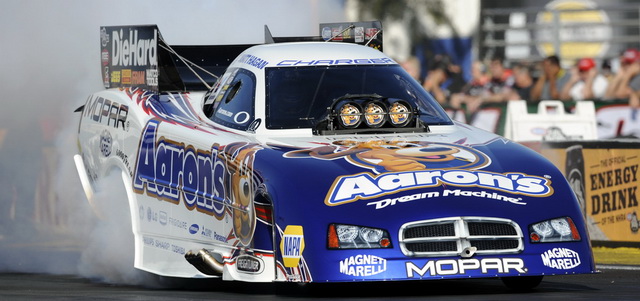 A month ago, 2011 Funny Car World Champion Matt Hagan would've been happy just to reach a semi-final round in the NHRA Full Throttle Drag Racing Series.
Not anymore.
After his Don Schumacher-owned team slumped to 13th in the NHRA Full Throttle Drag Racing Series standings last month, it has rallied to be within winning one round of reaching the coveted top-10 in the Funny Car standings, which also would mean the opportunity to defend his title with a spot in the NHRA's Countdown to the Championship.
The vastly improved Mopar/Aaron's Dream Machine Dodge Charger R/T Funny Car team led by crew chief Tommy DeLago came within one round Aug. 19th at the Lucas Oil Nationals in Brainerd, MN, of making it to their third consecutive championship round.
Perhaps more importantly, Hagan would have reached the top 10 before the Aug. 29-Sept. 3 U.S. Nationals at Indianapolis after which the field of 10 will be set to contest for the world championship over the last six events of the 23-race schedule.
Hagan is within 19 points of 10th place and could have moved around Bob Tasca III for the spot had he defeated Don Schumacher Racing teammate Ron Capps in the semifinals of the.
Hagan had to defeat another teammate, Jack Beckman, in the second round to reach Capps, who went on to win the event title and take over the Funny Car points lead.
"We race at DSR," Hagan said. "There are no gimmies."
And DeLago wouldn't want it any other way.
"No one should want to win that way," he said. "I know we don't; we want to earn it."
Capps understands the feeling though he also wants Matt to join his six teammates in the Countdown.
"I want Matt to get in bad," Capps said. "Tommy is one of my best friends but I know they want to get in the right way."
Hagan and DeLago will get their chance at Indy.
"We're not that far back and it is doable," Hagan said. "We don't wish for anyone to have a bad race we just need to have a good one."